https://www.belkin.com/usb-c-pd-usb-a-wall-charger-32w/P-WCB008.html
BoostCharge
USB-C PD + USB-A Wall Charger 32W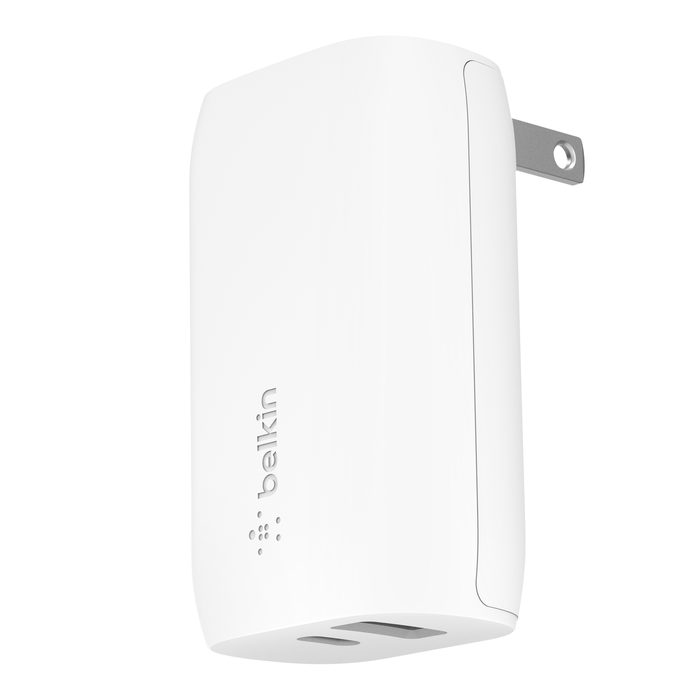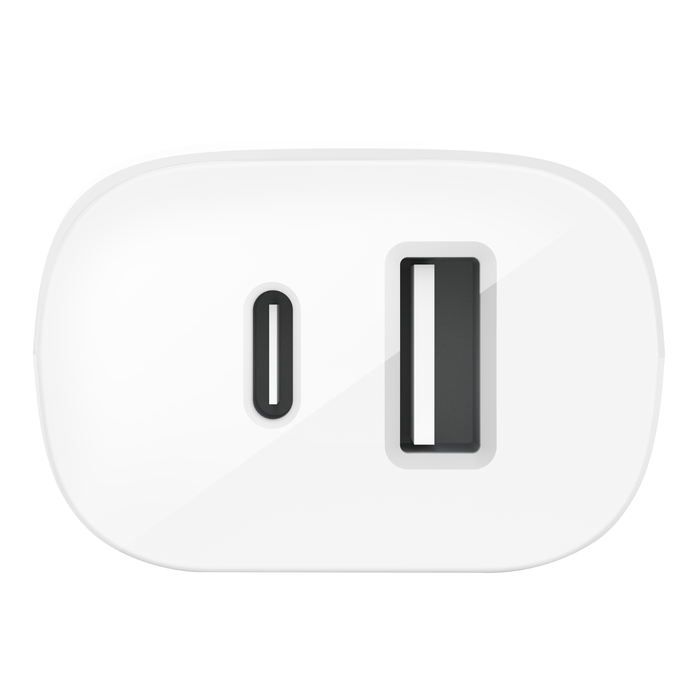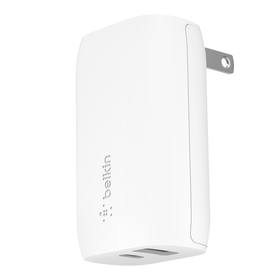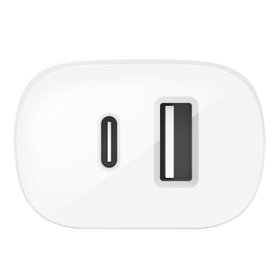 Fast and free shipping
90-Day money back guarantee
24/7 Customer support
BoostCharge
USB-C PD + USB-A Wall Charger 32W
Discount is automatically applied at checkout with code CM23.
Out of Stock

This item is currently not available
FREE 2-Day Shipping on orders of $125 or more
FREE Standard Shipping on orders of $50 or more
This product usually ships within 1-2 business days.
Works with most USB-C smartphones and tablets
iPad 9th gen
iPad Air
iPad Pro (11") 2nd Gen
iPad Pro (12.9") 4th Gen
iPad mini 6th Gen
Apple Watch Series 7
Google Pixel 4a
Google Pixel 5
iPad Pro (10.5")
iPad Pro (9.7")
iPhone 14
iPhone 14 Pro
iPhone 14 Plus
iPhone 14 Pro Max
iPhone 11
iPhone 11 Pro
iPhone 11 Pro Max
iPhone 12
iPhone 12 mini
iPhone 12 Pro
iPhone 12 Pro Max
iPhone 13
iPhone 13 mini
iPhone 13 Pro
iPhone 13 Pro Max
iPhone XR
Galaxy S20
Galaxy S20+
Galaxy S20 Ultra
Galaxy S21 5G
Galaxy S21+ 5G
Galaxy S21 Ultra 5G
Galaxy Z Fold 2 5G
Galaxy Note 10+
Galaxy Note20
Galaxy Note20 Ultra
FAST, FASTER, FASTEST CHARGING
A 20-watt USB-C port with USB Power Delivery means fastest possible charging for compatible smartphones and tablets including charging an iPhone from 0-50% in just 30 minutes.* The additional 12-watt USB-A port charges a second device at the same time another smartphone, a tablet or any device that charges via USB-A. That means there's 32-watts of charging capability packed into a small, travel-friendly charger. Backed by warranties protecting the product and your connected equipment.
To learn more about Fast Charge and how to get it, visit the USB-PD Fast Charging page at our Resource Center.
THE BELKIN DIFFERENCE
Pioneer in innovation and technology for over 35 years
MFi-certified by Apple to assure compatibility with iOS devices
Our intensive testing regimes guarantee quality, performance and durability
Built with smart chipsets, our chargers detect connected devices to deliver optimal charging
USB-IF-accreditation ensures compatibility with approved USB-C devices
SMALL IN SIZE, BIG ON POWER
Designed to safely deliver large amounts of power for super-fast charging, this charger measures in surprisingly small. 55 x 42 millimeters across, and only 23 millimeters deep, this compact charger sits flat to the wall for a non-intrusive fit to any space, even behind furniture, on surge protectors or in hard-to-reach outlets. Put it in your pocket and take fast charging wherever you go.
CHARGE 0-50% IN 30 MINUTES
This 32-watt USB-PD charger supports Fast Charge via the 20-watt USB-C port, to take your iPhone battery from 0-50% in just 30 minutes.* Just connect to the charger. For more on fast charging, visit the USB Power Delivery article at our online resource center. 20 watts also means fastest possible charging for other smartphones and tablets too. Check compatibility to find your device.
ADAPTS TO ITS ENVIRONMENT
Not just small, but flexible too this charger is able to work with even the most hard-to-access outlet. Swivelling the prongs 90° allows you to change the orientation of the port for the most convenient cable angle, to keep a desktop tidy, to avoid furniture, or to prevent blocking other outlets.
CHARGE A 2ND DEVICE VIA USB-A
An additional USB-A port provides the opportunity to charge another device simultaneously. The universal USB-A port offers 12 watts enough to optimally charge many smartphones, tablets or other devices that charge via USB-A, such as a second phone for work, a tablet, a power bank or wireless headphones.
BACKED BY MULTIPLE WARRANTIES
A 2-year product warranty safeguards your 32W USB-C PD + USB-A Wall Charger for added peace of mind. A second warranty protects your connected equipment while properly connected to the charger, up to $2,500.
Specs:
Height: 41.5mm / 1.63in
Length: 54.2mm / 2.13in (prongs not included)
Width: 23mm / 0.9 in
Package Includes:
32W USB-C PD + USB-A Wall Charger