text.skipToContent
text.skipToNavigation
Meet the Wemo App for iOS
The Wemo App lets you control your home appliances and electronics through your Wemo® devices using an Apple® iPhone® or iPad®.  Whether you want to turn OFF a light from bed, turn ON a fan from the couch or make sure your lights are ON before you come home at night, the Wemo App will work for you.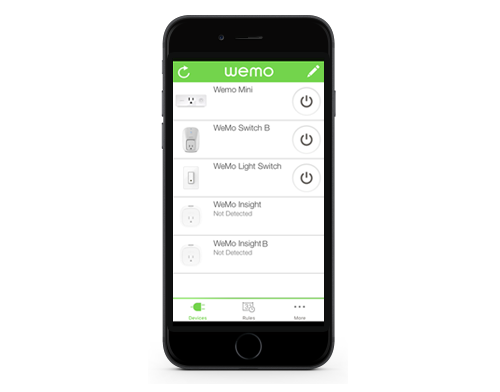 NOTE:  Your Wemo device must be successfully set up before you can configure it using the Wemo App.  To learn how, click

here

.
---
What can you do with it?
 
You Make The Rules
The Wemo App allows you to set Rules for your Wemo devices to follow, such as turning ON lights in the evening so you never come home to a dark house again.
 
Control It Remotely
Using the Wemo App, you can turn ON your Wemo from anywhere as long as you are connected to the internet.
 
Control your Thermostat
Wemo works with Nest®.  Using the Wemo App, you can control your Nest Thermostat to save you from having to switch to another app.
---
How can I get it?
 
You can download the Wemo App for free on the

App Store®

 where you can also find reviews and up-to-date information on compatibility.
---
App Features
 
The Devices list
 
The Devices list is where you manage your Wemo devices.  Under this list are those devices that have been added to the network.  From here, you can turn your devices ON and OFF, make changes to the settings, and reset or restore them to factory defaults.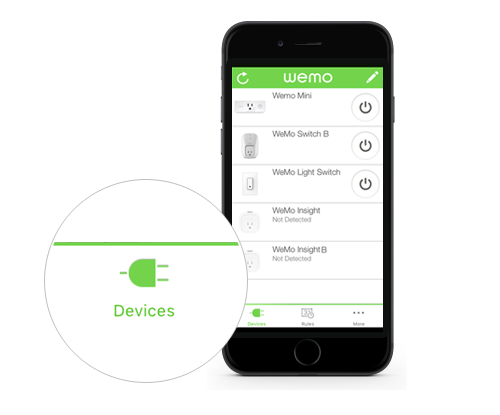 NOTE:  Some routers have maximum number of supported devices or their network may limit the number of Wemo devices that can connect.  Therefore, you may see other devices disconnect from your network.
 
The Rules list
 
Another feature of your Wemo is the ability to create Rules to automate its functionality.  Using the Wemo App, you can create Rules for your Wemo device to follow.  All the enabled and disabled Rules you have created for your Wemo devices will be listed here.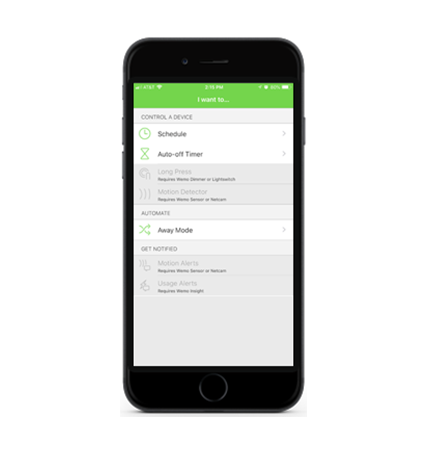 NOTE:  If you are using the Apple Home app to manage your Wemo HomeKit™-supported products, make sure you are only using one app to manage the rules, otherwise you may run into rule conflicts.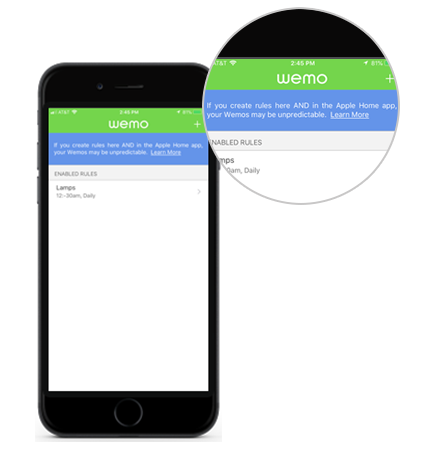 To learn more about Wemo Rules, click

here

.
 
The SETTINGS page
 
Tapping on More will take you to this section of the Wemo App.  There are multiple options on the SETTINGS page for you to work with your Wemo network: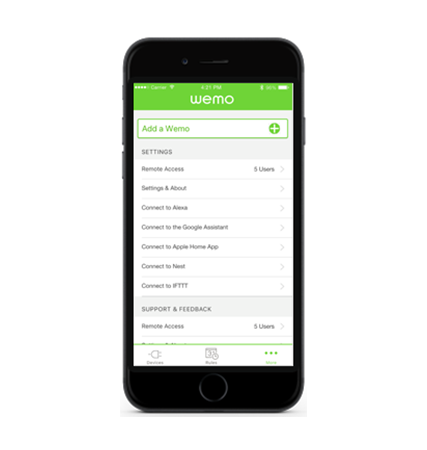 Add a Wemo:  To begin setup on a new Wemo device, tap this.
Firmware Update Available:  This option will appear only if there is a firmware update available.  Tap to view the version of the new firmware and tap on Update Now to proceed with the firmware update.
Remote Access:  Remote access lets you quickly, easily and securely control the Wemo devices in your home from anywhere.  All you need is an active internet connection (Mobile or Wi-Fi).
Settings & About:  Allows you to set up your local location for sunrise and sunset-based rules, find hardware and software information for your Wemo devices and the Wemo App, and also provides a listing of the Wemo App's legal documentation.
Connect to Alexa:  Amazon Alexa™ allows you to quickly and easily control your Wemo devices just by using your voice.  To learn more, click here.
Connect to the Google Assistant:  To learn more, click here.
Connect to Apple Home App:  Tapping this will enable you to connect your HomeKit-supported Wemo devices with the Apple Home app.
Connect to Nest:  Do you have a Nest Thermostat?  Wemo works with Nest and tapping here will start the process of linking your Nest Thermostat to your Wemo App and Wemo network.  To learn more, click here.
Connect to IFTTT:  If This Then That (IFTTT) is a service that allows you to combine different online services together.  By integrating Wemo with IFTTT, Wemo can be triggered by a variety of online services including, email, weather updates, phone calls, Twitter and many more.  Tasks that trigger a Wemo action have 15-minute polling period.  To learn more, click here.
Tutorials:  Tap this for troubleshooting tips in animated form.
Wemo Community:  Tap this to visit our Wemo Community Forums and interact with other Wemo users.
Support Articles:  This will take you to our support site, the same one you are visiting now.
Get in touch with us: 

Tap this for information on how to get in touch with us to provide feedback, ask a question or get technical support.

Rate Wemo:  Like the App?  Tap this to leave a review on the App Store®

for other users to view.
---
Got questions?  We've got answers!
 
Q:  Do I need the Wemo App running all the time for my Wemo devices to work?
A:  No.  The Wemo App is only needed when you want to make a change to the Wemo or to control a Wemo via Wi-Fi or remote.
 
Q:  Can I control Wemo through a web interface?
A:  No. 
 
Q:  Can I use one Wemo App to control multiple locations?
A:  Not at this time.  A single Wemo App can only control Wemo devices at a single location.
  
---
Designed to work with the Wemo family of products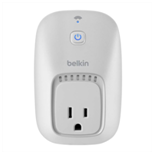 The
Wemo
®
Switch Smart Plug, F7C027 lets you turn electronic devices ON or OFF from anywhere.  The Wemo Switch uses your existing home Wi-Fi to provide wireless control of TVs, lamps, stereos, heaters, fans, and more.  Simply download the Wemo App from the Google Play™ Store or the App Store
®
, plug the Wemo Switch into an outlet in your home, and plug any device into the Wemo Switch.  You'll be able to turn that device ON or OFF using your smartphone or tablet (running Android™ 4.4 and later or iOS 9 or higher).  You can set schedules for your devices and control them remotely using a mobile internet connection.  You can also add more Wemo Switches to your home to control more devices.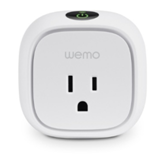 The Wemo®
Insight Smart Plug, F7C029 connects your home appliances and electronic devices to your home Wi-Fi, allowing you to turn devices ON or OFF, program customized notifications, and change device status from anywhere.  It can monitor your electronics and will send information about the device's energy usage directly to your smartphone or tablet.  Perfect to pair with space heaters, wall A/C units, TVs, washers, dryers, fans, lights, and more.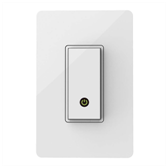 The Wemo® Wi-Fi Smart Light Switch, F7C030 allows you to turn lights ON and OFF from anywhere.  This replaces a standard light switch in your home and can be controlled remotely with an Android™ smartphone or tablet, iPhone®, iPad® or iPod touch®.  It works with your existing home Wi-Fi and anywhere your smartphone or tablet has an internet connection.

 
The Wemo® Mini Smart Plug, F7C063 lets you control your electronic devices right from your phone or tablet.  The Wemo Mini uses your existing home Wi-Fi to provide wireless control of lamps, heaters, fans, and more (with no subscription or hub required).  Simply plug the Wemo Mini into an electrical outlet, plug a device into the Wemo Mini, and control your device using the Wemo App.  Whether you're unwinding on the couch or vacationing in the Caribbean, you'll be able to remotely control your lights and appliances from anywhere in the world.


Related Articles:



Meet the Wemo App for Android™




Wemo device not in the Wemo App




Common issues with Wemo® devices




Manually enabling or disabling Remote Access using the Wemo App




What to do if Remote Access is lost on the Wemo® device
Was this support article useful?
Thank you for your feedback.