text.skipToContent
text.skipToNavigation
How to link your Wemo devices to your Amazon Alexa™
Amazon Echo™ is a hands-free speaker that connects to Amazon Alexa™.  This device allows the user to say commands and ask Alexa to listen to music, get updates and control home automation devices.
There are a few basic requirements that need to be met before you can use Alexa with your Wemo® devices:
An Amazon Echo

The Amazon Alexa App

The Wemo App

At least one of the following supported Wemo devices:

Wemo Switch Smart Plug, F7C027

Wemo Insight Smart Plug, F7C029

Wemo Smart Light Switch, F7C030

Wemo Mini Smart Plug, F7C063

Wemo WiFi Smart Dimmer, F7C059 (requires Wemo Skill to be enabled)
---
Linking Wemo to the Amazon Alexa App
To link your Wemo device with the Alexa, you need to make sure that your Wemo devices and the Amazon Echo are both working and connected to the same network.  Linking your Wemo to Alexa consists of two parts:
1.  Pre-link procedures
Step 1:  Before linking your accounts, you will need to have at least one Wemo device set up on your Wi-Fi and working on remote access. 
Step 2:  Next, you will need to set up your Amazon Echo and ensure it is working.  Click

here

for setup instructions.

Step 3:  Once done, you only have to say, Alexa, scan for devices and the Amazon Echo will look for your Wemo device.  This is only true if you have a Wemo Switch, Wemo Mini, Wemo Insight Switch or a Wemo Light Switch.  If you have a Wemo Dimmer, it will require you to enable the Wemo Smart Home Skill to link it with the Amazon Echo.
Skills are new voice-driven capabilities that enhance the functionality of your Alexa device.  For example, you can enable Skills that allow your device to tell you about upcoming concerts in your city.  You will need to add the Wemo Skill to your
Amazon
Alexa App to control your Wemo devices.
Step 1: 

Open the Amazon Alexa App and tap the Devices tab located on the lower right-hand corner of the app.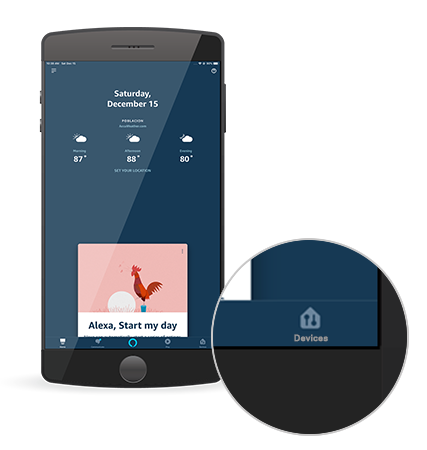 Step 2: 

Tap YOUR SMART HOME SKILLS at the bottom of the Devices tab.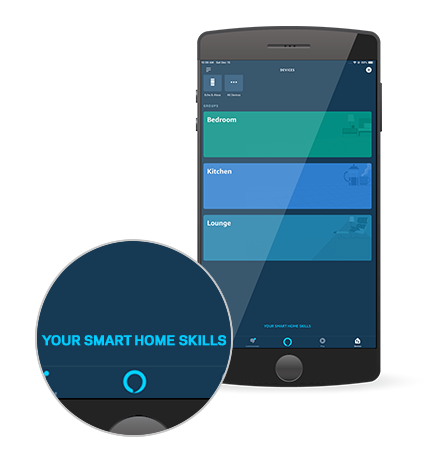 Step 3:  Tap ENABLE SMART HOME SKILLS to see the list of Smart Home Skills that you can enable.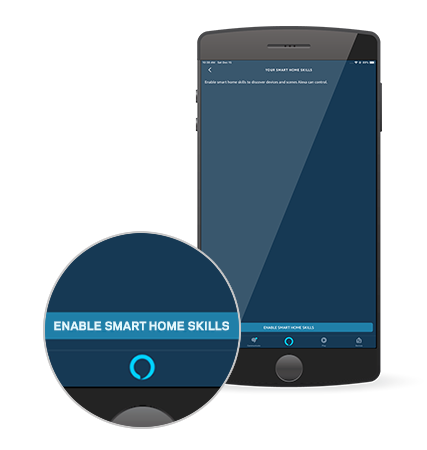 Step 4: 
Tap the magnifying glass icon to search for 'Wemo'.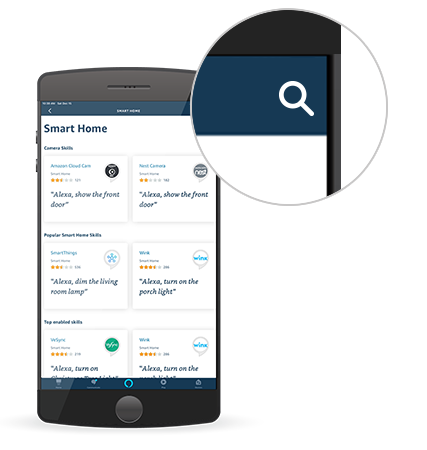 Step 5: 

Select Wemo from the list.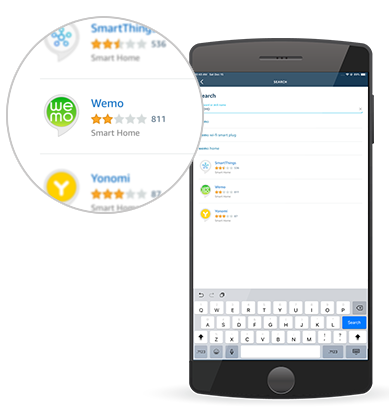 Step 6: 
Tap ENABLE TO USE.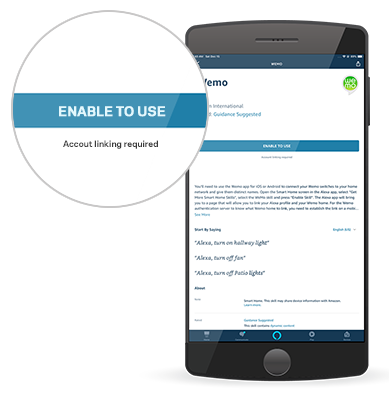 Step 7:  
Tap Ready To Verify to begin the process of enabling the Wemo Smart Home Skills.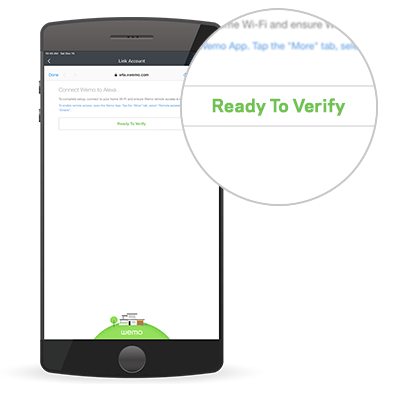 Step 8:  

Press the power button of your Wemo device before the timer ends.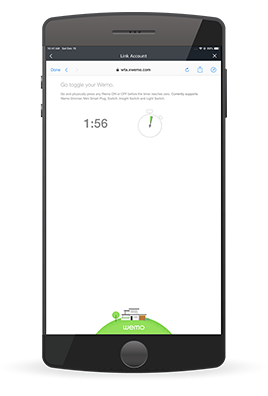 Step 9:  

Upon detection, the Amazon Alexa App will let you know which Wemo device it detected and what it can do.  If the detected device is correct, tap Yes, that's me.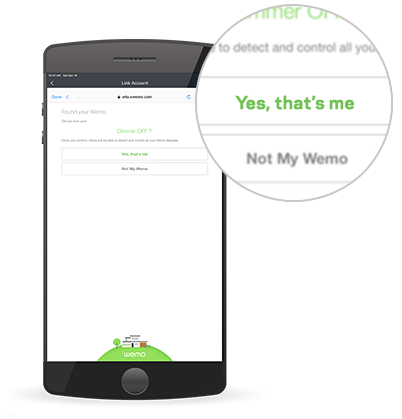 Step 10: 

The Amazon Alexa App will give you a message that Wemo has been linked successfully to the Amazon Echo.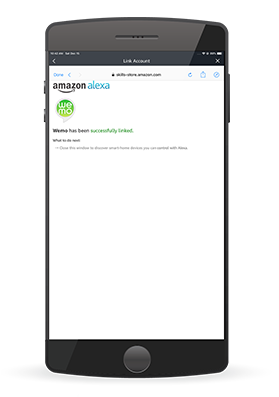 Step 11:  Once it is linked, the Amazon Echo should find or discover the Wemo devices.  You can say a command to Alexa to find devices or tap Discover devices.  If you opt to say a command, wait for about 20 seconds for the Amazon to look for the devices and once it does, it will tell you how many devices it found.  Make sure that this number matches your Wemo devices.

If you opt to tap Discover devices, the app will show you a progress bar as it tries to find devices.  Once it is done finding them, the app will show a message as to how many devices were discovered.  Tap CHOOSE DEVICE at the bottom of the page to complete the setup.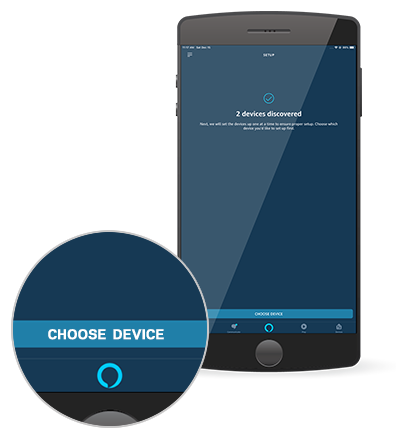 Step 12:  After tapping CHOOSE DEVICE, the Amazon Alexa App will show you the list of Wemo devices it found.  Tap the device that you want to add first, then tap SET UP DEVICE.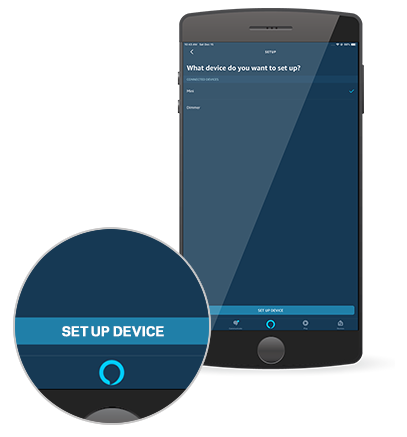 Step 13:  You can add the chosen device in a group by tapping CHOOSE GROUP or tap SKIP to let you add another device and complete the setup.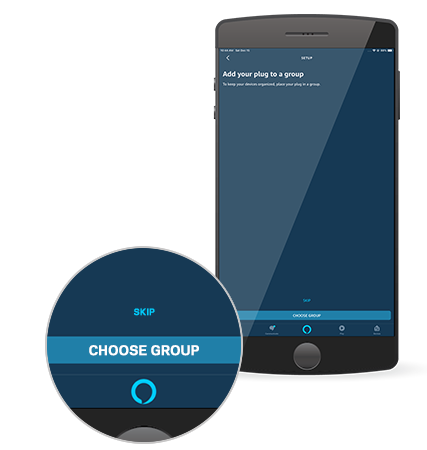 Step 14:  When you tap CHOOSE GROUP, this will ask you where the Wemo Smart Plug is placed in your house.  The location of the Wemo Smart Plug will also be the group name.  You may create a custom name for the group.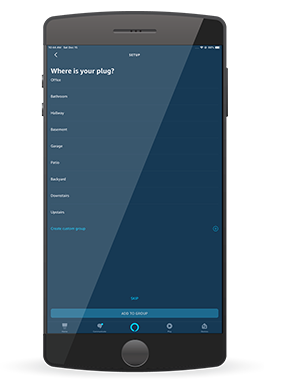 NOTE:  If you have multiple Wemo devices linked to the Amazon Echo, you will have to select the location of each Wemo devices one by one.

Step 15:  Once everything is added, the app will give a notification that the devices are all set up.  Just tap DONE to complete the setup.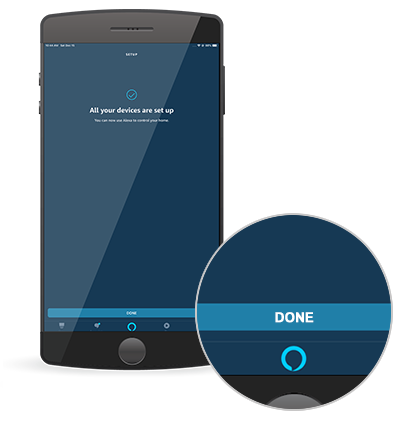 NOTE:  If the Amazon Alexa App detects a network issue, it will ask you to enter the network name and the MAC Address of your Wemo device. You can find the MAC Address under Settings & About section of the Wemo App.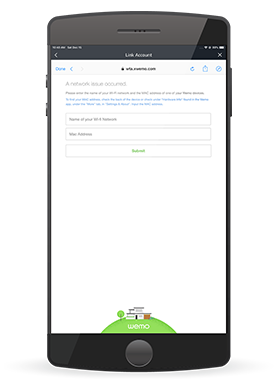 Once done, tap Submit and this will direct you to the 2-minute timer and ask you to toggle one of your Wemo devices
.
I
f you still have some challenges finding your devices, perform the additional steps below.  Once done, redo the integration process. 
Confirm your phone or tablet has remote access.

Try rebooting your router and modem

NOTE:  Some ISP services like Google Fi has a VPN service that can prevent your Wemo from linking to the Alexa.  In this particular case, Google VPN is blocking and preventing linking.  This happens because the Wemo cloud compares the WAN IP address of the request with the WAN IP address of the Wemo device.  Disable the VPN service to enable linking to Alexa.
Was this support article useful?
Thank you for your feedback.