https://www.belkin.com/conserve-switch/P-F7C01008.html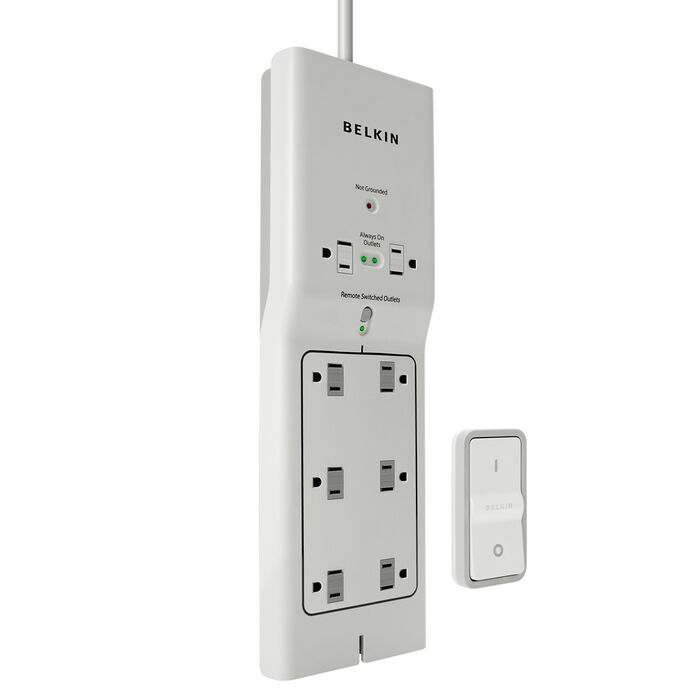 Black Friday Sale: 25% off with code BF22, while supplies last.
Free 2 Day Shipping on orders over $150
Free Ground Shipping on orders over $30
Out of Stock

This item is currently not available
Built-In Circuit Protection
Continuous Electrical Rating
Max. Spike Current (Total)
72,0000A H-N 24,000A, H-G 24,000A, N-G 24,000A
Number of Block Space Outlets
Number of Switchable Outlets
Remote Battery Switch Type
Response Time <1 Nanosecond
Control Standby Power to Your Whole Computer System
Now you can control power to your whole computer system with a single click. The Conserve Switch Surge Protector with Remote lets you shut off power—including standby power—to all of your components with one touch of the wireless remote switch.
Please note: The protective components inside surge protectors absorb over-voltage spikes to protect your connected devices which means they will eventually wear out. Replace them every 3 years or immediately after any over-voltage spike event such as a thunderstorm or power outage because surge protectors degrade faster if they are exposed to high intensity events. Periodically check the surge protector enclosure and cable for signs of wear or heat distress. Replace an expired surge protector with a new one at the end of its useful life.
One-Click Control
The wireless remote controls six Remote-Switched outlets for all your peripherals—your monitor, printer, external hard drives, speakers and more. Two Always-On outlets stay on for devices that need continuous power, like your wireless router or cordless phone. Place the remote on your desk or shelf, or mount it on the wall, for the convenient way to save energy.