https://www.belkin.com/wireless-charging-dock-wireless-charging-pad-apple-watch-dock-certified-refurbished/P-F8J234BLK-RM2.html
BoostUp
Wireless Charging Dock: Wireless Charging Pad + Apple Watch Dock (Certified Refurbished)
Price reduced from

$159.99

to
$69.99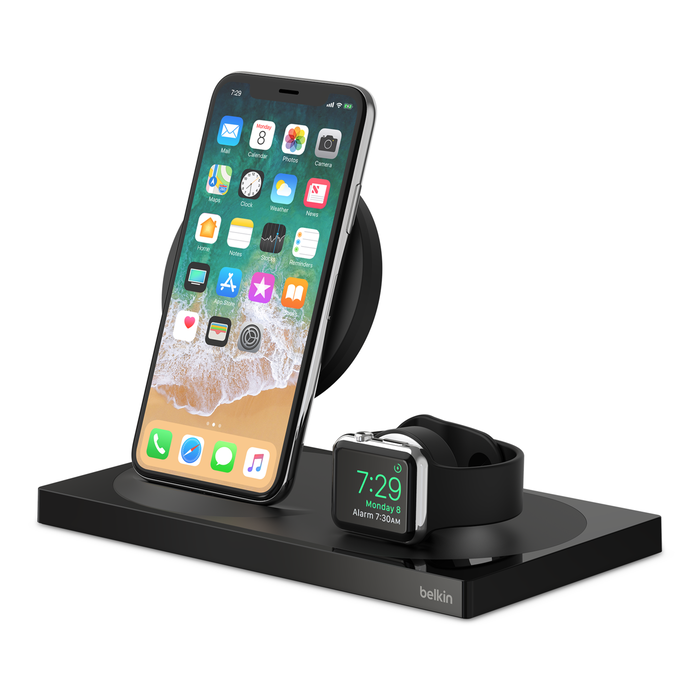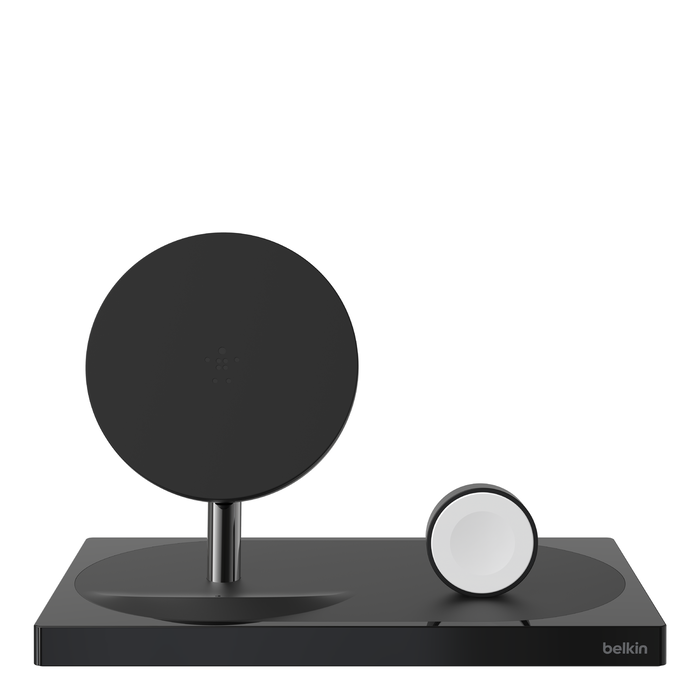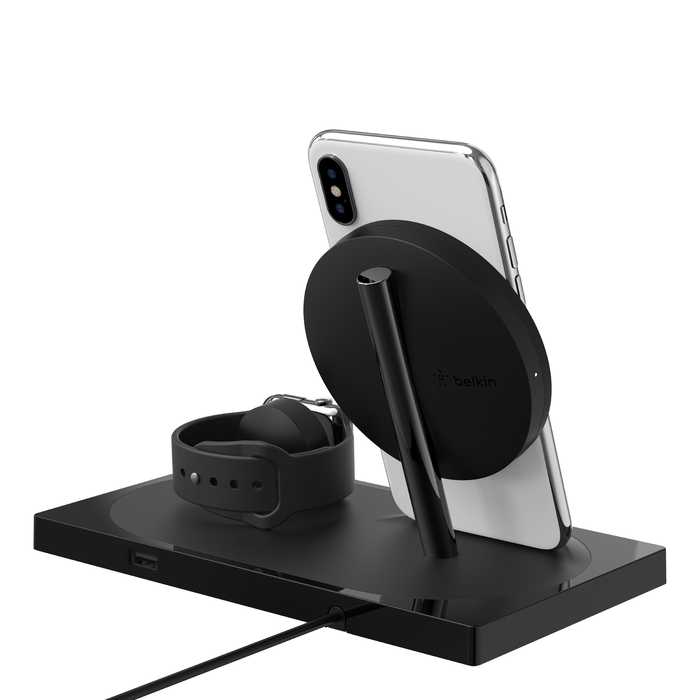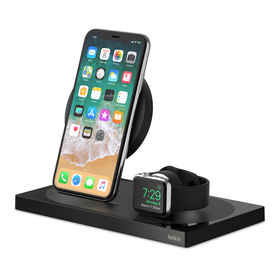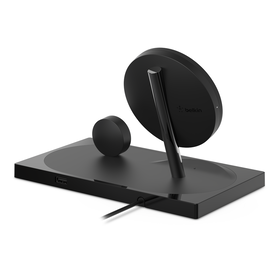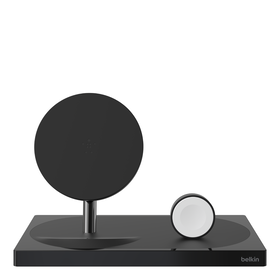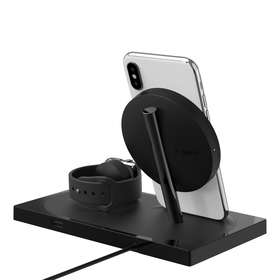 Fast and free shipping
90-Day money back guarantee
24/7 Customer support
BoostUp
Wireless Charging Dock: Wireless Charging Pad + Apple Watch Dock (Certified Refurbished)
Price reduced from

$159.99

to
$69.99
Extra 20% off with code CRDEC. Discount is automatically applied at checkout.
FREE 2-Day Shipping on orders of $125 or more
FREE Standard Shipping on orders of $50 or more
This product usually ships within 1-2 business days.
START YOUR DAY FULLY CHARGED
Ideal for your nightstand, the BOOST↑UP Wireless Charging Dock provides 3-in-1 charging to power your essential devices while you sleep. A 7.5-watt wireless charging pad fuels your iPhone at the fastest possible wireless speed for iPhone, while a 5-watt Magnetic Charging Module powers your Apple Watch. The dock supports Nightstand mode for the Apple Watch to enable the alarm clock feature as it charges. An additional 5-watt USB-A port allows you to simultaneously charge another device like AirPods or power bank, to create a three-device charging station all from a single AC outlet.
THE BELKIN DIFFERENCE
Pioneer in innovation and technology for over 35 years
#1 3rd party maker of wireless charging accessories*
One-dock "charging station" charges 3 devices from a single outlet
The ideal viewing angle allows you to use your iPhone and Apple Watch as they charge
FASTEST POSSIBLE WIRELESS CHARGING FOR iPhone
The wireless charging pad is optimized to recharge your iPhone battery as fast as possible. iPhone X, iPhone 8 and iPhone 8 Plus are designed to wirelessly refuel at 7.5-watts, so your iPhone will charge faster using this dock than it would using a standard 5-watt charger.
QI™-CERTIFIED FOR UNIVERSAL COMPATIBILITY
Qi is a wireless technology that uses inductive charging. The BOOST↑UP Wireless Charging Dock has been engineered to be Qi-compatible, allowing it to also charge phones, tablets and other accessories with Qi technology.
SUPPORTS NIGHTSTAND MODE FOR APPLE WATCH
The dock's Magnetic Charging Module fast charges your Apple Watch and supports Nightstand mode. By holding your Apple Watch at the optimal viewing angle, it enables you to use the alarm clock feature while you charge.
CHARGE A THIRD DEVICE
A 5-watt USB-A port allows you to connect a third device such as a power bank, AirPods or legacy device to create a 'charging station' on your nightstand. This means all your essential devices can charge simultaneously to be fully charged when you need them. Ideal for your nightstand or your desk, this compact dock reduces clutter and cables by safely connecting three devices to a single AC outlet.
NO NEED TO REMOVE YOUR CASE
Charge without removing your iPhone from its case. The BOOST↑UP Wireless Charging Dock is engineered to work with most lightweight plastic cases up to 3mm (not compatible with metal cases).
KEY FEATURES AND BENEFITS
7.5W charges iPhone at fastest possible speed for iPhone
Supports Nightstand mode for Apple Watch
5W/1A USB-A port charges an additional device
Compatible with most iPhone cases up to 3mm
Includes AC adapter for easy setup
LED shows when iPhone is aligned and charging
$2,500 CONNECTED EQUIPMENT WARRANTY
The BOOST↑UP Wireless Charging Dock is protected by a Belkin Connected Equipment Warranty. If your device is damaged by an electrical charge while properly connected to the charger, Belkin will repair or replace it up to a value of $2,500. Learn more >
THREE YEARS OF PROTECTION
Belkin is dedicated to quality and provides a 2-Year Warranty with your charging pad. Register your new charging dock to receive an additional 1-Year Warranty. Learn more >
At a Glance:
Fastest wireless charging for your iPhone X, iPhone 8 Plus, and iPhone 8
Supports Nightstand mode for Apple Watch
5W/1A USB-A port charges a 3rd device
Case compatible
Includes AC adapter for fast, easy setup
3-year extended warranty available
Qi-certified for universal compatibility
$2,500 Connected Equipment Warranty
Package Includes:
BOOST↑UP™ Wireless Charging Dock for iPhone + Apple Watch
1.5-meter/5-foot AC adapter
Quick Install Guide
Extended Warranty Registration Card