https://www.belkin.com/wired-tablet-keyboard-with-stand-with-usb-c-connector/P-B2B191.html
Wired Tablet Keyboard with Stand with USB-C Connector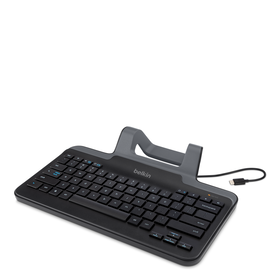 Fast and free shipping
90-Day money back guarantee
24/7 Customer support
Wired Tablet Keyboard with Stand with USB-C Connector
FREE 2-Day Shipping on orders of $125 or more
FREE Standard Shipping on orders of $50 or more
This product usually ships within 1-2 business days.
BEST OF SHOW WINNER
Wired Tablet Keyboard with Stand for Chrome OS™(USB-C™ Connector) named Tech & Learning's Best of Show Winner at TCEA 2019
COMFORTABLE TYPING, RELIABLE CONNECTION
Keep your classroom tidy and efficient by using the Wired Tablet Keyboard with Stand with USB-C connector. Comfortably spaced keys allow for hours of use while pry-resistant keys give teachers and school staff peace-of-mind. When the keyboards are not being used, thoughtful design provides an organized stackable storage solution.
Made for: Any tablet with USB-C connector. Alpha numeric keys work with any operating system which Hot-Keys work with any tablet using Chrome OS.
THE BELKIN DIFFERENCE
Pioneer in technology and innovation for over 35 years
A trusted partner in education since 2012
"Correct connect" diagnostic indicator confirms the keyboard is connected
Ready for standardized tests with SBAC and PARCC testing compliance
No additional software required means you can just plug in and start typing
STANDARDIZED TESTING-APPROVED DEPENDABILITY
Rechargeable wireless keyboards can lose connection and aren't approved for standardized testing. The Wired Keyboard with Stand for Chrome OS connects to tablets using a secure, wired connection, making it ideal for SBAC and PARCC testing, as well as daily use in classrooms. Just plug in and start typing, it's that simple.
DESIGNED FOR COMFORT AND EASE OF USE
The full-sized keyboard with well-spaced keys has been designed with the comfort of your students in mind. Multimedia controls provide convenient one-touch access to a variety of features like volume, play/pause, fast-forward, rewind and caps lock. Full-size arrow keys make website navigation easy. Durable and lightweight materials make it ideal for classroom use.
CONVENIENT, STACKABLE STAND
The integrated stand is compatible with most cases and holds tablets in portrait or landscape mode. Keyboards stack for easy storage and distribution and a cable management compartment allows for cables to be neatly tucked away when not in use.
KEY FEATURES AND BENEFITS
Multimedia and function keys for simple navigation
At a Glance:
Works with Acer Chromebook Tab 10 and other compatible USB-C devices
Designed for classroom use
Securely connects directly to USB-C tablet
SBAC and PARCC testing compliant
No batteries or charging required
Durable and lightweight construction
Stackable design for storage
No additional software required
Package Includes:
Wired Keyboard with Stand with USB-C connector