https://www.belkin.com/8-outlet-pivot-plug-surge-protector-6-ft.-cord/P-BP108000-06.html
8-Outlet Pivot-Plug Surge Protector, 6 ft. Cord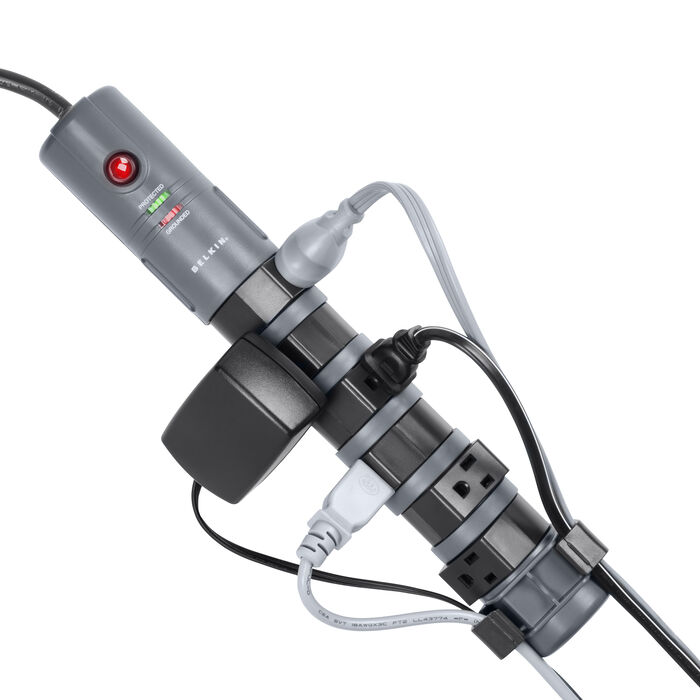 Fast and free shipping
90-Day money back guarantee
24/7 Customer support
8-Outlet Pivot-Plug Surge Protector, 6 ft. Cord
$60 off and FREE Smart Light Switch with purchase of $200+ or,
$30 off with purchase of $125+ or,
$15 off with purchase of $80+.
Discount and free gift (if applicable) is automatically applied at checkout with code GIFT23.
FREE 2-Day Shipping on orders of $125 or more
FREE Standard Shipping on orders of $50 or more
This product usually ships within 1-2 business days.
At a Glance:
8 rotating surge-protected outlets offer flexibility
1800-joule energy rating provides maximum protection from surges and spikes
6-foot heavy-duty power cord
Rotating outlets provide extra room for large AC adapter plugs
Damage-resistant housing protects circuits from fire, damage, and rust
Advanced power conditioning for optimal performance
Cord management to keep cables neat and tangle free
Status indicators let you know equipment is protected
$150,000 Connected Equipment Warranty
SURGE PROTECTION FOR UP TO EIGHT DEVICES
Protect your sensitive electronic devices from surges and spikes with the 8-Outlet Pivot-Plug Surge Protector. This 1800-joule surge suppressor features eight surge-protected outlets that provide powerful protection for your professional workstations, laser printers, broadband modems, home theater systems and everyday household electronics.
Please note: The protective components inside surge protectors absorb over-voltage spikes to protect your connected devices which means they will eventually wear out. Replace them every 3 years or immediately after any over-voltage spike event such as a thunderstorm or power outage because surge protectors degrade faster if they are exposed to high intensity events. Periodically check the surge protector enclosure and cable for signs of wear or heat distress. Replace an expired surge protector with a new one at the end of its useful life.
KEY FEATURES:
1. 6-foot heavy-duty power cord
2. Protected and Grounded status indicators
3. 8 pivoting surge-protected outlets
4. Cord management clip
PROTECTS AGAINST SPIKES AND FLUCTUATIONS
With the 8-Outlet Pivot-Plug Surge Protector, you never have to worry about power spikes, storms, voltage fluctuations or transient electricity damaging your valuable devices. Intelligent built-in voltage sensing circuitry detects and responds to your device's power needs, while safety features, such as thermal fuses that power off your system in the event of a severe occurrence, ensure your devices are protected.
REDUCES ELECTROMAGNETIC INTERFERENCE
This surge protector also reduces electromagnetic interference (EMI) and radio frequency interference (RFI) to block unwanted line noise up to 40 dB, ensuring better performance of connected equipment. It also helps prevent equipment lockup.
PROTECTION FOR CABLE BOX/SATELLITE AND PHONE/FAX LINES
The 8-Outlet Pivot-Plug Surge Protector offers coaxial cable protection to safeguard cable box/satellite connections and 1-in, 2-out RJ11 telephone/fax protection to ensure open and continuous phone line connections.
FLEXIBLE SPACE-SAVING DESIGN WITH PIVOTING OUTLETS
Ideal for homes, offices, entertainment centers, or any room with multiple electronic devices, the 8-Outlet Pivot-Plug Surge Protector has a slim space-saving design. All the outlets rotate to accommodate larger AC power adapters, including oversized printer and charger plugs. Plus, the cord management system lifts and locks to keep cables neat and tangle free.
STATUS INDICATORS SHOW WHEN YOU'RE PROTECTED
With the 8-Outlet Pivot-Plug Surge Protector, you will always know whether or not your electronic devices are protected against damaging voltage fluctuations, surges, and spikes. The green "protected" indicator lets you know your equipment is secure, while the red "grounded" indicator gives you peace of mind that your outlet is properly grounded.
DURABLE DAMAGE-RESISTANT DESIGN
The eight-outlet surge protector comes in a durable impact-resistant ABS case that protects ciruits from fire, damage and rust. The 6-foot heavy-duty power cord ensures optimal power flow to connected devices while keeping your Belkin surge protector out of the way.
Package Includes:
8-Outlet Pivot-Plug Surge Protector
Cord management clip
User manual