https://www.belkin.com/uv-sanitizer-wireless-charger/P-WIZ011.html
BoostCharge
UV Sanitizer + Wireless Charger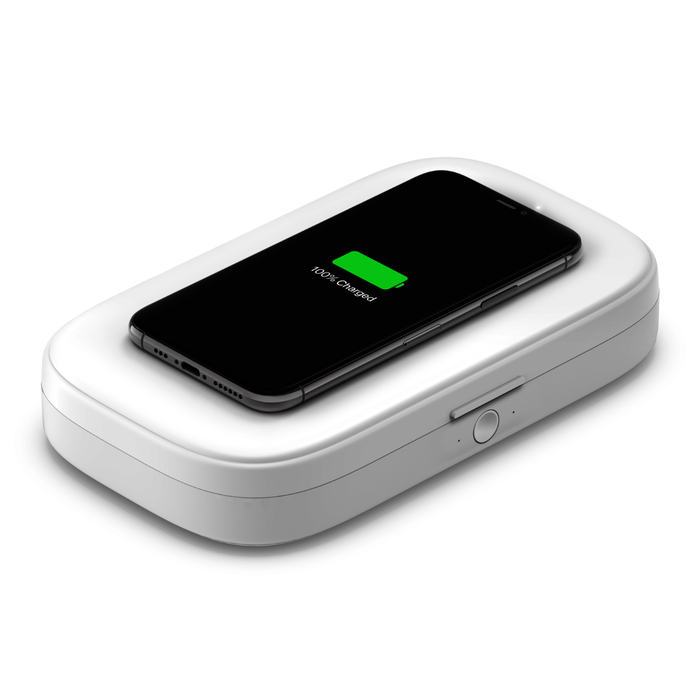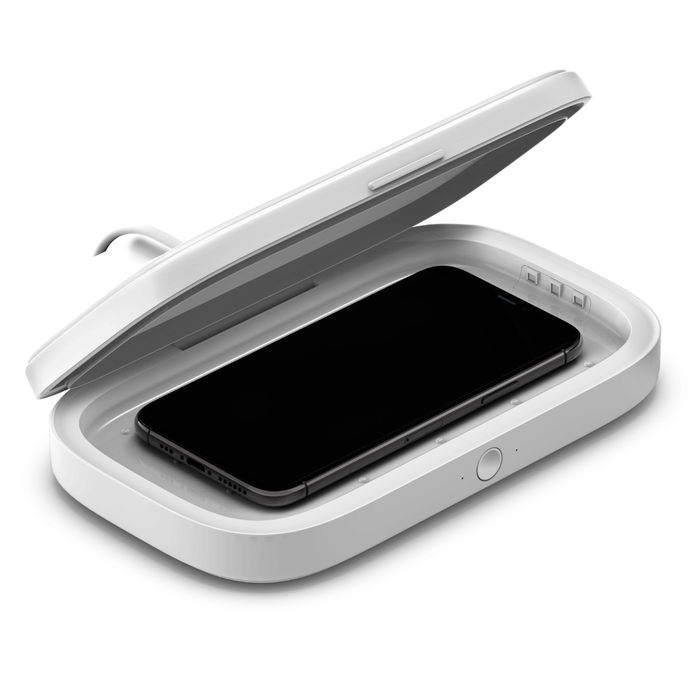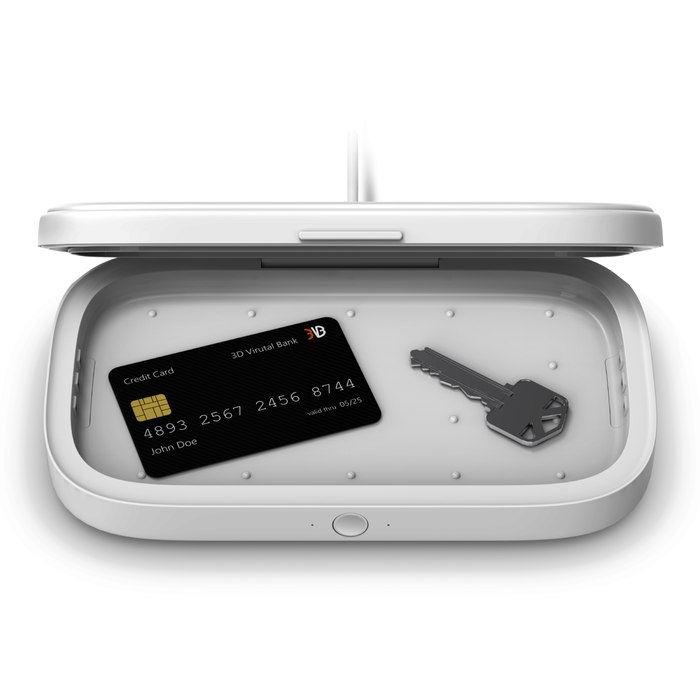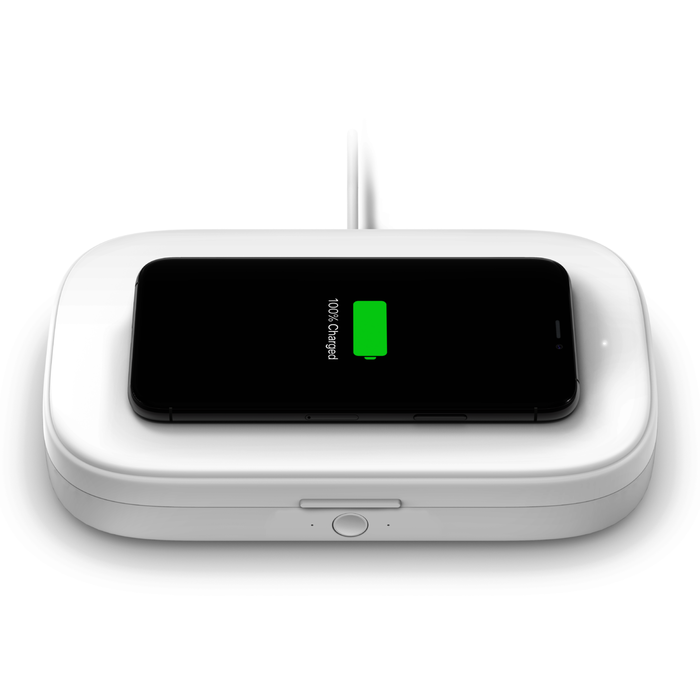 BoostCharge
UV Sanitizer + Wireless Charger
Save 10% with code: CLR10
Spring Sale - Save 20% with code SS23, while supplies last.
Galaxy Note 10
Galaxy S10
Galaxy S10+
Galaxy S20
Galaxy S20 Ultra
Galaxy S20+
Galaxy S21 5G
Galaxy S21 Ultra 5G
Galaxy S21+ 5G
Galaxy S8
GOGLPXL3
Google Pixel 4
iPhone 11
iPhone 11 Pro
iPhone 11 Pro Max
iPhone 12
iPhone 12 mini
iPhone 12 Pro
iPhone 12 Pro Max
iPhone 8
iPhone X
iPhone XR
iPhone XS
iPhone XS Max
Sanitize While You Charge
Our UV sanitizer doubles as a 10W fast wireless charger, allowing you to charge your Qi-enabled smartphone while you sanitize another device or nonporous item—like keys, cards, cash, and rings—at the same time. Wireless charger is case compatible with phone cases up to 3mm thickness.
Eliminate Up to 99.99%* of Bacteria
Our UV Sanitizer is equipped with dual sanitizing UV-C LED lights, eliminating up to 99.99%* of bacteria on your nonporous items in ten minutes or less.
Protect Your Peace of Mind
Safely sanitize your smartphone without the use of heat, chemicals, or liquids when used as directed. Our UV sanitizer uses LED light so there's no risk of exposing you or your loved ones to mercury. Reduce waste with a UV-C light lifetime that's 3x that of traditional UV-C lamps.
Get a Faster Wireless Boost
Simply align your Qi-enabled iPhone, Samsung, or Android device on top of the sanitizer to charge. This gives you easy access to your phone while other items sanitize at the same time. Wireless charger is case compatible with cases up to 3mm.
Ready to Sanitize
Get charging and sanitizing immediately. Comes with a 4ft USB-A to USB-C cable and an optional 18W power source for instant use out of the box.
Sanitize All Your Daily Items
Give yourself peace of mind by eliminating up to 99.99%* of bacteria from the items you touch every day. Our UV sanitizer has two modes to sanitize your keys, cards, rings, or mobile devices, giving a quick clean in three minutes or a deep clean in ten.
Compact and Easy to Use
Easily and quickly sanitize your device or other nonporous items with one touch cleaning. Once it's done sanitizing it turns off on its own. Plus, it's compact enough to fit on your desk, kitchen counter, or bedstand.
At a Glance
Eliminate up to 99.99%* of bacteria from your phone, keys, cards, rings, or other nonporous items
Easy, silent, one-touch sanitation
Fast wireless charging for Qi-enabled devices works simultaneously with the UV sanitizer
Auto shut-off when sterilization is complete or when lid is opened
Dual UV-C LED lights
4 ft USB-A to USB-C cable included
18W power source included
Protected by 1-year product warranty
Package Includes:
UV Sanitizer + Wireless Charger
4ft USB-A to USB-C cable
QC 3.0 18W Wall Charger
Specs
UV sanitizer outer dimensions:
7.8in (199mm)
4.7in (118mm)
1.4in (35mm)
UV sanitizer inner dimensions:
7in (178mm)
3.7in (94mm)
0.6in (14mm)
*Kill up to 97% of E. coli in 3 minutes in fast-cleaning mode and up to 99.99% in 10 minutes in deep-cleaning mode, based on third-party testing