https://www.belkin.com/usb-wall-mount-surge-protector-with-cradle/P-BSV300-CW.html
USB Wall Mount Surge Protector with Cradle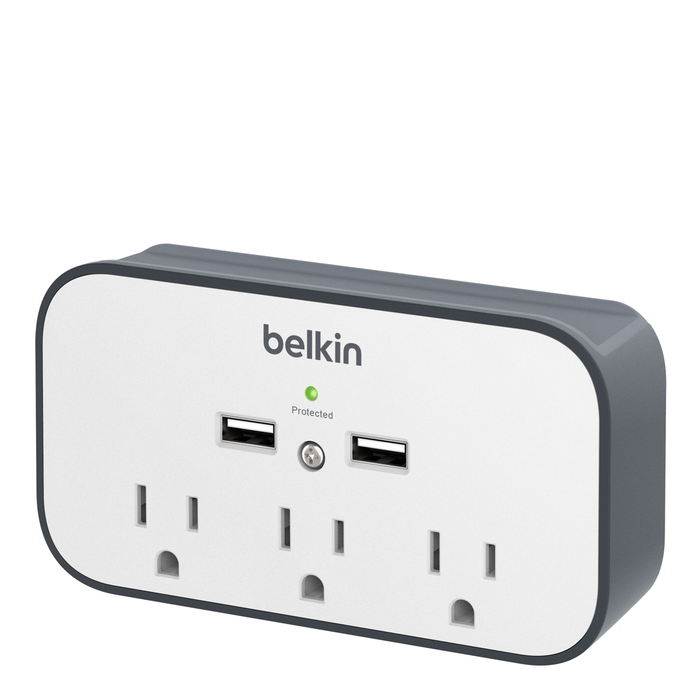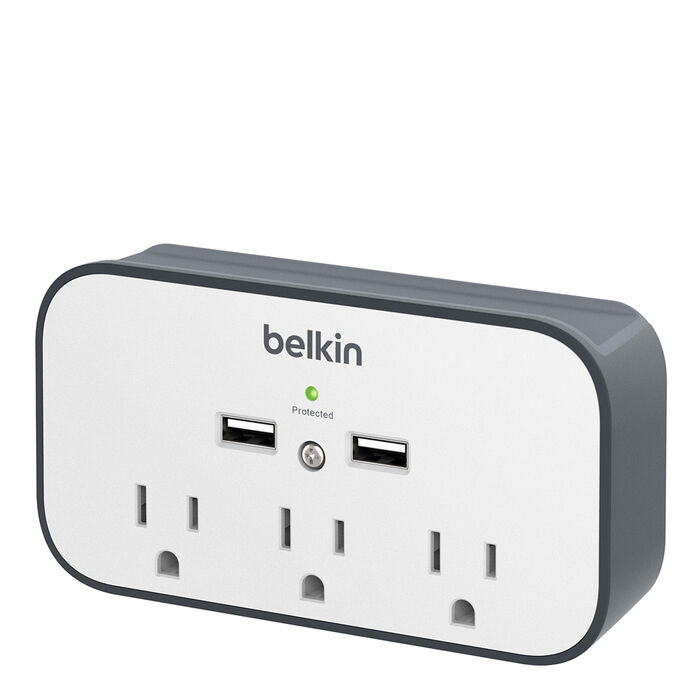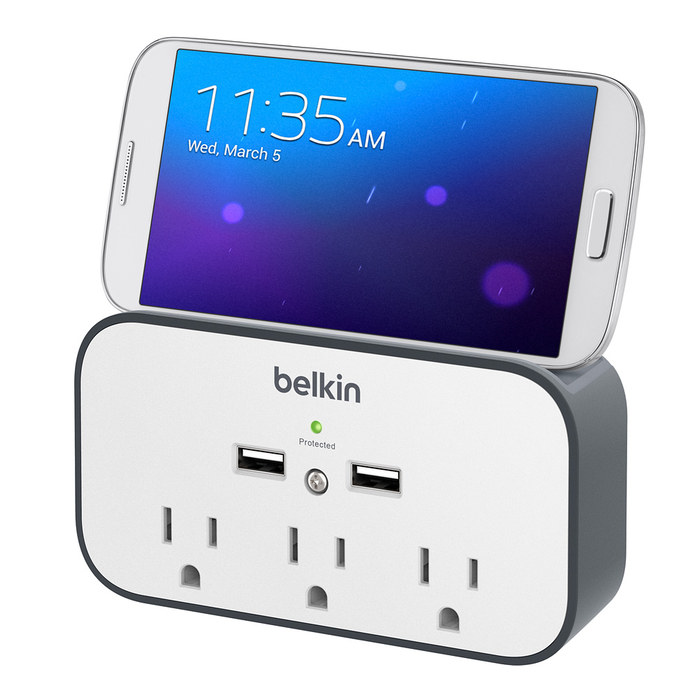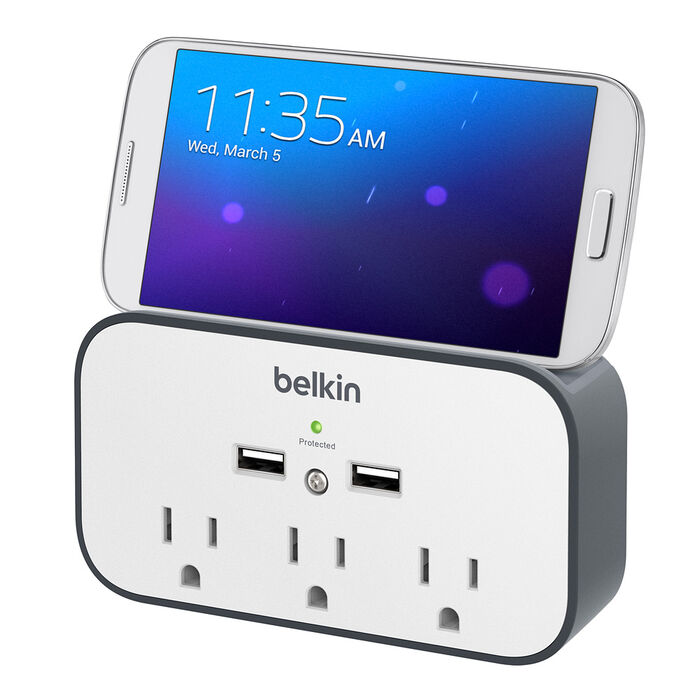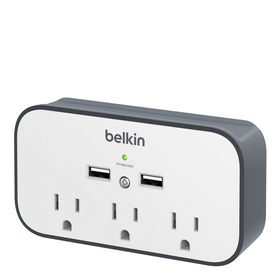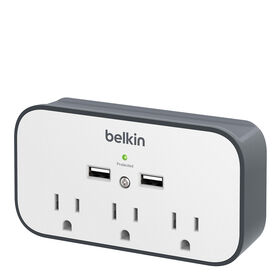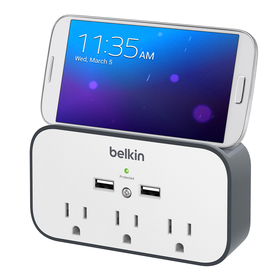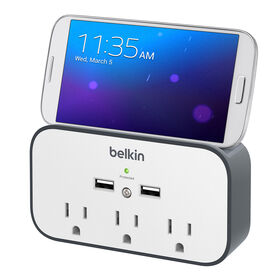 Fast and free shipping
90-Day money back guarantee
24/7 Customer support
USB Wall Mount Surge Protector with Cradle
$60 off and FREE Smart Light Switch with purchase of $200+ or,
$30 off with purchase of $125+ or,
$15 off with purchase of $80+.
Discount and free gift (if applicable) is automatically applied at checkout with code GIFT23.
FREE 2-Day Shipping on orders of $125 or more
FREE Standard Shipping on orders of $50 or more
This product usually ships within 1-2 business days.
iPad mini
iPad mini 2
iPad mini 3
iPad mini 4
Google Pixel XL
HTC U11
iPhone 7
iPhone 7 Plus
iPhone 8
iPhone 8 Plus
iPhone SE 1st Gen
iPhone X
LG V20
LG V30
Galaxy S4
Galaxy S4 Active
Galaxy S4 Mini
Galaxy S5
Galaxy S6
Galaxy S6 edge
Galaxy S7
Galaxy S7 edge
Galaxy S8
Galaxy S8+
IPHONE6S
GOGLPXL2
HTC10
HTCFLY
GOGLPXL
IPHONE6PLUS
GOGLPXL2XL
LGG6
LGG5
IPHONE6SPLUS
IPHONE5
IPHONE6
MICLMIA950
MICLMIA950XL
PROTECT, CHARGE, AND STORE
Protect three electronic devices or appliances and charge two mobile devices with the Surge Plus USB Wall Mount with Cradle. The surge protector plugs into any AC outlet in your home or office and even features a ledge to display or store your smartphone or media player.
Please note: The protective components inside surge protectors absorb over-voltage spikes to protect your connected devices which means they will eventually wear out. Replace them every 3 years or immediately after any over-voltage spike event such as a thunderstorm or power outage because surge protectors degrade faster if they are exposed to high intensity events. Periodically check the surge protector enclosure and cable for signs of wear or heat distress. Replace an expired surge protector with a new one at the end of its useful life.
PROTECT ELECTRONICS FROM DANGEROUS SURGES
Secure a laptop, lamp, or small kitchen appliance by connecting it to the surge protector. Three grounded outlets are rated at 540 joules and defend against electrical spikes. The green indicator light tells you the surge protector is working, and your devices and appliances are protected.
TWO UNIVERSAL USB PORTS PROVIDE QUICK RECHARGING
The surge protector's two USB ports charge a wide range of mobile devices from smartphones to tablets to media players. And with 2.4 Amps of shared power, the ports charge more quickly than traditional USB ports.
Additionally, you can keep your smartphone, tablet, or media player off the counter or the floor by displaying it on the surge protector's convenient cradle ledge.
THREE OUTLETS WITH A SMALL FOOTPRINT
Simply plug the surge protector into any AC outlet and you're ready to charge devices and protect small appliances right away. Use the grounded plugs for small appliances and the USB ports with your mobile device cables (sold separately).
$25,000 CONNECTED EQUIPMENT WARRANTY
This surge protector comes a Connected Equipment Warranty, which means we will repair or replace electronic equipment damaged by an electrical surge or lightning strike while properly connected to the charger, up to $25,000.
At a Glance:
Surge protection rated at 540 Joules to extend the life of your electronics and appliances
2 USB ports provide 2.4 amps of shared charging to quickly charge mobile devices
3 AC outlets
Cradle holds smartphones and media players
Surge protector mounts directly to wall, saving space on floors and countertops
Green indicator light signals devices are protected
$25,000 Connected Equipment Warranty offers replacement or repair for devices damaged while connected to surge protector
Package Includes:
USB Wall Mount Surge Protector with Cradle
User manual
�