https://www.belkin.com/surgeplus-usb-swivel-charger-10-watts-combined/P-BST300.html
3-Outlet Mini Surge Protector with USB Ports (2.1 AMP)
Price reduced from

$34.99

to
$29.99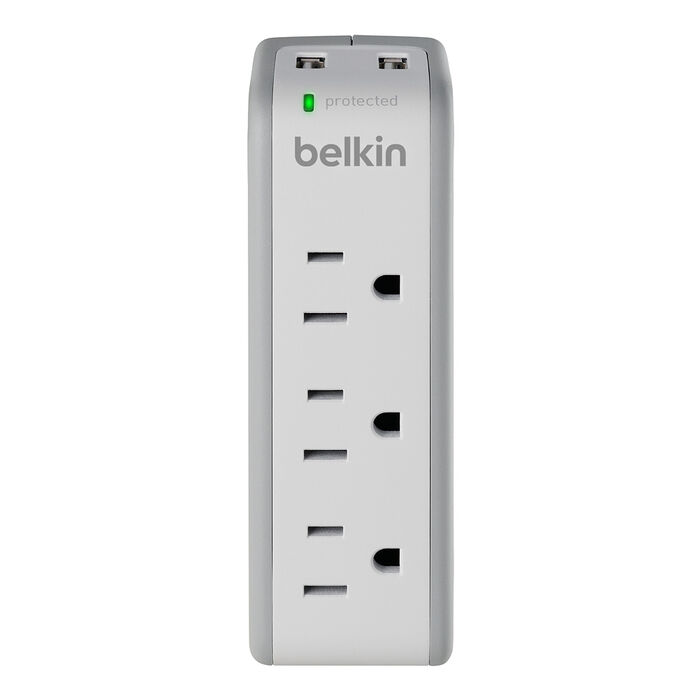 Fast and free shipping
90-Day money back guarantee
24/7 Customer support
3-Outlet Mini Surge Protector with USB Ports (2.1 AMP)
Price reduced from

$34.99

to
$29.99
Free 2-day shipping on orders over $125 or more.
FREE Standard Shipping on orders of $50 or more
This product usually ships within 1-2 business days.
Emi/RFI Noise Filtration
150kHz ~ 100MHz up to 43 dB reduction
At a Glance:
Portable Surge Protector rated at 918 Joules with three grounded outlets
Two USB ports (2.1A combined) for charging tablets, smartphones, and other mobile devices
Wall mountable to provide extra outlets without extra cords
360-degrees rotating plug with four locking positions to fit in tight spaces
Damage-resistant housing for long-term durability
Oversized Metal Oxide Varistors (MOVs) absorb excess electricity
Indicator illuminates to let you know that your equipment is protected
Limited Lifetime Product Warranty
$75,000 Connected Equipment Warranty
Package Includes:
Belkin SurgePlus 3-Outlet Mini Surge Protector with Dual USB Ports
PORTABLE CHARGING AND PROTECTION FOR UP TO THREE DEVICES
Keep your mobile devices charged and protected when you're on the road with the Belkin SurgePlus 3-Outlet Mini Surge Protector. Plug this USB travel charger into any wall outlet and power up to three AC devices at once without extra cords. The 360-degree swivel feature makes it easy to fit this SurgePlus in small spaces.
Please note: The protective components inside surge protectors absorb over-voltage spikes to protect your connected devices which means they will eventually wear out. Replace them every 3 years or immediately after any over-voltage spike event such as a thunderstorm or power outage because surge protectors degrade faster if they are exposed to high intensity events. Periodically check the surge protector enclosure and cable for signs of wear or heat distress. Replace an expired surge protector with a new one at the end of its useful life.
KEY FEATURES:
1. Three surge-protected AC outlets
2. Light indicates active surge protection
3. Two USB charger ports (2.1A combined)
4. 360-degree rotating plug
ON-THE-GO CHARGING
The Belkin SurgePlus 3-Outlet Mini Surge Protector adds outlets and peace of mind when you're away from home. Plug it into any wall outlet for three additional outlets without extra cords. Two powered USB ports (2.1A combined) offer convenient one-source charging for your mobile devices, including tablets. Please note: The USB ports are intended solely for charging devices and cannot be used as a USB hub or to transmit data.
ROTATES TO FIT IN SMALL SPACES
To make it easier to fit in small, tight spaces, this travel surge protector has a 360-degree swivel feature. The charger rotates up and out of the way to prevent it from blocking other outlets.
INDICATOR SHOWS WHEN DEVICES ARE PROTECTED
You'll never have to guess if the SurgePlus charger is working properly. A green light at the top of the charger indicates that surge protection is active.
KEEP DEVICES SAFE FROM SURGES AND SPIKES
The SurgePlus USB Swivel Charger offers a high level of protection with its 918-Joule energy rating. Oversized Metal Oxide Varistors (MOVs) absorb excess electricity for additional protection, while damage-resistant housing protects circuits from fire, impact, and rust, and prevents dents and scratches. Your devices will be safe from damage, data loss, file corruption, and system crashes that may occur due to electrical surges.
EASY, INTUITIVE OPERATION
The SurgePlus takes just minutes to set up and use. To get started, remove the plug cover and slide it into the bottom of the charger. Next, plug the USB swivel charger into a wall outlet. You can then use the USB cables that came with your devices to charge up to two devices at once.
LIMITED LIFETIME PRODUCT AND $75,000 CONNECTED EQUIPMENT WARRANTIES
The SurgePlus USB Swivel Charger is covered by a Limited Lifetime Product Warranty and a $75,000 Connected Equipment Warranty. This means that Belkin will repair or replace any equipment damaged by a surge, spike, or lightning strike while properly connected to the surge protector, up to $75,000.