https://www.belkin.com/store-and-charge-go-with-fixed-dividers/P-B2B141.html
Store and Charge Go with fixed dividers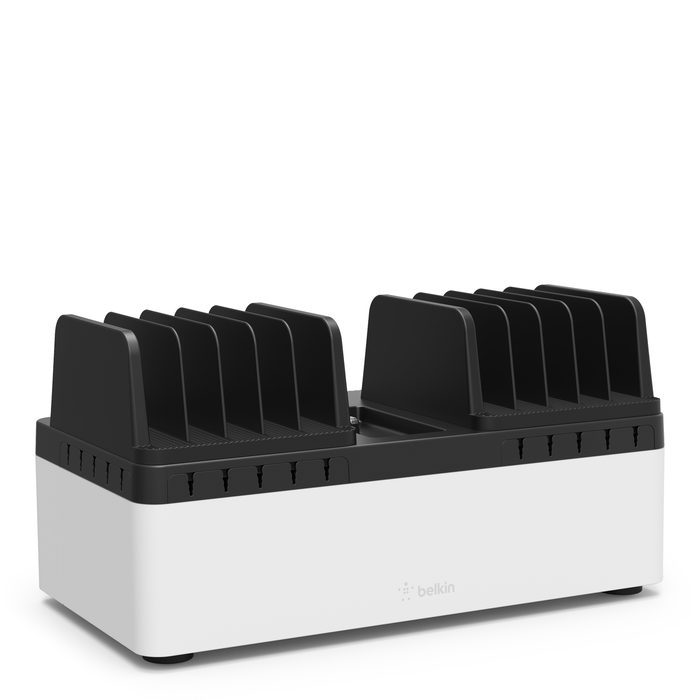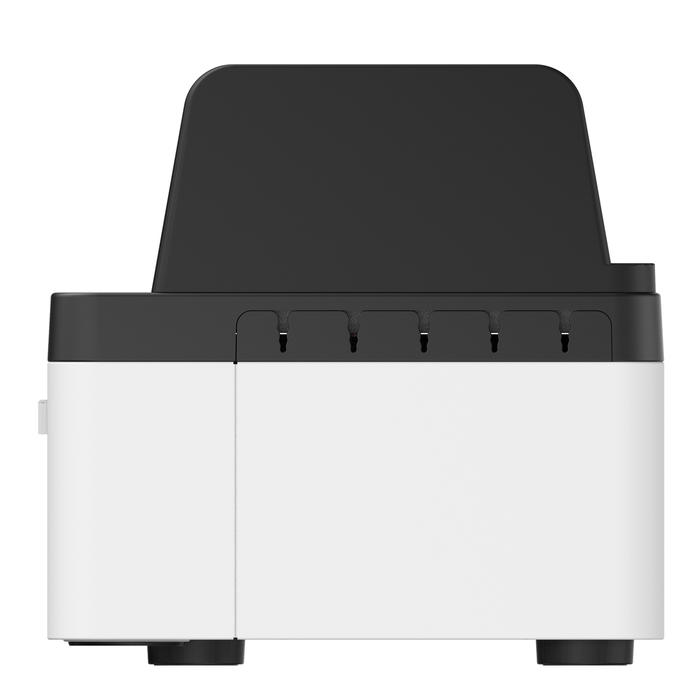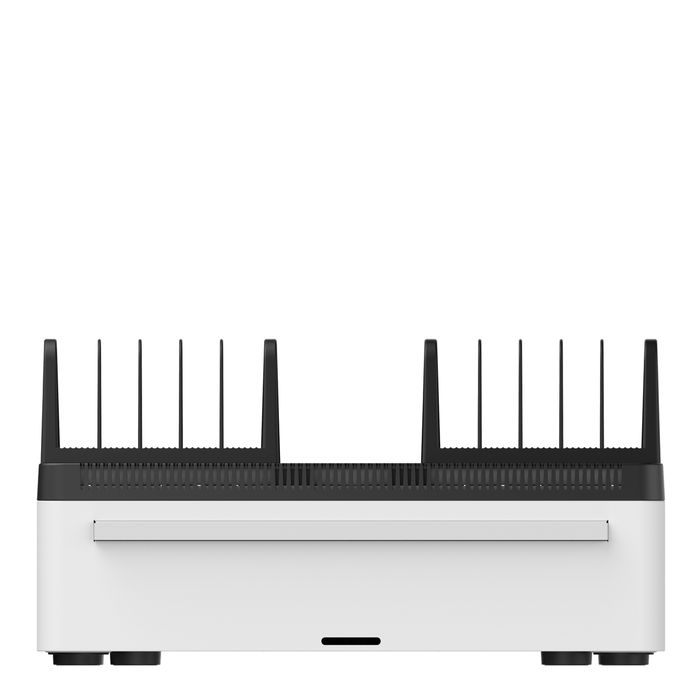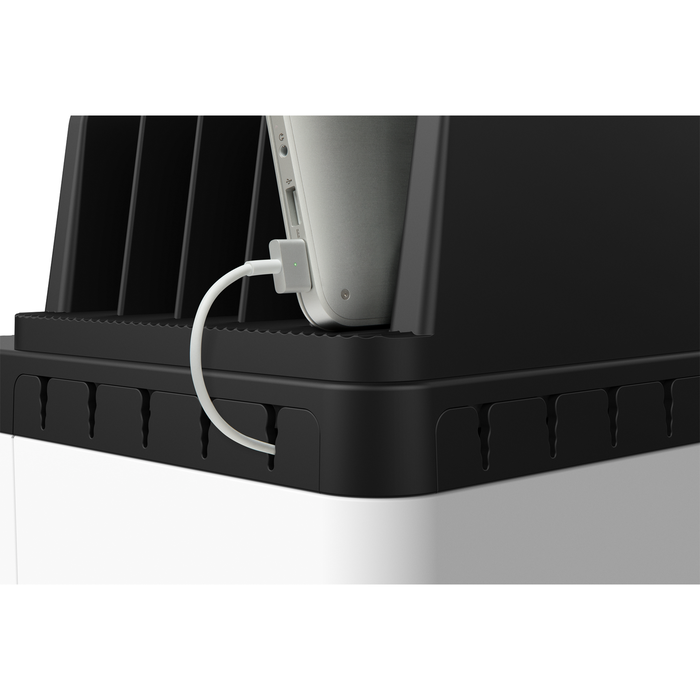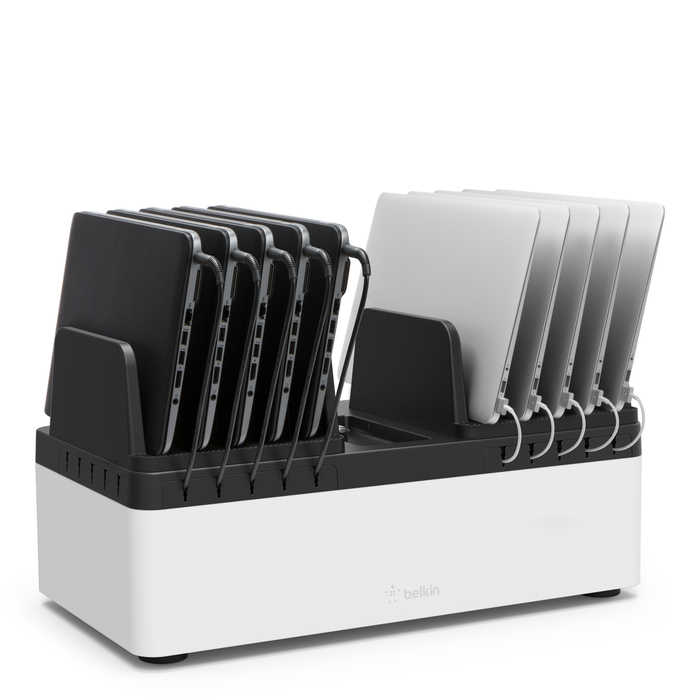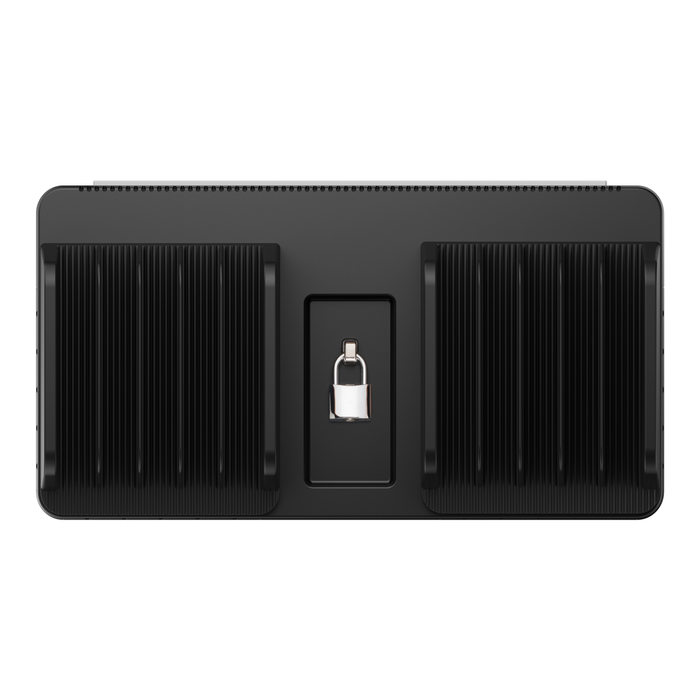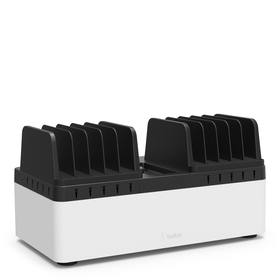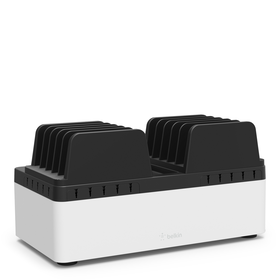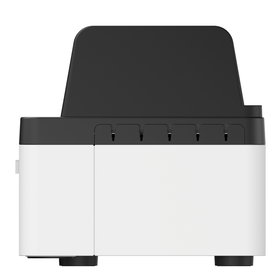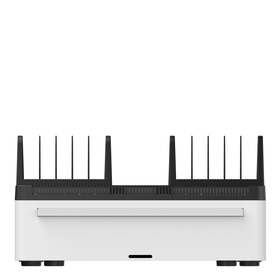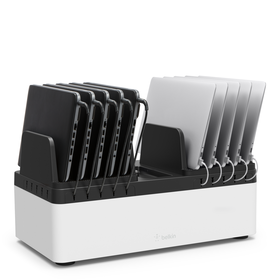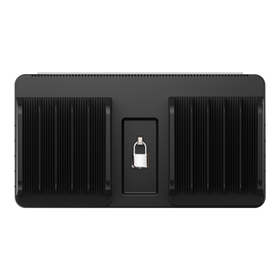 Fast and free shipping
90-Day money back guarantee
24/7 Customer support
Store and Charge Go with fixed dividers
FREE 2-Day Shipping on orders of $125 or more
FREE Standard Shipping on orders of $50 or more
This product usually ships within 1-2 business days.
ALL DEVICES WELCOME
Store and Charge Go with Fixed Dividers is the ideal solution to store and charge multiple devices safely and conveniently. Charge up to 10 devices at the same time while housing all charging cables neatly within the base. The fixed dividers are sturdy and offer a storage solution for Chromebook computers, laptops, tablets, and more. Save valuable classroom real estate by safely affixing the Store and Charge Go to a desk or wall. Alternatively, Store and Charge Go with portable trays is also available.
KEY FEATURES:
1. Fixed dividers have no height or length restrictions, allowing almost any classroom device to fit.
2. Orient trays to face front to back or side to side for additional convenience and safety.
3. Front and side slots keep cables organized.
4. Lock protection offers added security (lock not included).
5. Four holes on bottom of Store and Charge Go allow for easy surface and desk mounting.
6. Chargers are stored within the base of the charging station, keeping the area tidy.
7. Rack is designed to incorporate proper ventilation, helping to maintain optimal operational temperature.
8. A back bracket affords easy installation of optional Wall Mount.
MULTI-DEVICE COMPATIBLE
Able to house up to 10 mobile devices, Store and Charge Go accommodates Chromebook computers, laptops, and tablets with or without cases. This means simultaneous charging for different devices, from different brands, using different charging connectors-with the added bonus that new devices will slot in seamlessly.
SPACE-SAVING SPECIALIST
An optional wall mount makes it easy to safely affix the Store and Charge Go to a wall, saving you even more space in the classroom. The wall mount is available on Belkin.com.
COST-EFFICIENT
With so many features built-in, Store and Charge Go offers a high-value solution that delivers a low cost per device--essential for today's cost-sensitive classrooms. The simple, effective, and scalable design keeps installation and setup costs minimal, and requires little to no maintenance on a day-to-day basis.
AC CONFIGURATION
The AC configuration includes a metal-case, surge-protected power source with 10 wide-spaced outlets and an on/off switch.
CONNECTED EQUIPMENT WARRANTY
Connected Equipment Warranty to protect connected devices up to $15,000.*
*If your device is damaged by an electrical charge while properly connected to the charger, Belkin will repair or replace it up to a value of $15,000.
At a Glance:
Charges 10 devices simultaneously with fixed divider compartments
Compatible with multiple device types and brands
Wall-/desktop-mountable base
Base unit houses all chargers and cables
AC compatible
Includes surge protection
Connected Equipment Warranty
Package Includes:
Mountable Base Unit with Power Storage
Cable Management
Power Supply