https://www.belkin.com/fiber-optic-cable-10gb-aqua-multimode-lcst-duplex-50125-om3/P-F2F402L0-G.html
Fiber Optic Cable; 10GB Aqua Multimode LC/ST Duplex, 50/125 OM3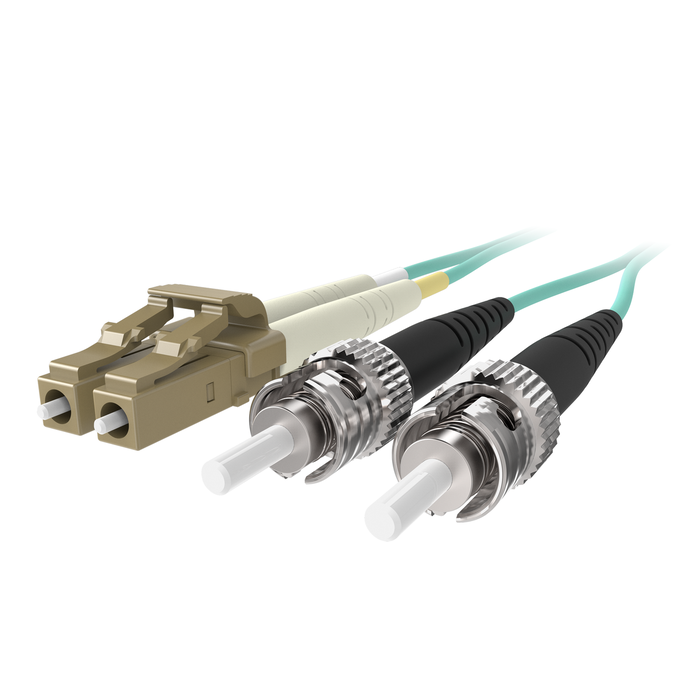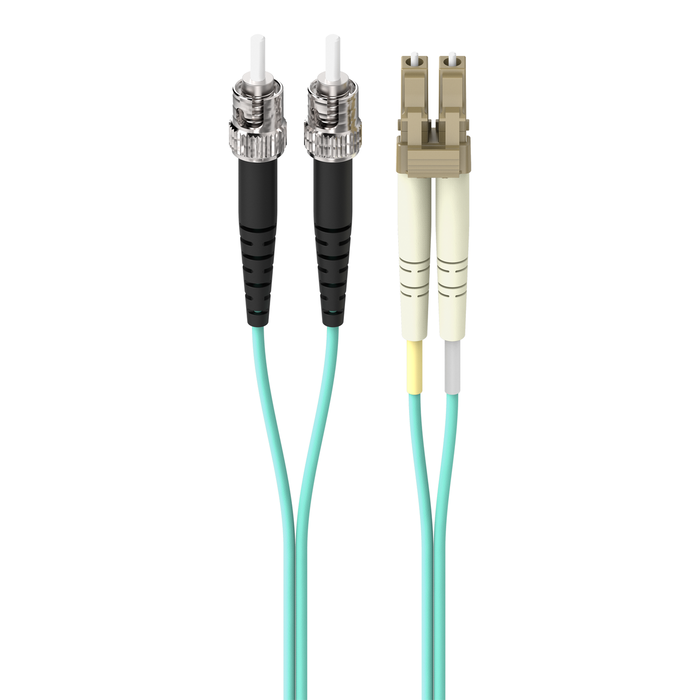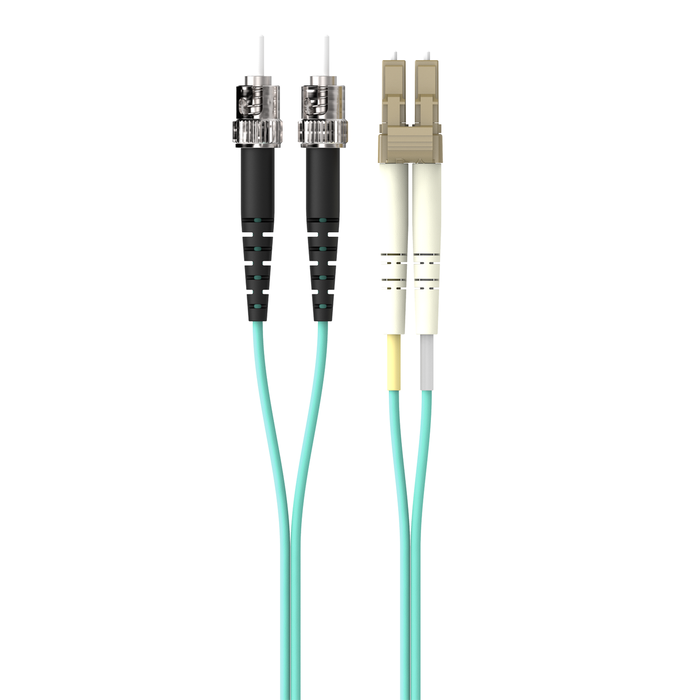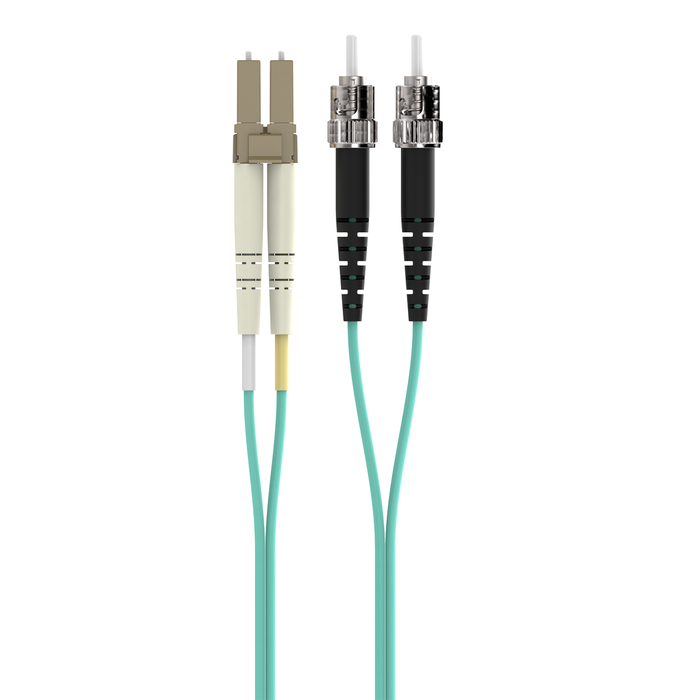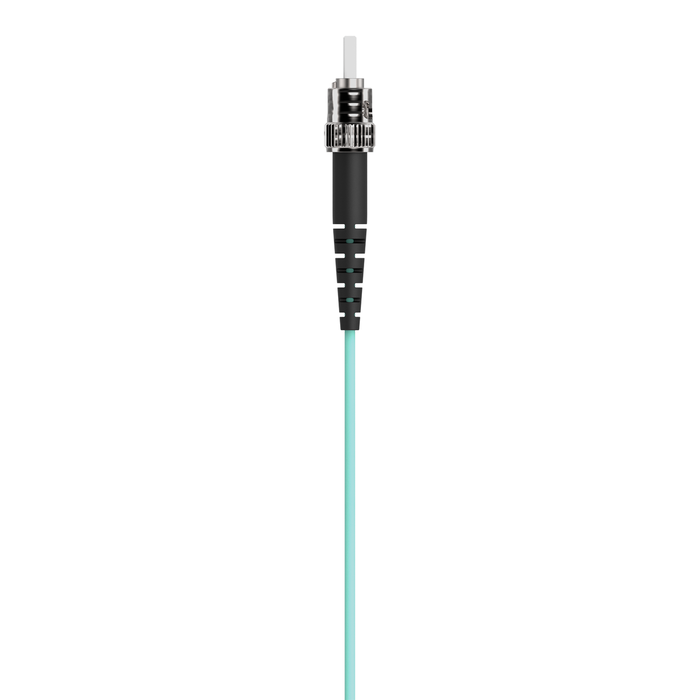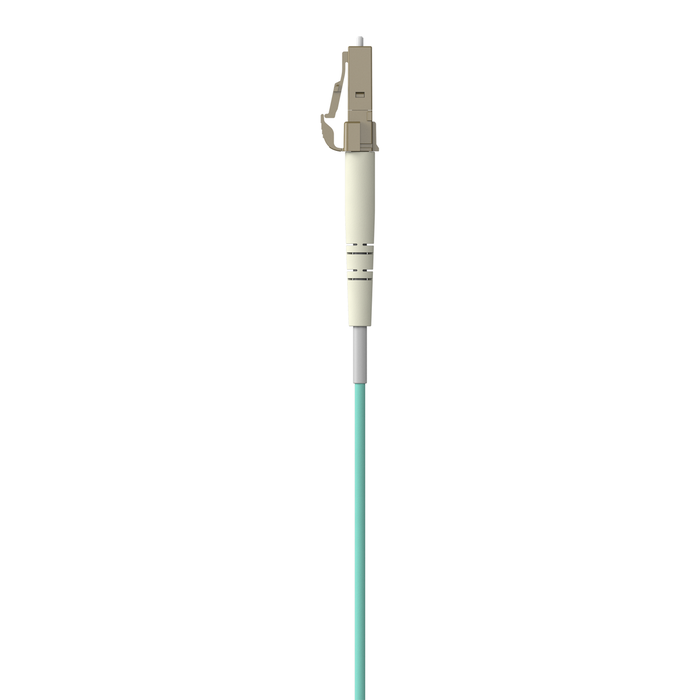 Fiber Optic Cable; 10GB Aqua Multimode LC/ST Duplex, 50/125 OM3
Connector on First End
2 x LC/PC multi-mode - male
Connector on Second End
2 x ST/PC multi-mode - male
Max Attenuation (dB/km) at 850nm/1310nm:
Minimum Return Loss @ 850nm/1310nm
At a Glance:
Fiber optic patch cable for high-speed data connections
Suitable for 10GB Ethernet network applications
Backward compatible with existing network equipment
Two LC and two ST connectors for rapid deployment
Multimode optical fiber to transmit data over short distances
KEY FEATURES:
LC Duplex male connectors
ST Duplex male connectors
Multimode optical fiber
LC AND ST CONNECTORS FOR QUICK DEPLOYMENT
This fiber optic cable features two LC multimode male connectors on one end and two ST multimode male connectors on the other end for fast setup. LC connectors conserve space to accommodate multiple cables.
TRANSMIT DATA WITH EASE
Establish high-speed data connections within your local area network using the Belkin 10GB Multimode 50/125 LC/ST Fiber Optic Patch Cable. Designed for use in 10 Gigabit Ethernet network applications, multimode patch cable is backward compatible with existing network equipment and offers three times the bandwidth of traditional 62.5/125 multimode fibers.
MULTIMODE FIBER FOR BACKBONE APPLICATIONS
Ideal as part of a backbone network, this fiber patch cable uses laser-optimized fiber that has a larger diameter and greater light-gathering capacity than a single-mode fiber. With a core diameter of 50 microns and a cladding diameter of 125 microns, this fiber is better suited for transmitting data over short distances, such as within an office building.
MEETS INDUSTRY REQUIREMENTS
The Belkin 10GB Multimode 50/125 LC/ST Fiber Optic Patch Cable is classified as an OM3 multimode optical fiber cable under ISO/IEC (International Organization for Standardization/International Electrotechnical Commission) standard 11801.
Package Includes:
10GB Multimode 50/125 LC/ST Fiber Optic Patch Cable