https://www.belkin.com/7-outlet-home-series-surgemasterreg/P-F9H700-06.html
7-Outlet Home Series SurgeMaster®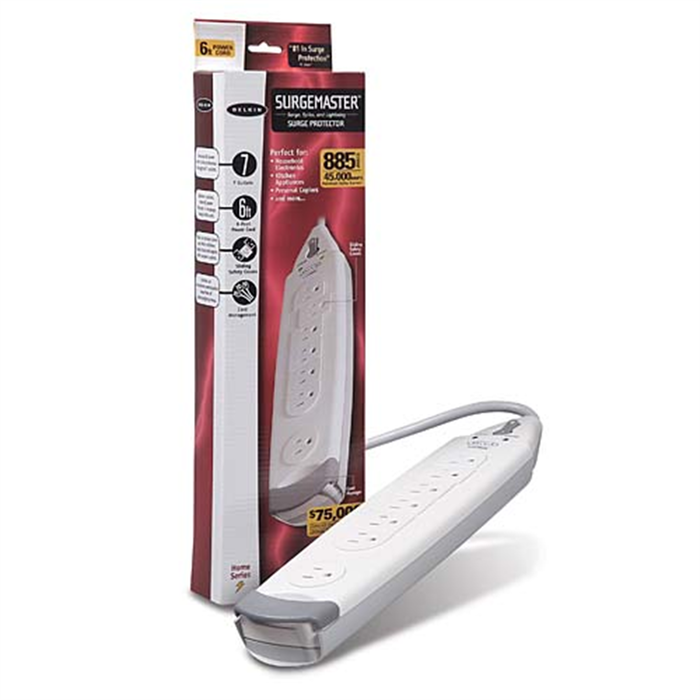 7-Outlet Home Series SurgeMaster®
Spring Sale - Save 20% with code SS23, while supplies last.
The seven-outlet Home Series SurgeMaster from Belkin offers three-line AC surge protection for your general electronics and home appliances. It has an energy rating of 885 joules and provides a maximum spike current of 45,000 Amps. Along with seven surge-protected outlets with sliding safety covers, it features a Spoiler Cord System for easy, clutter-free cord management. Our handy BlockSpace outlets provide extra room for block-style plugs and adapters without covering other outlets, and LEDs illuminate to let you know your equipment is protected.
Please note: The protective components inside surge protectors absorb over-voltage spikes to protect your connected devices which means they will eventually wear out. Replace them every 3 years or immediately after any over-voltage spike event such as a thunderstorm or power outage because surge protectors degrade faster if they are exposed to high intensity events. Periodically check the surge protector enclosure and cable for signs of wear or heat distress. Replace an expired surge protector with a new one at the end of its useful life.