https://www.belkin.com/6-outlet-homeoffice-surge-protector-4-ft.-cord/P-BE106000-04.html
6 Outlet Home/Office Surge Protector 4' cord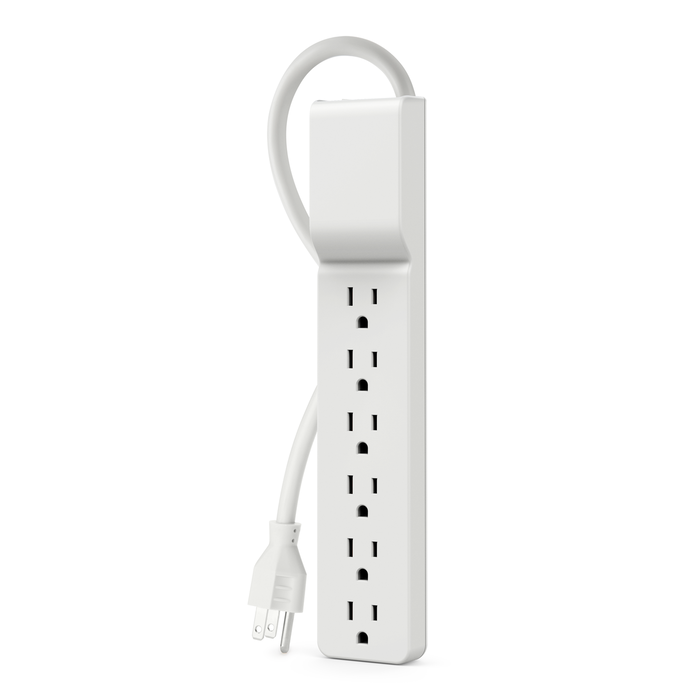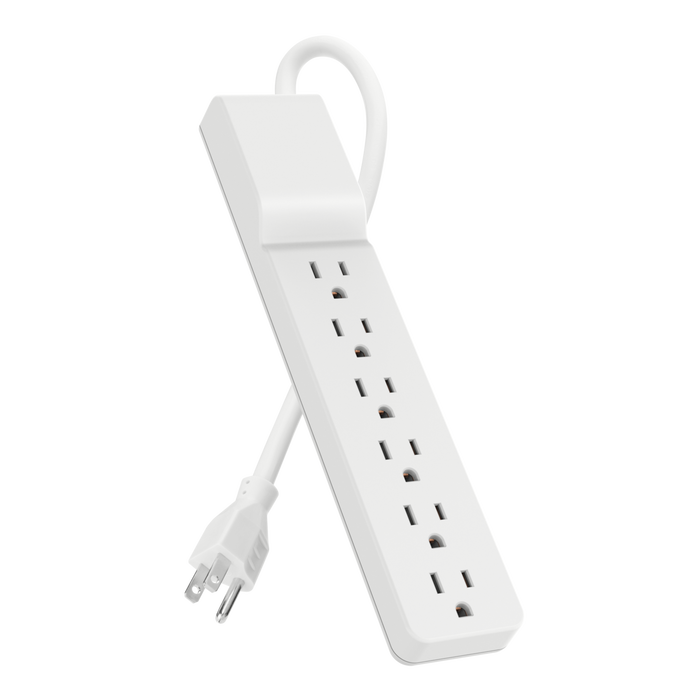 Fast and free shipping
90-Day money back guarantee
24/7 Customer support
6 Outlet Home/Office Surge Protector 4' cord
Free 2-day shipping on orders over $125 or more.
FREE Standard Shipping on orders of $50 or more
This product usually ships within 1-2 business days.
EMI/RFI Noise Filter
150K Hz ~100M Hz, up to 43dB
At a Glance:
Six surge-protected outlets with 720-Joule energy rating
Four-foot heavy-duty power cord
Space-saving design for smaller areas
Essential power filtration up to 43 dB reduction blocks unwanted noise
Maximum Spike Amperage of 36,000 amps
Lifetime Product Warranty
$15,000 Connected Equipment Warranty
SURGE PROTECTION FOR UP TO SIX DEVICES
The Belkin 6-Outlet Home/Office Surge Protector protects your electronic devices and appliances from surges and spikes. This 555-Joule surge protector offers six surge-protected outlets to supply complete, 3-line AC protection for your home electronics, appliances, home theater equipment, workstations, and more. The surge protector features a slender, sleek design and is backed by industry best Lifetime Product and Connected Equipment Warranties.
Please note: The protective components inside surge protectors absorb over-voltage spikes to protect your connected devices which means they will eventually wear out. Replace them every 3 years or immediately after any over-voltage spike event such as a thunderstorm or power outage because surge protectors degrade faster if they are exposed to high intensity events. Periodically check the surge protector enclosure and cable for signs of wear or heat distress. Replace an expired surge protector with a new one at the end of its useful life.
KEY FEATURES:
1. 4-foot heavy-duty power cord
2. Six surge-protected AC outlets
PROTECTS AGAINST SPIKES AND FLUCTUATIONS
With max spike amperage of 36,000 amps, the Belkin 6-Outlet Home/Office Surge Protector prevents power spikes or storms from damaging your valuable devices. Intelligent circuitry with built-in voltage sensing detects and responds to your device's power needs, while safety features ensure that your devices are protected. Simply plug the surge protector into any AC wall outlet and connect your device to keep it safe from surges, lightning strikes, and AC contamination.
REDUCED ELECTROMAGNETIC INTERFERENCE
This power surge protector's essential power filtration is up to 43 dB, reducing electromagnetic interference (EMI) and radio frequency interference (RFI), blocking unwanted line noise, and ensuring better performance of protected equipment. It also helps prevent equipment lockup.
SLEEK, MODERN DESIGN
Ideal for home or home office use, the Belkin 6-Outlet Home/Office Surge Protector has a streamlined, modern design with a white finish. It blends seamlessly with everyday appliances, computer equipment, and home electronic systems.
HEAVY-DUTY 4-FOOT POWER CORD
Protect your connected devices while keeping the Belkin Surge Protector out of the way thanks to a 14-gauge, 4-foot power cord. Its heavy-duty design helps protect the cord from damage and ensures optimal power flow to your devices.
LIFETIME PRODUCTAND $15,000 CONNECTED EQUIPMENT WARRANTIES
The Belkin 6-Outlet Home/Office Surge Protector is covered by a Lifetime Product Warranty and $15,000 Connected Equipment Warranty. This means that Belkin will repair or replace any equipment damaged by a surge, spike, or lightning strike while properly connected to the surge protector, up to $15,000.
Package Includes:
Belkin 6-Outlet Home/Office Surge Protector with Four-foot cord