https://www.belkin.com/5-jack-3.5-mm-audio-headphone-splitter/P-F8Z274.html
RockStar
5-Jack 3.5 mm Audio Headphone Splitter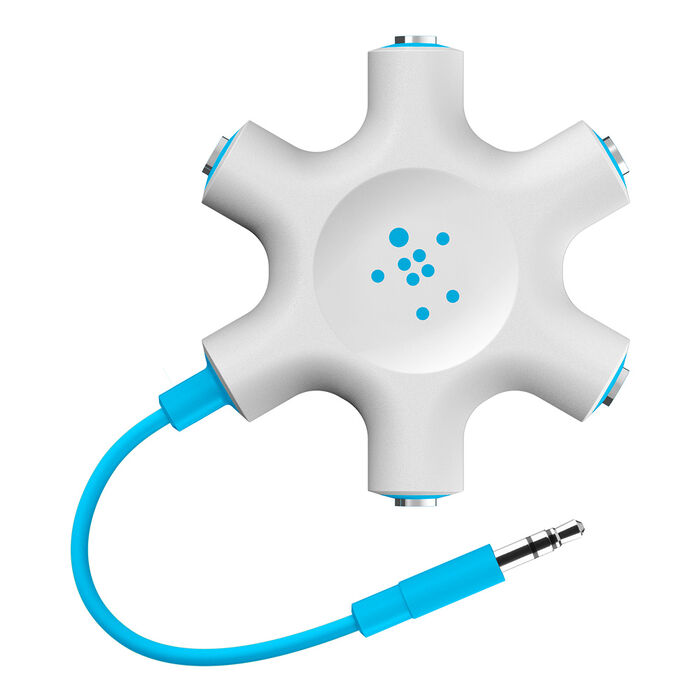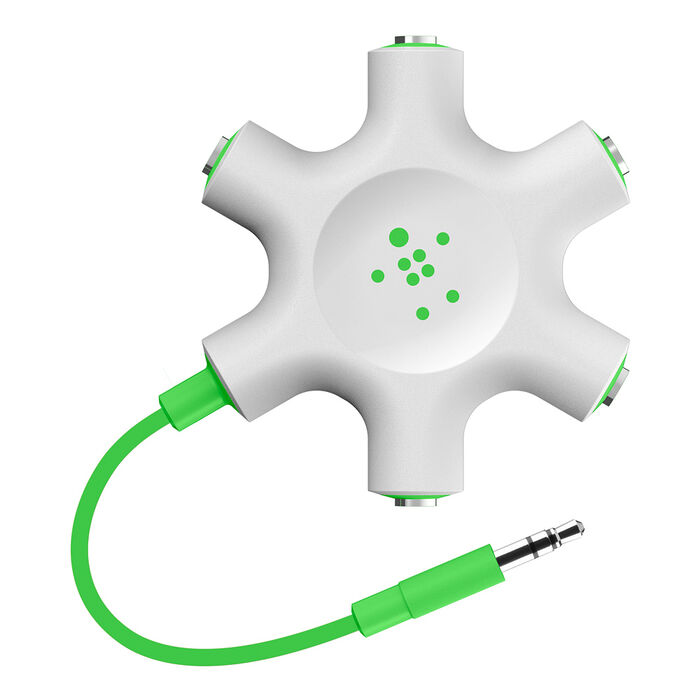 Fast and free shipping
90-Day money back guarantee
24/7 Customer support
RockStar
5-Jack 3.5 mm Audio Headphone Splitter
Dads and Grads Sale - Save 20% with code DNG23, discount automatically applies in cart, while supplies last.
Free 2-day shipping on orders over $125 or more.
FREE Standard Shipping on orders of $50 or more
This product usually ships within 1-2 business days.
MOOTHACRIC
MOOTHACH10IT
MOOTHASUEPT
Blackberry Playbook 9800
Blackberry Playbook 9860
Galaxy Note
Galaxy Note 10.1
Galaxy Note 3
Galaxy Note 4
Galaxy Note II
Galaxy Note8
Galaxy S II - AT&T
Galaxy S II - T-Mobile
Galaxy S II - Verizon
Galaxy S Vibrant
Galaxy S3
Galaxy S4
Galaxy S5
Galaxy S6
Galaxy S6 edge
Galaxy Tab - 10.1"
Galaxy Tab - 7"
Galaxy Tab - 8.9"
Galaxy Tab 2 - 10.1"
Galaxy Tab 2 - 7"
HTCFLY
iPad (Original)
iPad 2
iPad 3rd gen
iPad 4th gen
iPad Air 2
iPad mini
iPad mini 2
iPad mini 3
IPHONE5
IPHONE6
IPHONE6PLUS
APPLOTHAIPOD12GEN
APPLOTHAIPOD3GEN
APPLOTHAIPOD4G
APPLOTHAIPODCLS
APPLIPODC160G
APPLOTHAIPODCLS2
APPLOTHAIPODCLR
APPLOTHAIPODM1GEN
APPLOTHAIPODNN1GEN
APPLOTHAIPODNN2GEN
APPLOTHAIPODNN3GEN
APPLOTHAIPODNN4GEN
APPLOTHAIPODNN5GEN
APPLIPODN6GEN
APPLIPODN7GEN
APPLOTHAIPODSF1GEN
Apple Watch SE
APPLOTHAIPODSF3GEN
APPLOTHAIPODSF4GEN
APPLOTHAIPODT1GEN
APPLOTHAIPODT2GEN
APPLIPODT4GEN
APPLIPODT5GEN
MOOTHIRVR
AMZKDL3
AMZKDLF
AMZKDLT
MOOTHKOBO
MacBook Air 11"
MacBook Air 13"
MacBook Pro 13"
MacBook Pro 15"
MacBook Pro 17"
Motorola Flemming
Motorola Pasteur
Motorola Xoom
Nook Color
Nook Simple Touch
Nook Tablet
MOOTHZTET
Galaxy Note
Galaxy S II
Galaxy Tab
Galaxy Tab 2
HDMI Displays
HDMI laptops/tablets
HDMI Monitors
HDMI Projectors
IPODCLS
iPod nano
iPod Other
iPod shuffle
iPod touch
MacBook Air
MacBook Pro (2014)
Mini-DisplayPort laptops/tablets
USB-C laptops/tablets
SHARED ENTERTAINMENT EXPERIENCE
The only thing better than listening to your favorite song or watching your favorite show or movie is sharing the experience with your friends and family. The Belkin RockStar makes it easy. Just plug in any mobile device with music or movies on it -- such as your iPad, phone or tablet -- connect up to five headphones, and start sharing. It works with all devices with an auxiliary port. Even better, the sound and volume maintain the same level of quality, regardless of how many devices are connected.
FUN TO GO
Lightweight, small and convenient, RockStar is a lifesaver for road trips, long plane rides, or even just time spent in the car running errands. Parents can enjoy a peaceful drive while kids have a concert, watch a movie, or listen to an audiobook with their friends in the backseat. It's also perfect for watching a movie together on a plane without bothering the person in the next seat.
MIX MASTER
You and your friends can become the DJs when you connect more than one device to RockStar. Mix songs and let everyone listen to their new musical creations together. It also gives the capability to split speakers. You and your band can play instruments without giving everyone in the house an unexpected late-night concert.
CLASSROOM AIDE
Teachers can use RockStar as a learning tool and make the most of educational resources: Up to five students at a time can listen to the same audiobook or podcast.
AWARD WINNING
Won the International Design Excellence Award in 2008
At A Glance:
Five AUX ports for attaching headphones or auxiliary cables
One hard-wired auxiliary cable for connecting to devices
Mixing and fade-ins controlled by the standard controls of each connected device
Works with any device with an AUX port
1-Year Limited Warrantys
Package Includes:
5-port Audio RockStar
3.5mm to 3.5mm AUX cable