https://www.belkin.com/temperedglass-treated-screen-protector-for-iphone-14-pro-max/OVA102zz.html
ScreenForce
TemperedGlass Treated Screen Protector for iPhone 14 Pro Max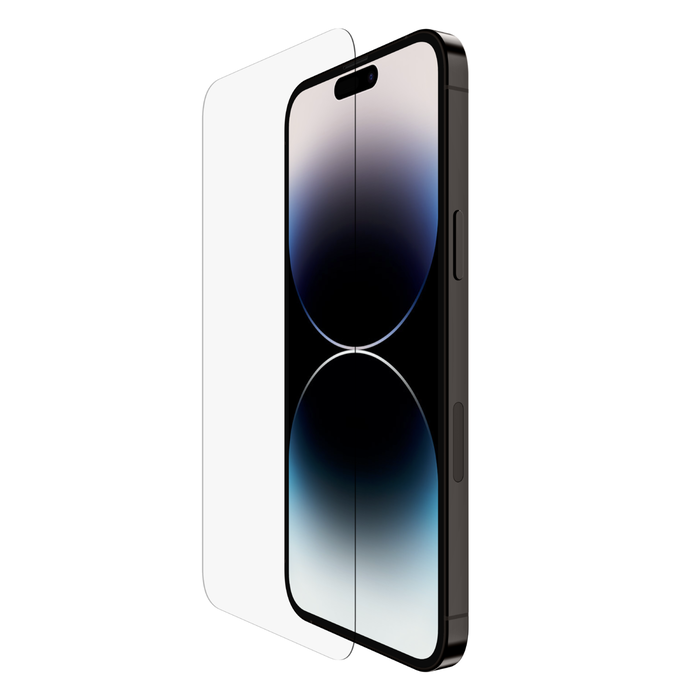 ScreenForce
TemperedGlass Treated Screen Protector for iPhone 14 Pro Max
Protect your new iPhone 14 Pro Max with a strengthened TemperedGlass screen protector. It's engineered from high-quality Japanese glass to absorb impact and prevent scratches, and contains an antimicrobial treatment to protect the product from discoloration and degradation.
Holiday Day Sale: 20% Off purchase of $65 or more with promo code: GIFT22
Free 2 Day Shipping on orders over $150
Free Ground Shipping on orders over $30
Strong, Dependable Protection
Throw your iPhone 14 Pro Max in your bag, or pocket with keys, and keep that fresh out-of-the-box finish knowing your screen protector was awarded the highest possible score in scratch resistance (9H) and finished with an anti-fingerprint coating. The protector delivers precision touch sensitivity and crystal clarity that maintain the look and feel of your screen. A flawless, bubble-free application is easy at home or in-store.
Advanced Impact Protection
Protect your new iPhone with slim, high-quality Japanese tempered glass.
Treated to Save Visual Clarity
The glass contains an antimicrobial treatment to protect the product from microbial growth.
Slim Design
The super-thin 0.33mm glass preserves screen sensitivity to respond accurately to your touch.
Advanced Defense Against Scratches
Rigorous testing proves a hardness rating of 9H* — the highest level of scratch protection available.
Feels Like Your Natural Screen
Your finger glides smoothly over the screen protector, just like it does over your device. Intelligent glass composition reacts like the natural screen.
Anti-Fingerprint Coating
Engineered with fingerprint and oil resistance, you'll have a screen that's feeling clean and looking clear.
Flawless Application
Our screen protector can be professionally applied to your iPhone by a trained professional, using a specially developed application system. If you can't make it to your local retailer, we've included an Easy Align tray for an easy, bubble-free home application.
At a Glance
Engineered from high-quality Japanese glass to absorb impact and prevent scratches
Antimicrobial treatment protects the product from discoloration and degradation
Precision touch sensitivity through intelligent glass composition that reacts like your phone's own screen 
Scratch resistance that's been awarded the highest score (9H) prevents scuffs and scratches from daily wear and tear 
Fully preserves your experience of using your screen
Crystal-clear so you can see photos and videos as they're meant to be viewed  
Flawless application at home or in-store provides a bubble-free finish with no lifting  
Package Includes
SCREENFORCE™ TemperedGlass Treated Screen Protector for iPhone 14 Pro Max
Easy Align tray 
Dust removal sticker 
Cleaning cloth  
*Rated 9H against low-carbon steel at 5H, using the ASTM D3363 Film Hardness by Pencil Test Hardness