https://www.belkin.com/dual-usb-a-wall-charger-24w/P-WCB002.html
BoostCharge
Dual USB-A Wall Charger 24W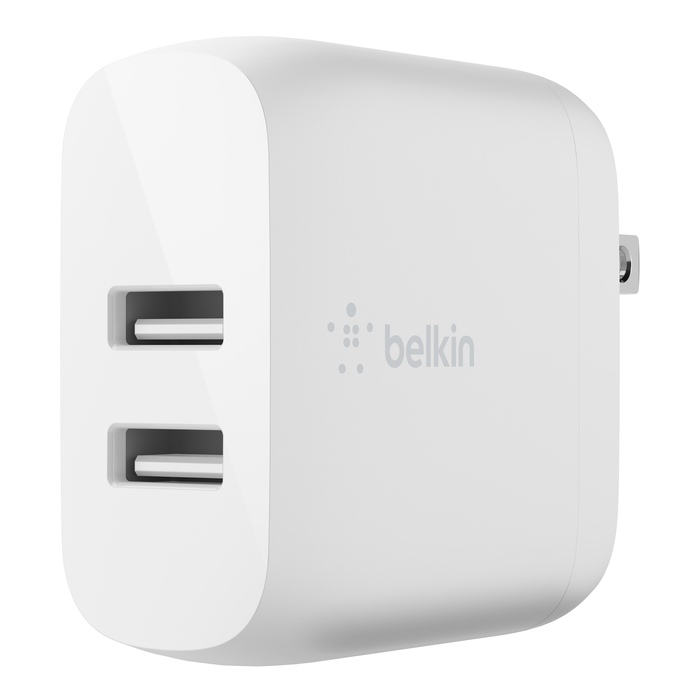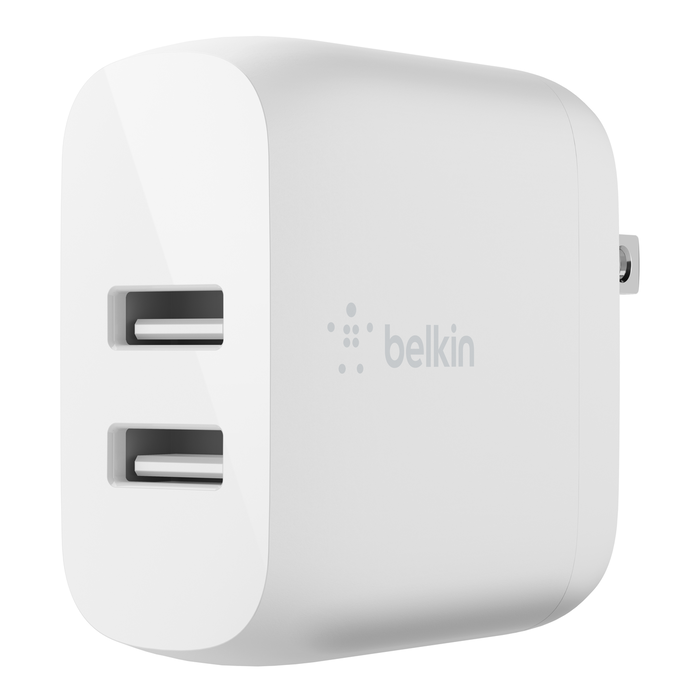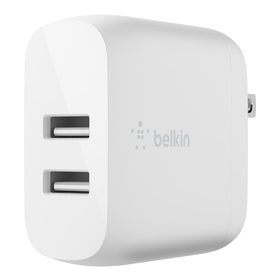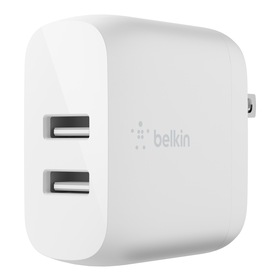 Fast and free shipping
90-Day money back guarantee
24/7 Customer support
BoostCharge
Dual USB-A Wall Charger 24W
Discount is automatically applied at checkout with code CM23.
FREE 2-Day Shipping on orders of $125 or more
FREE Standard Shipping on orders of $50 or more
This product usually ships within 1-2 business days.
iPad 9th gen
iPad mini 6th Gen
iPhone 14
iPhone 14 Pro
iPhone 14 Plus
iPhone 14 Pro Max
iPhone 11
iPhone 11 Pro
iPhone 11 Pro Max
iPhone 12
iPhone 12 mini
iPhone 12 Pro
iPhone 12 Pro Max
iPhone 13
iPhone 13 mini
iPhone 13 Pro
iPhone 13 Pro Max
iPhone 8
iPhone 8 Plus
iPhone X
iPhone XR
iPhone XS
iPhone XS Max
Galaxy S21 5G
Galaxy S21 FE
Galaxy S21+ 5G
Galaxy S21 Ultra 5G
Galaxy S22 5G
Galaxy S22+ 5G
Galaxy S22 Ultra 5G
Galaxy Note 10
Galaxy Note 10+
GOGLPXL3
CHARGE TWO DEVICES FROM ONE OUTLET
The BOOST↑CHARGE Dual USB-A Wall Charger allows you to conveniently charge two phones, power banks, or tablets at the same time. It's perfect when multiple devices need a charge and space is limited.
POWER UP QUICKLY
This charger features two USB-A ports, each offering 12 watts to charge your devices faster than a standard 5-watt charger. Simply plug the charger into a wall socket and you're ready to power up two mobile devices.
Specs:
Length: 56mm/2.20"
Width: 29mm/1.14"
Height: 58mm/2.28"
At a Glance:
24W/4.8 amps total output
Dual ports charge two devices at once
Compatible with any device that uses a USB-A cable
2-year warranty and $2,500 Connected Equipment Warranty
Package Includes:
BOOST↑CHARGE Dual USB-A Wall Charger 24W​​