https://www.belkin.com/usb-3.0-3-port-hub-with-gigabit-ethernet-adapter/B2B128tt.html
USB 3.0 3-Port Hub with Gigabit Ethernet Adapter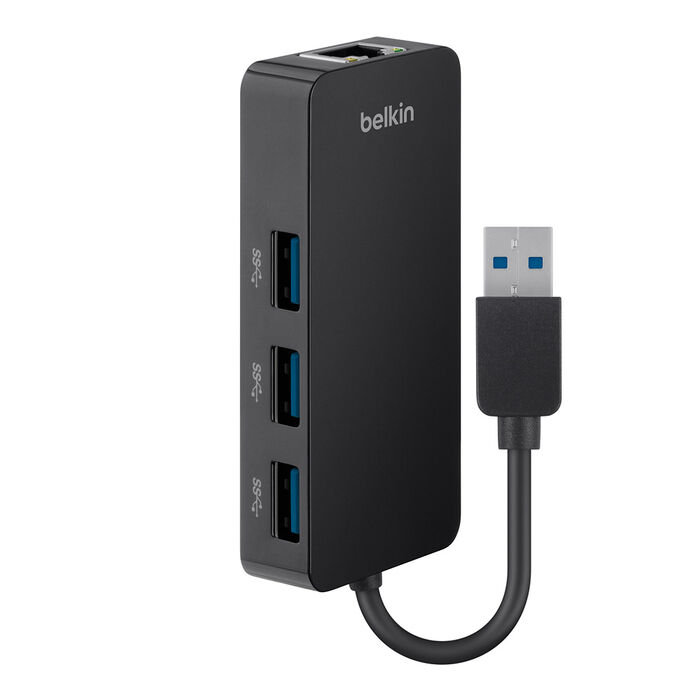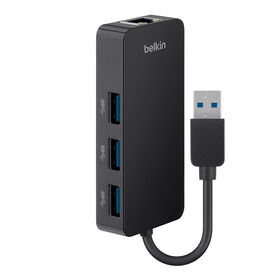 Fast and free shipping
90-Day money back guarantee
24/7 Customer support
USB 3.0 3-Port Hub with Gigabit Ethernet Adapter
$60 off and FREE Smart Light Switch with purchase of $200+ or,
$30 off with purchase of $125+ or,
$15 off with purchase of $80+.
Discount and free gift (if applicable) is automatically applied at checkout with code GIFT23.
Out of Stock

This item is currently not available
FREE 2-Day Shipping on orders of $125 or more
FREE Standard Shipping on orders of $50 or more
This product usually ships within 1-2 business days.
Ports
Gigabit Ethernet x 1 + USB 3.0 x 3
Cable Type
Ethernet 10Base-T, Ethernet 100Base-TX, Ethernet 1000Base-T
Add multiple peripherals to a new laptop and Ultrabook via a single USB 3.0 port.New laptops and Ultrabooks are thinner and lighter than ever, leaving less room for ports. However, many users still require multiple ports to support their current and legacy USB peripheral devices.
The Belkin USB 3.0 3-Port Hub with Gigabit Ethernet Adapter is the best accessory for your laptop or Ultrabook, whether you're in the office or traveling. Three USB 3.0 ports accommodate all your peripherals—like portable hard drives, flash drives, and printers—and the RJ-45 LAN port provides up to 1 Gbps wired Internet access. Once installed, the USB 3.0 hub and Gigabit Ethernet will work simultaneously on Windows and Mac OS devices via one SuperSpeed USB 3.0 cable. A stylish and small form factor design with no external PSU required, it easily fits on office tables or in your bag on business trips.
Easy in, easy out. Plugging the USB 3.0 cable from the hub connects users to their entire desktop peripheral environment. No external power supply unit is required, and there is no need to plug in anything else to connect to input devices, wired Ethernet, or external storage. Easily add peripherals. Laptops and Ultrabooks are getting thinner and slimmer, meaning less room for additional ports. The Belkin USB 3.0 3-Port Hub with Gigabit Ethernet Adapter is a perfect solution for supporting more peripherals on newer laptops and Ultrabooks with limited I/O. Slim design, easy to carry. Get more of the most commonly used I/O ports in a compact hub. Take it with you on business travel or keep it at your office desk.
Compatibility:
Windows XP*
Windows Vista*
Windows 7*
Windows 8, 8.1 (Not Windows RT)
Mac OS (10.6 to 10.9)*