https://www.belkin.com/hk/en/3.1-usb-c-to-usb-c-cable-usb-type-c/P-F2CU030.html
3.1 USB-C™ to USB-C Cable (USB Type-C™)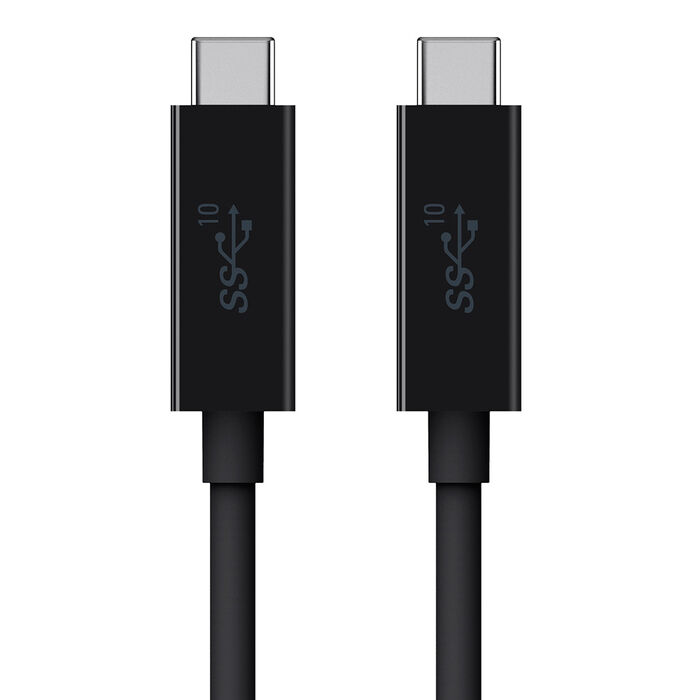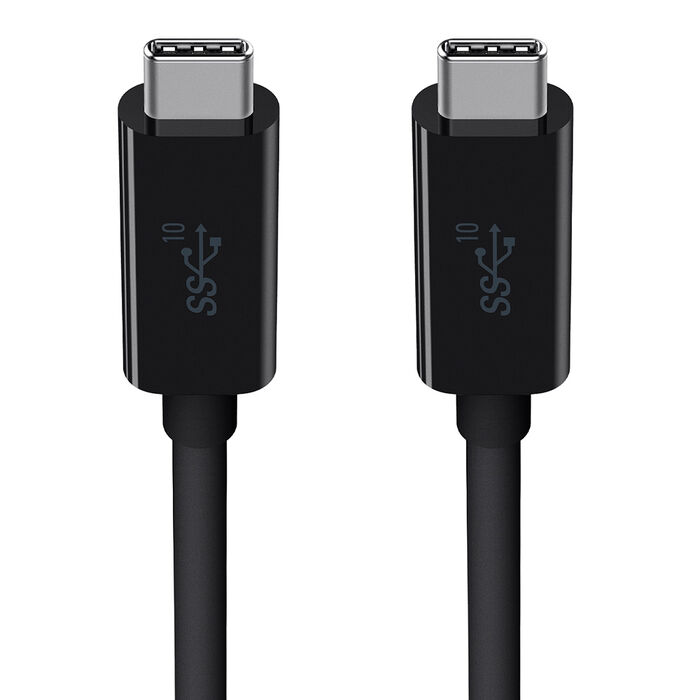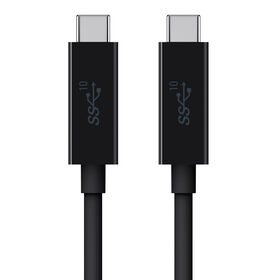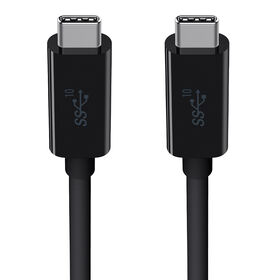 3.1 USB-C™ to USB-C Cable (USB Type-C™)
Dell XPS 13"
Dell XPS 15"
Galaxy Note8
Galaxy Note9
Galaxy S10
Galaxy S10+
Galaxy S10e
Galaxy S8
Galaxy S8+
Galaxy S9
Galaxy S9+
Galaxy Tab S3
Google Chromebook Pixel
GOGLPXL
GOGLPXL2
GOGLPXL2XL
Google Pixel C
Google Pixel XL
HTC10
HTC U11
Huawei P9
iMac (2017)
LGNX5X
LG V20
LG V30
MacBook
MacBook Pro (2016)
MacBook Pro (2017)
MacBook Pro 13" (2017)
MICLMIA950
MICLMIA950XL
Nintendo Switch
THE ULTIMATE USB CONNECTION
The Belkin 3.1 USB-C to USB-C Cable allows you to experience up to 10 Gbps transfer speeds, up to 20X faster than USB 2.0 (480Mbps), 12x faster than FireWire 800, and 2X faster than USB 3.0 (5Gbps). You can also quickly and safely charge your USB-C device as well as sync your photos, music and data to your existing USB-C enabled device. With a sleek and low profile connector, this cable's minimal design harnesses the incredible power within. You will be amazed at the difference USB 3.1 makes.
Made for: Connecting between USB-C (also known as USB Type-C) enabled devices. Also compatible with Thunderbolt™ 3.
USB 3.1: THE NEXT EVOLUTION
USB 3.1 SuperSpeed+ offers a whole new level of connectivity. Transfer data at incredible speeds, charge other devices, and even power mobile devices - all with just one cable. Quickly becoming the new universal standard, USB 3.1 is already supported by Windows, Google, and Mac operating systems, as well as many device manufacturers.
FASTER DATA TRANSFER
Transfer data at up to 10Gbps with improved cables and connectors. USB 3.1 offers faster rates than ever before. Fast enough to transfer a year's worth of music in 10 minutes or an entire HD movie in just 30 seconds.
USB 2.0 = 480 Mbps
USB 3.0 = 5Gbps
USB 3.1 = 10Gbps
POWER & CHARGE OTHER DEVICES
This USB-C cable supports up to 60W/3A of power and can be used for charging and powering USB-C devices.
Up to 10 Gbps
20X faster than USB 2.0
2X faster than USB 3.0
Fast enough to transfer a year's worth of music in 10 minutes
Transfer an entire HD movie in 30 seconds
INCREDIBLE VIDEO RESOLUTION
USB-C enabled monitors will offer ultra HD 4K video resolution. That's 4 times more resolution than standard HD, for a much sharper, clearer, and more realistic picture.
SUPERIOR USB-C CABLE CONSTRUCTION
Durable Polycarbonate connector housing with SS10 logo indicating full USB-IF compliance
Electronic Marker Identification, authentication, and Power Delivery management circuit
Precision welded metal shield to protect PCB and E Marker (also minimizes radiated emissions levels and provides additional mechanical strength)
'Crimp' locks metal shield in place for optimal mechanical structure and shielding
Micro Co-axial superspeed conductors for 10Gbps data transfer
3Amp power conductor
Power Delivery Communication line
Data communication line
'Sideband' lines for alternate mode audio/visual applications
Cable braid Shield
Flexible TPE cable jacket
REVERSIBLE C-CONNECTOR
Never worry about which way to plug in again. USB-C is a new user-friendly reversible connector that allows you to connect your cable to your device in any direction.
USB-IF Certification
SuperSpeed+ USB Compliance means that this cable has been certified by USB-IF to meet all electrical, mechanical, and environmental standards, ensuring a superior user experience. USB-IF is a non-profit organization made up of companies that facilitate the development of high quality USB products and compliance testing.
USB-C POWER DELIVERY
or USB-PD, is a charging protocol that uses high speed USB-C connecters and cables. Power Delivery devices and chargers connect using USB-C cables, safely providing higher levels of power while optimizing power managements across multiple peripherals. An intelligent internal chipset makes it possible to charge and share power between connected USB-PD devices while protecting the circuitry.
Find out more about Power Delivery.
THIS CABLE IS GREAT FOR:
Macbook
Chromebook
Pixel
USB-C
Charger
Future USB-C
Devices
At A Glance:
Connect between USB-C enabled devices (new Macbook, Chromebook Pixel)
Reversible connector
10Gbps data transfer rate
3A charging output
3.3-feet / 1-meter length