https://www.belkin.com/my/qode-ultimate-keyboard-case-for-ipad-4th-3rd-gen-and-ipad-2/P-F5L149.html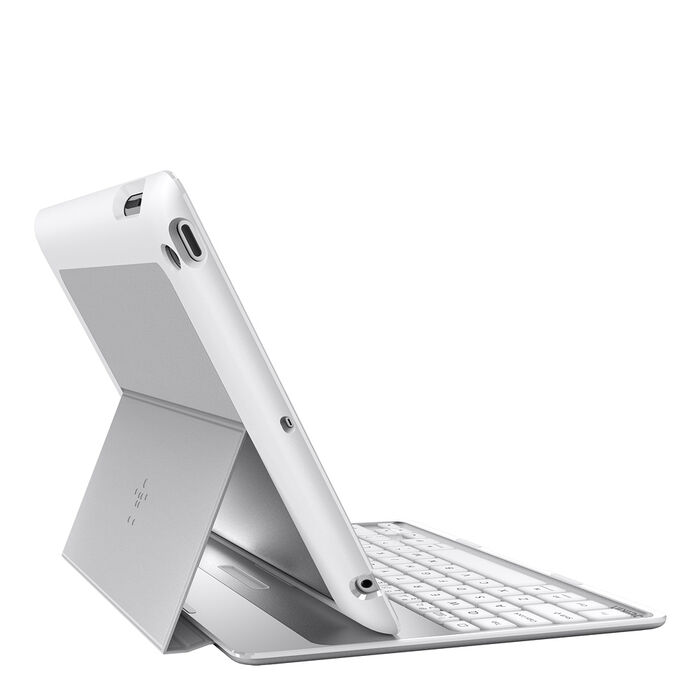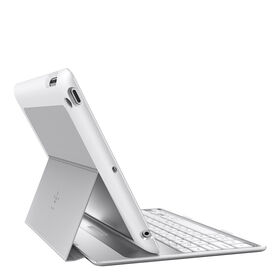 Reinvent your iPad experience
Sign up to receive more product information and to find out when the Ultimate Keyboard Case for iPad is available for purchase.
Thin, Lightweight Aluminum Design
With a base made of specially machined aluminum alloy, our iPad case with Keyboard offers outstanding durability while maintaining a slim profile. The keyboard is only 6.4 mm thin and the keyboard case weighs only 17 ounces to help maintain and highlight the iPad's thin, lightweight design.
Comfortable, Well-Spaced Keys for Faster Typing
The wireless keyboard for iPad employs large well-spaced TruType keys to deliver a laptop-like typing experience, helping you minimize errors and increase typing speed. With the Ultimate Keyboard Case, you'll make quick work of your emails, word processing, messaging, and other typing-intensive work. The keyboard also has built-in shortcut keys that allow for easy media control.
Folds Flat for Comfortable
Handheld Use
The Ultimate Keyboard Case snaps securely to your tablet, giving you a protective cover with iPad keyboard in one thin package. The case has AutoWake magnets that turn on your iPad when you open the cover and put it to sleep when you close it.
This iPad keyboard case also has innovative precision-hold magnets that secure your iPad in three different positions, so you can find the optimal angles for viewing and typing. When you don't need the keyboard, simply fold the cover back and you can use your iPad comfortably in handheld media mode for reading, watching movies, or playing games.
Bluetooth® Keyboard for iPad
The wireless keyboard pairs with your iPad via Bluetooth® 2.0, so you don't have to worry about plugging it in. It also turns on as soon as you place your iPad in one of three viewing positions and turns off when you're done using it, which saves battery life.
The built-in rechargeable battery runs for up to 160 hours between charges and up to 1,900 hours (or 6 months) when in standby mode. When you do need to charge it, the included USB-to-micro-USB cable makes charging easy.
SoundFlow Design Enhances Sound Quality
The keyboard's SoundFlow design directs your iPad's sound toward you, making the audio of music and movies more powerful and clear.
At A Glance:
Wireless iPad keyboard and protective case in one
Folds flat; the keyboard is only 6.4mm thin
Three viewing angles with precision-hold magnets for stability
TruType keys provide a laptop-like typing experience
Offers 160 hours of battery life between charges
SoundFlow design enhances iPad's audio clarity
Package Includes:
Ultimate Keyboard Case
USB-to-micro-USB Cable
Quick Installation Guide