https://www.belkin.com/my/2-in-1-wireless-charger-stand-with-official-magsafe-charging-15w/P-WIZ010.html
BoostCharge Pro
2-in-1 Wireless Charger Stand with Official MagSafe Charging 15W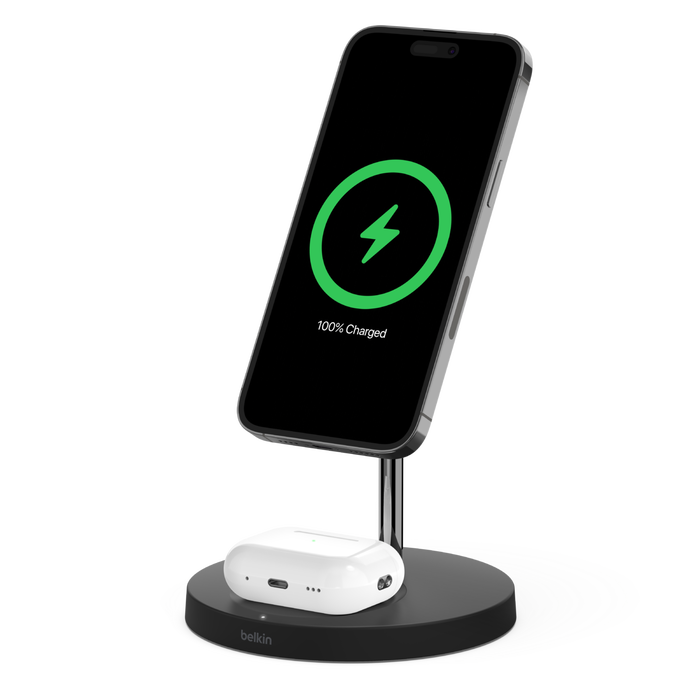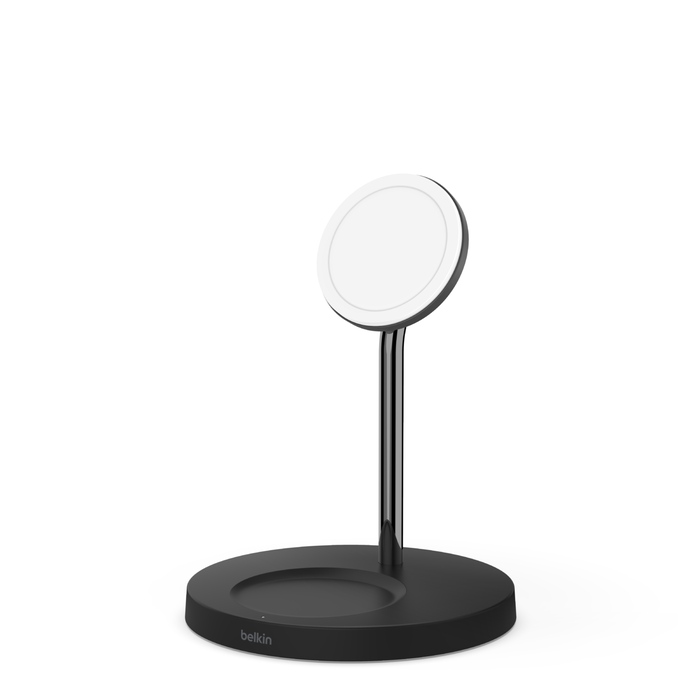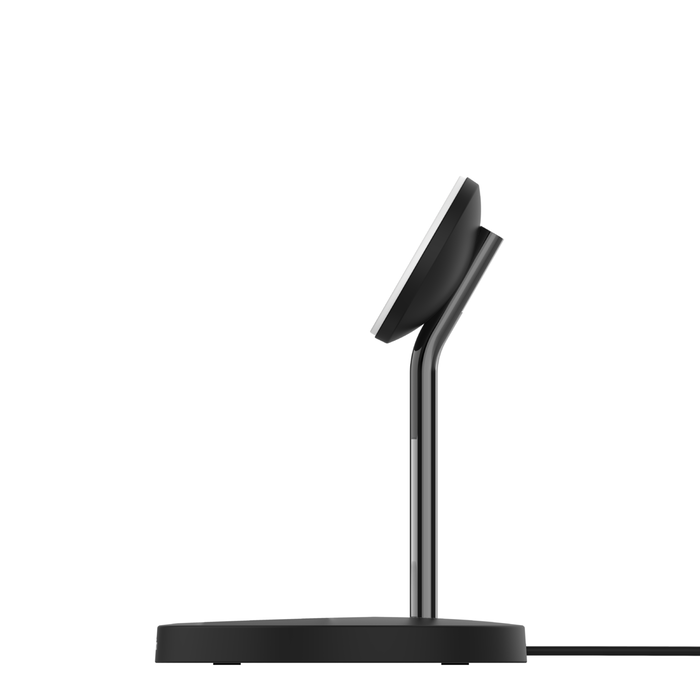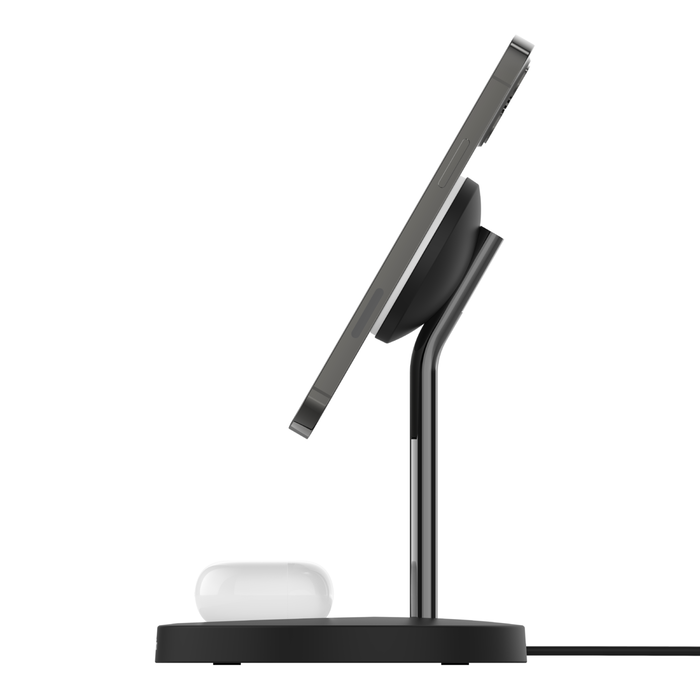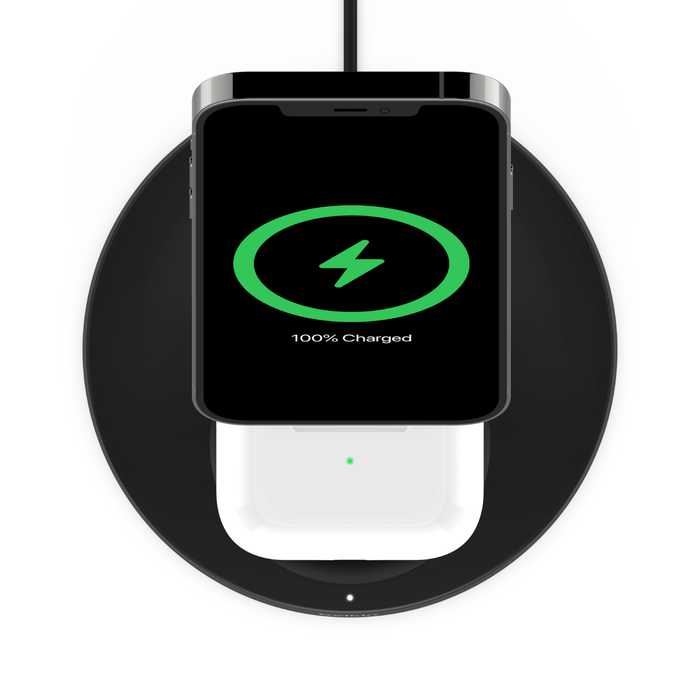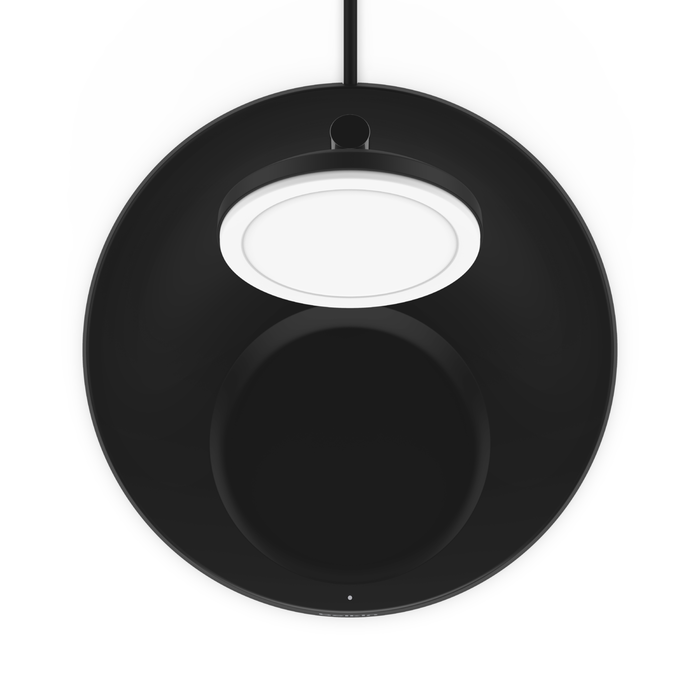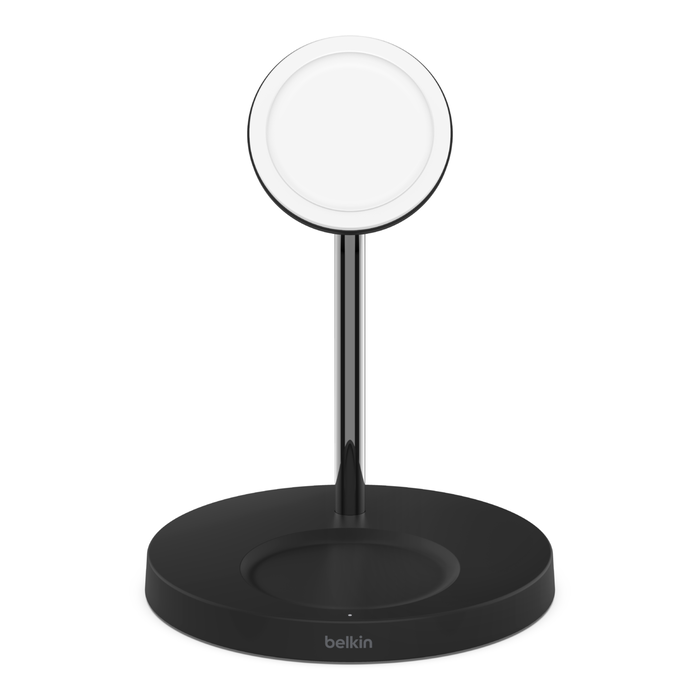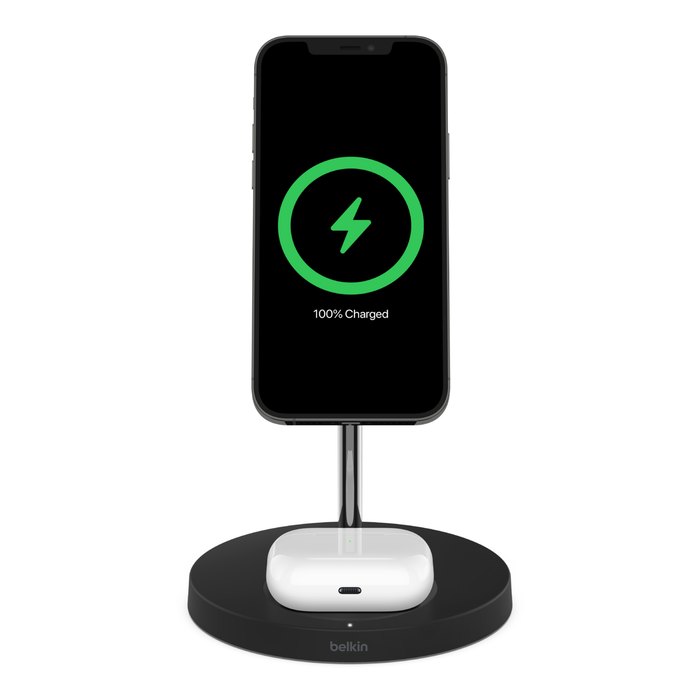 BoostCharge Pro
2-in-1 Wireless Charger Stand with Official MagSafe Charging 15W
Charge your MagSafe-compatible iPhone and AirPods at the same time with this 2-in-1 MagSafe wireless charging stand delivering up to 15W of power. Engineered with MagSafe technology, it's optimized for speed with magnetic connection and stylish modern design.
Apple AirPods Pro
Apple AirPods 2nd gen
iPhone 14
iPhone 14 Pro
iPhone 14 Plus
iPhone 14 Pro Max
iPhone 12
iPhone 12 mini
iPhone 12 Pro
iPhone 12 Pro Max
iPhone 13
iPhone 13 mini
iPhone 13 Pro
iPhone 13 Pro Max
Rethink How You Charge
This ultra-convenient solution delivers the fastest possible charge up to 15W to your iPhone 12 series device in portrait or landscape. Leveraging MagSafe technology, just place your phone on the charging stand. Below, a wireless charging pad is optimized for your AirPods. The architecturally inspired design fits perfectly in any space, from office to living room.
"Belkin's BOOST↑CHARGE™ PRO 2-in-1 Wireless Charger Stand with MagSafe is the perfect example of a forward-thinking tech company making an accessory that will actually improve your everyday life."
Read the Review
Easy Magnetic Alignment
Using MagSafe technology, you get seamless alignment and faster wireless charging every time. A powerful magnetic connection keeps your iPhone safely in place, even when your group text has it buzzing nonstop.
15W Faster Wireless Charging
Safely get the fastest possible charge for your new iPhone 14/13/12 series device. Delivering up to 15W, you can get a power boost while getting ready in the morning or between meetings.
2-in-1 Apple charging
It's easier than ever to keep your Apple essentials charged. Below the 15W magnetic wireless charging stand for your iPhone 14/13/12 series device is a charging pad optimized for your AirPods.
Compatible with Official MagSafe Cases
Keep charging simple and your iPhone safe. The 2-in-1 Wireless Charger Stand with MagSafe works with official MagSafe cases, just set your iPhone, case and all, against the magnetic surface and go.
LED Indicates Charging Status
A white LED light confirms your AirPods are aligned and charging optimally. An amber LED light alerts you when your AirPods aren't aligned or there's another object getting in the way.
At a Glance
Charge an iPhone 12 model and AirPods at the same time
Faster wireless charging up to 15W
Seamless magnetic wireless charging experience
Architecturally inspired design
Charge in any orientation
Compatible with official MagSafe cases
LED light indicates proper and safe charging
2-year warranty 
Package Includes:
BOOST↑CHARGE PRO 2-in-1 Wireless Charger Stand with MagSafe
AC adapter
✝US only. Based on NPD data from October 2020 – September 2021 for number of units sold for charging pad, charging stand/station, portable power pack and car mount charger products with MagSafe magnet included.