https://www.belkin.com/uk/usb-c-to-usb-c-cable/P-CAB011.html
BoostCharge Pro Flex
USB-C to USB-C Cable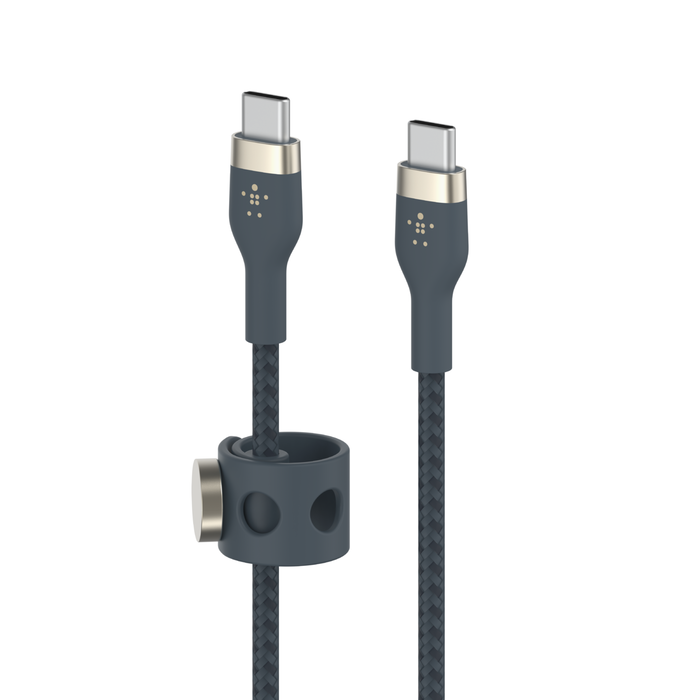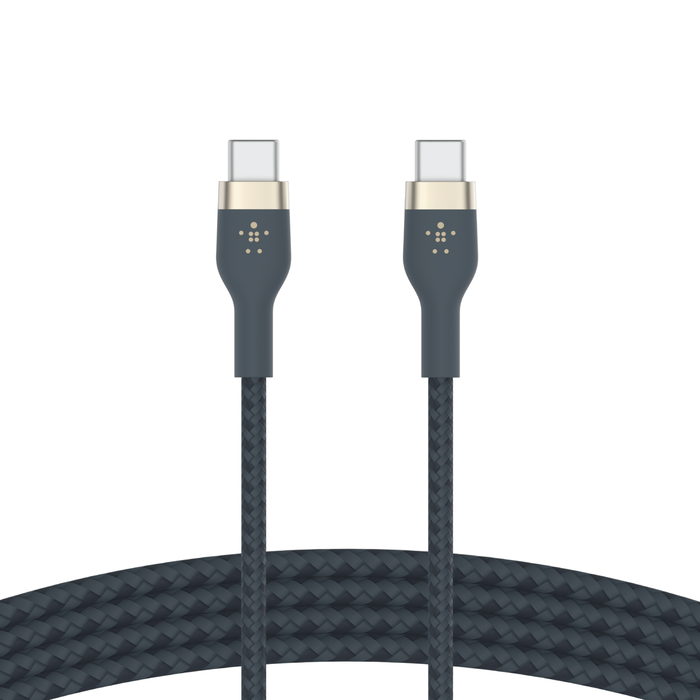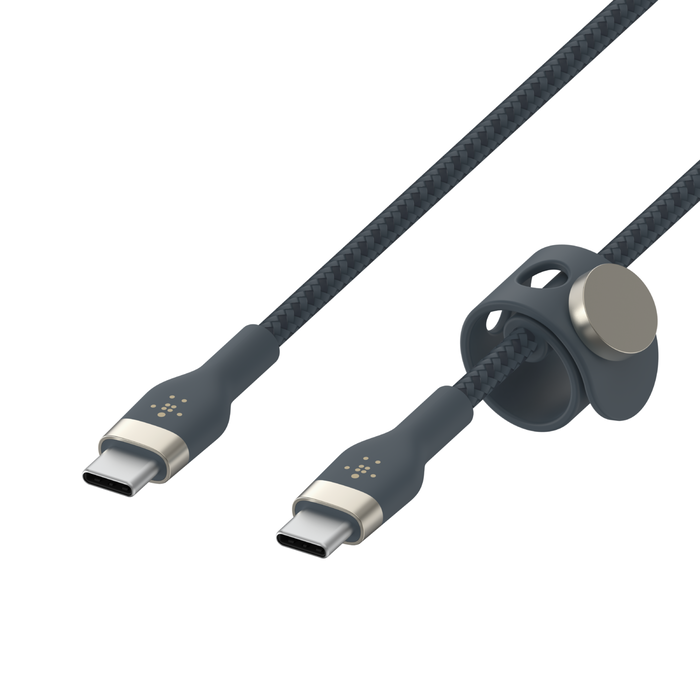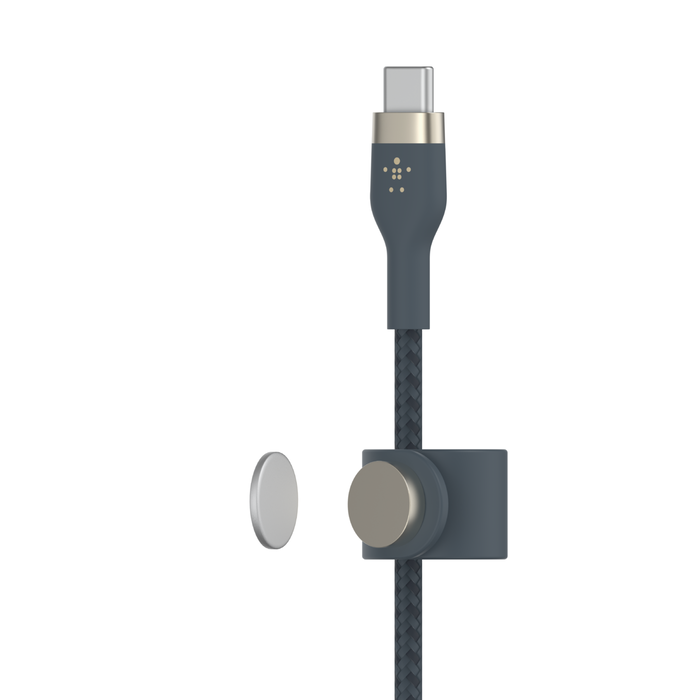 BoostCharge Pro Flex
USB-C to USB-C Cable
Works with most USB-C smartphones, tablets, and laptops.
iPad (10.9") 10th Gen
iPad Pro (12.9") 3rd Gen
iPad Pro (12.9") 4th Gen
MacBook Pro
MacBook Air
iPad mini 6th Gen
Google Pixel 4
Google Pixel 5
Google Pixel 6
iPad Air 4
iPad Pro (11.0")
Galaxy S20
Galaxy S20+
Galaxy S20 Ultra
Galaxy S21 5G
Galaxy S21+ 5G
Galaxy S21 Ultra 5G
Galaxy S22 5G
Galaxy S22+ 5G
Galaxy S22 Ultra 5G
Galaxy S23
Galaxy S23 Plus
Galaxy S23 Ultra
Galaxy Z Fold 2 5G
Galaxy Note 10+
Galaxy Note20
Galaxy Note20 Ultra
Ultra-Flexible and Super-Durable
Our BOOST↑CHARGE™ PRO Flex braided silicone cables combine ultra-flexibility with long-lasting durability. In fact, they are up to 30X more durable* than ordinary cables and are built to resist tangling and fraying. This USB-C to USB-C cable is USB-C PD compatible, supporting fast charging speeds of 0-50% in 26 mins**. Easily store and mount it anywhere with its magnetic cable management system. Comes in three lengths and four stylish colors†.
Built to Last
1. Silicone Jacket Inside
    Adds flexibility and tangle-resistance
2. Extended Soft Strain Relief
    Prevents cable fraying
3. USB-C Connector
    Tested to withstand wear and tear
4. Satin Aluminum Cable Head
    For added strength and style
5. Braided Exterior
    Double braided nylon for added durability
6. Magnetic Cable Management
    For easy storage and cable mounting anywhere
Up to 30X More Durable
Get up to 30X more durability* in your charge with BOOST↑CHARGE PRO Flex silicone cables. Engineered with a fray-resistant double braided nylon exterior, these silicone cables are built to last.
Plug into a Fast Charge
This USB-C to USB-C cable supports USB-C PD fast charging, powering a Samsung S21 Ultra from 0-50% in 26 mins**.
Tangle-Free Cable
Our BOOST↑CHARGE PRO Flex cables are engineered with silicone technology inside of its durable braided exterior, giving you a charging cable that's flexible, tangle-resistant, and won't kink.
Magnetic Cable Management System
Includes a cable strap with a magnetic button and an adhesive metal plate, giving you a neat and easy way to store your charging cable anywhere.
Multiple Lengths
Available in three convenient lengths, 1M, 2M, and 3M. Choose the size that matches your lifestyle, whether you're using it in the car, at home, or traveling.
At a Glance
Double-braided exterior is 30X more durable* than ordinary cables
Tested to survive 30,000+ bends
Ultra-flexible silicone technology resists tangling and kinking
USB-C PD compatible, supports fast charging of a Samsung S21 Ultra from 0-50% in 26 mins**
Includes a cable strap with magnetic clip and a metal plate for easy mounting anywhere and to keep things tidy 
Comes in three sizes, 1M/3.3FT, 2M/6.6FT, or 3M/10FT
Available in four colors, black, white, blue, and pink
Package Includes:
 BOOST↑CHARGE™ PRO Flex USB-C to USB-C Cable
* Withstands up to 30,000 bends based on internal laboratory test result, compared with 1,000 bends for an ordinary PVC cable.

** Fast charges Samsung Galaxy S21 Ultra from 0–50% in 26 minutes when paired with a 25W PD PPS power adapter. Charge time varies with environmental factors; actual results will vary.

† Availability varies per region.