https://www.belkin.com/uk/universal-2nd-gen-secure-kvm-switch-16-port-single-head-w-cac/P-F1DN116KVM-UN-4.html
Universal 2nd Gen Secure KVM Switch, 16-Port Single Head w/ CAC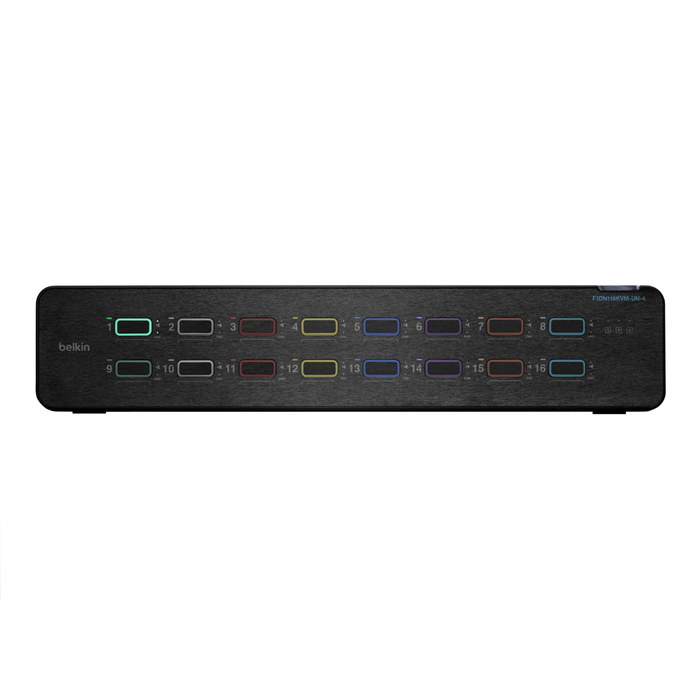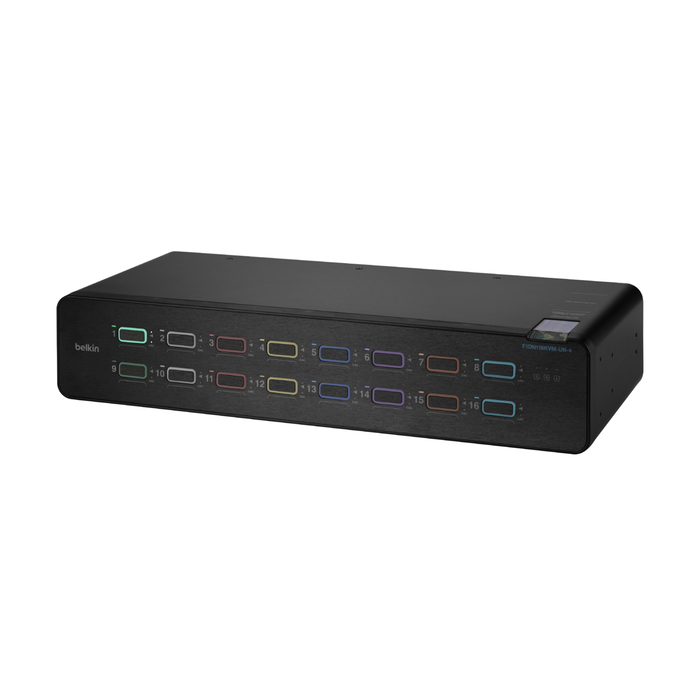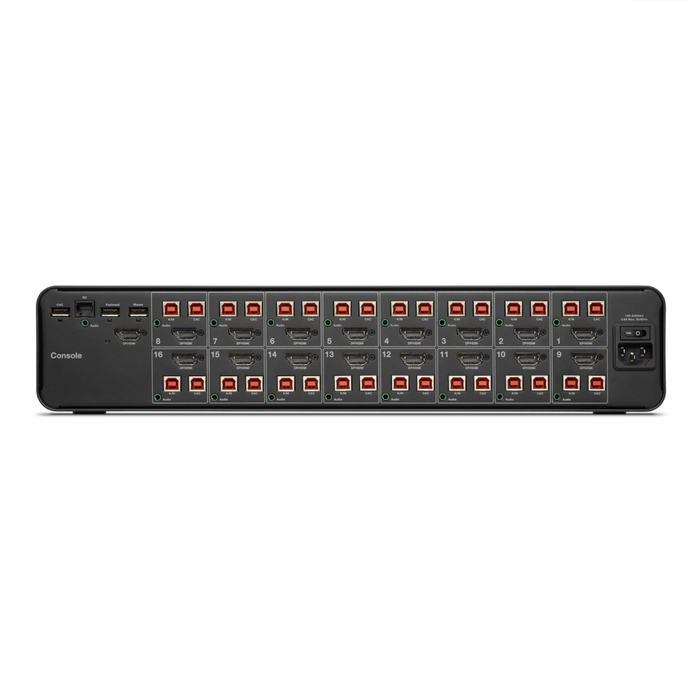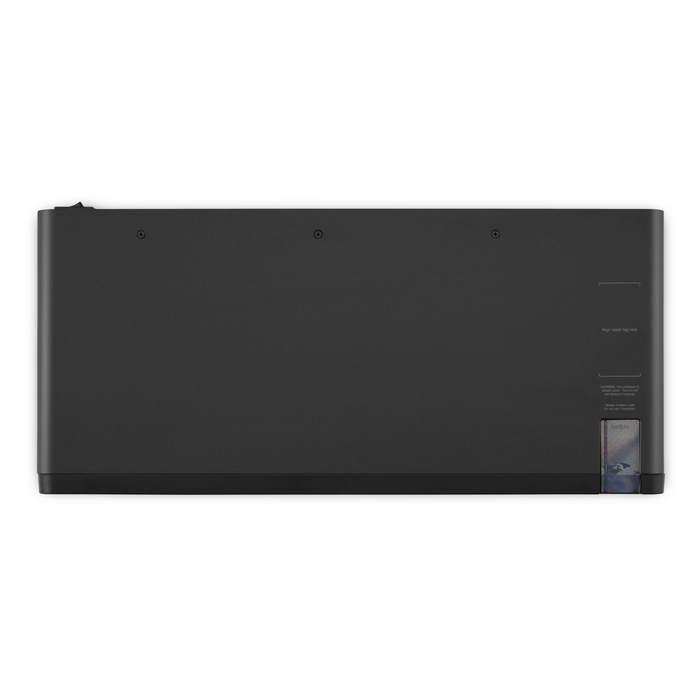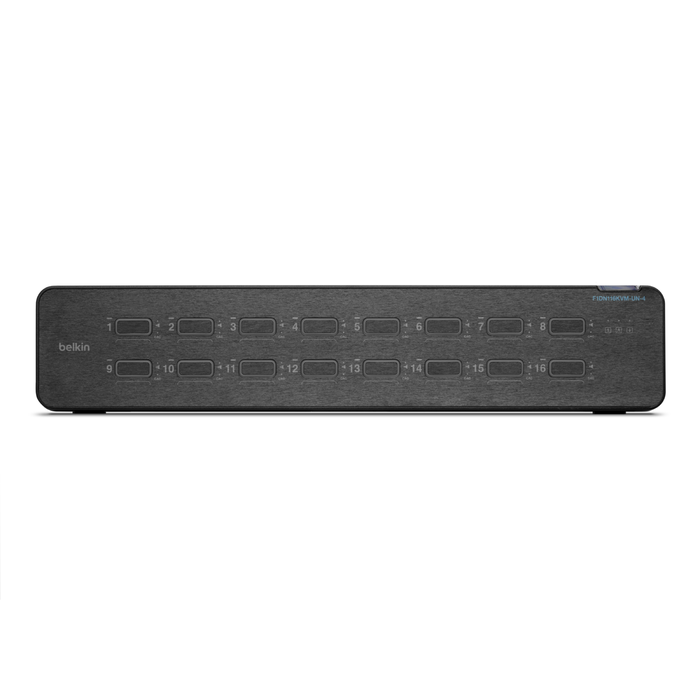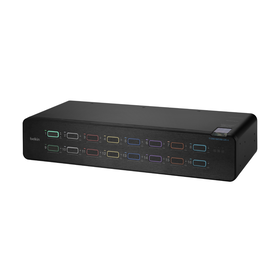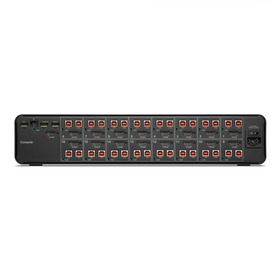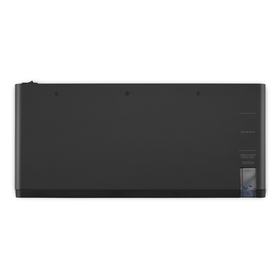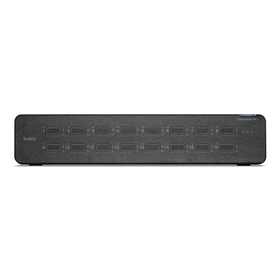 Universal 2nd Gen Secure KVM Switch, 16-Port Single Head w/ CAC
Ports
1 CAC/DPP

1 Keyboard

1 Monitor

1 Mouse

1 Remote

16 Computers
Security Features
Designed for NIAP PP 4.0 Compliance
AC Plug Style
Worldwide Power Cord with Interchangable Mains Connector
Certifications
FCC Class A UL CE RoHS ICES RCM
Indicator Light Status
Port Selected EDID Keyboard Mouse
Keyboard/Mouse Connections
KVM Maximum Resolution Supported
Belkin Universal 2nd Gen Secure KVM Switch Series
Created to deliver a streamlined user experience when working across security enclaves, Belkin's Universal 2nd Gen Secure KVM switches are designed to meet the latest in Common Criteria and NIAP Protection Profile for Peripheral Switching Devices version 4.0 requirements. Compatible with the optional Belkin Secure KVM Remote Control with Integrated Keyboard, the Universal 2nd Gen Secure KVMs elevate the user experience while vastly improving enclave awareness and minimizing operator errors. The keyboard combined with a variety of mounting options from Belkin helps declutter the desk without jeopardizing operator control. Optical data diodes and embedded peripheral emulation allow operators to safely share peripherals across multiple security enclaves without exposing potential vectors for attack. Innovative video combo connectors combined with auto-sensing and internal converters make the Universal 2nd Gen Secure KVM series compatible with modern and legacy systems, eliminating the need for external converters and their inherent cost and compatibility problems. Always on, active anti-tamper and some of the most advanced protections against ultrasonic audio attacks round out the Universal 2nd Gen Secure KVMs. US-manufactured and TAA-compliant, these secure KVM series are ideal for use in IT environments that demand rigorous cybersecurity provisions—including government, military, and healthcare applications.
The Belkin Difference
Common Criteria Certified to NIAP Protection Profile 4.0 to meet the highest security standards
Universal video compatibility accommodates modern and legacy systems and monitors
Configurable color coding on front panel maps to backlit KVM Remote Control with Integrated Keyboard for optimal user awareness
Mounting options and Belkin KVM Remote Control with Integrated Keyboard declutter the desk for enhanced user efficiency
US-based free technical support
Meets the highest standards for cybersecurity
Ideal for highly sensitive applications that demand isolation between different network security enclaves. The Belkin Universal 2nd Gen Secure KVM series utilize optical data diodes and peripheral emulation on each channel to help prevent data leakage between computers while maintaining strict air-gap isolation, even when sharing peripherals. An 8th order elliptical audio filter protects against ultrasonic attacks.
Universal video compatibility with combo connector and internal conversion
DisplayPort/HDMI combo connectors on each input and output allow the same KVM to accommodate systems with DisplayPort, HDMI, and DVI video outputs and modern and legacy monitors, eliminating the need, cost, and uncertainties with external converters. This flexibility enables IT managers to deploy the same, secure KVM switch across their network and prolong the useful life of the KVM simply by matching the appropriate Belkin cable with each connected system and monitor. Cutting-edge video performance delivers up to 4K resolution and 60Hz refresh on each display.
Belkin KVM Remote Control with Integrated Keyboard elevates the user experience
The Universal 2nd Gen Secure KVMs are compatible with Belkin's innovative KVM Remote Control with Integrated Keyboard. The remote control combines channel selection with a backlit mechanical keyboard that mimics the enclave color codes for each channel, minimizing operator errors. The ability to control the secure KVM via the remote combined with Belkin's mounting options help enhance user experience and efficiency by decluttering the desk.
Package Includes
Belkin F1DN116KVM-UN-4 Secure Universal 16-Port, Single Monitor Switch
Power cord with Worldwide Mains Adaptors
Rack mount adaptors
Port Naming Labels
Quick Start Guide and Compliance Documentation
Features
Designed for NIAP Protection Profile PSD 4.0 Compliance
Combo connector video support for up to 4K (3840x2160), @60hz refresh
Compatible with the Belkin Secure KVM Remote Control with Integrated Keyboard (Optional)
Customizable port coloring and naming on the front panel: Facilitates port identification and reduces user switching errors. Color coding mimicked by Belkin KVM Remote Control with Integrated Keyboard
Extrusion form factor that supports an under-counter mount (Optional)
Supports TAA combo and video cables for easy deployment
Supports up to sixteen host computers
Supports one display for the user
CAC and Audio freeze functionality
Dedicated processors with emulators for every port: Isolated port paths for video, audio, and peripherals prevent data leaks between computers
Unidirectional data paths: Optical data diodes prevent peripherals from being used to breach systems
Display security: Protected display interface prevents data leakage via the monitor
Analog audio via 3.5mm jack with ultrasonic audio filtering
Peripheral management: USB device detection prevents unauthorized peripheral usage
Active Anti-tampering and Secure labeling: Holographic tamper-evident product label provides visual indication and prevention of tampering
Fast switching: No keyboard or mouse delays when switching ports, minimal video delay
Secure packaging: Tamper-evident packaging ensures product is not tampered with during transport
Cables and Accessories
Host Cables – Single Output PC
Application
Part Number
Description

DP to DP

F1D9019b06t
F1D9019b10t
TAA DP/USB/AUD SKVM CBL, DP M/M; USB A/B, 6ft / 1.8m
TAA DP/USB/AUD SKVM CBL, DP M/M; USB A/B, 10ft / 3m

mDP to DP

F1DN1CCBL-MP6t
F1DN1CCBL-MP10t
TAA MDP to DP/USB/AUD CBL, VID M/M; USB A/B, 6ft / 1.8m
TAA MDP to DP/USB/AUD CBL, DP M/MDP M; USB A/B, 10ft / 3m

HDMI to HDMI

F1DN1CCBL-HH6t
F1DN1CCBL-HH10t
TAA HDMI/USB/AUD CBL,HDMI M/M; USB A/B, 6ft / 1.8m
TAA HDMI/USB/AUD CBL,HDMI M/M; USB A/B, 10ft / 3m

DVI to HDMI

F1DN1CCBL-DH6t
F1DN1CCBL-DH10t
TAA DVI to HDMI/USB/AUD CBL, VID M/M; USB A/B, 6ft / 1.8m
TAA DVI to HDMI/USB/AUD CBL, VID MM; USB A/B, 10ft / 3m

USB-C to DP

F1DN1CCBL-CP6t
F1DN1CCBL-CP10t
TAA USB-C to DP/USB/AUD CBL VID M; USB B, 6ft / 1.8m
TAA USB-C to DP/USB/AUD CBL VID M; USB B, 10ft / 3m

DVI to DVI

F1D9012b06t
F1D9012b10t
TAA DVI-D to DVI-D KVM Combo Cable, 6ft / 1.8m
TAA DVI-D to DVI-D KVM Combo Cable, 10ft / 3m

DP to DVI

F1D9017b06
F1D9017b10
DP to DVI-D Active Combo cable, 6ft / 1.8m
DP to DVI-D Active Combo cable, 10ft / 3m
Host Cables – Dual Output PC
Application
Part Number
Description

DP to DP

F1D9020b06t
F1D9020b10t
TAA DUAL DP/USB/AUD SKVM CBL, DP M/M; USB A/B, 6ft / 1.8m
TAA DUAL DP/USB/AUD SKVM CBL, DP M/M; USB A/B, 10ft / 3m

mDP to DP

F1DN2CCBL-MP6t
F1DN2CCBL-MP10t
TAA 2 MDP to DP/USB/AUD CBL, VID M/M; USB A/B, 6ft / 1.8m
TAA 2 MDP to DP/USB/AUD CBL, VID M/M; USB A/B, 10ft / 3m

HDMI to HDMI and DP to DP

F1DN2CC-HHPP6t
F1DN2CC-HHPP10t
TAA (1) HDMI-HDMI (1) DP-DP/USB/AU CBL, 6ft / 1.8m
TAA (1) HDMI-HDMI (1) DP-DP/USB/AU CBL, 10ft / 3m

DVI to HDMI and DP to DP

F1DN2CC-DHPP6t
F1DN2CC-DHPP10t
TAA (1) DVI to HDMI (1) DP to DP/USB/AUD CBL, 6ft / 1.8m
TAA (1) DVI to HDMI (1) DP-DP/USB/AUD CBL, 10ft / 3m

HDMI to HDMI

F1DN2CCBL-HH6t
F1DN2CCBL-HH10t
TAA DUAL HDMI/USB/AUD CBL, HDMI M/M; USB A/B, 6ft / 1.8m
TAA DUAL HDMI/USB/AUD CBL, HDMI M/M; USB A/B, 10ft / 3m

DVI to HDMI

F1DN2CCBL-DH6t
F1DN2CCBL-DH10t
TAA 2 DVI to HDMI/USB/AUD CBL, VD MM; USB A/B, 6ft / 1.8m
TAA 2 DVI to HDMI/USB/AUD CBL, VD MM; USB A/B, 10ft / 3m

USB-C to DP

F1DN2CCBL-CP6t
F1DN2CCBL-CP10t
TAA DUAL USB-C to DP/USB/AUD CBL VID M; USB B, 6ft / 1.8m
TAA DUAL USB-C to DP/USB/AUD CBL VID M; USB B, 10ft / 3m

DVI to DVI

F1D9014b06t
F1D9014b10t
TAA Dual-Head DVI-D to DVI-D KVM Combo Cable, 6ft / 1.8m
TAA Dual-Head DVI-D to DVI-D KVM Combo Cable, 10ft / 3m
Console Video Cables and Other Cables
Application
Part Number
Description

DP to DP

F1DN1VCBL-PP6t
F1DN1VCBL-PP10t
TAA DP/DP VIDEO CBL, DP M/M; 6ft / 1.8m
TAA DP/DP VIDEO CBL, DP M/M; 10ft / 3m

mDP to DP

F1DN1VCBL-MP6t
F1DN1VCBL-MP10t
TAA MDP/DP VIDEO CBL, mDP M/DP M; 6ft / 1.8m
TAA MDP/DP VIDEO CBL, mDP M/DP M; 10ft / 3m

HDMI to HDMI

F1DN1VCBL-HH6t
F1DN1VCBL-HH10t
TAA HDMI/HDMI SKVM VIDEO CBL, HDMI M/M; 6ft / 1.8m
TAA HDMI/HDMI SKVM VIDEO CBL, HDMI M/M; 10ft / 3m

DVI to HDMI

F1DN1VCBL-DH6t
F1DN1VCBL-DH10t
TAA HDMI/DVI SKVM VIDEO CBL, HDMI M/DVI M; 6ft / 1.8m
TAA HDMI/DVI SKVM VIDEO CBL, HDMI M/DVI M; 10ft / 3m

CAC

F1D9013b06t
F1D9013b10t
TAA USB A to USB B Cable for CAC Reader, 6ft / 1.8m
TAA USB A to USB B Cable for CAC Reader, 10ft / 3m

USB/Audio

F1D9022b06t
F1D9022b10t
TAA USB Keyboard/Mouse/Audio Combo Cable, 6ft / 1.8m
TAA USB Keyboard/Mouse/Audio Combo Cable, 10ft / 3m

DCU

F1D9026-50
50' RJ25 Extension for DCU