https://www.belkin.com/uk/surge-protector-with-usb-c-and-usb-a-ports-8-outlet-with-1-usb-c-1-usb-a/P-SRB003.html
Connect
Surge Protector with USB-C and USB-A Ports (8 Outlet with 1 USB-C & 1 USB-A)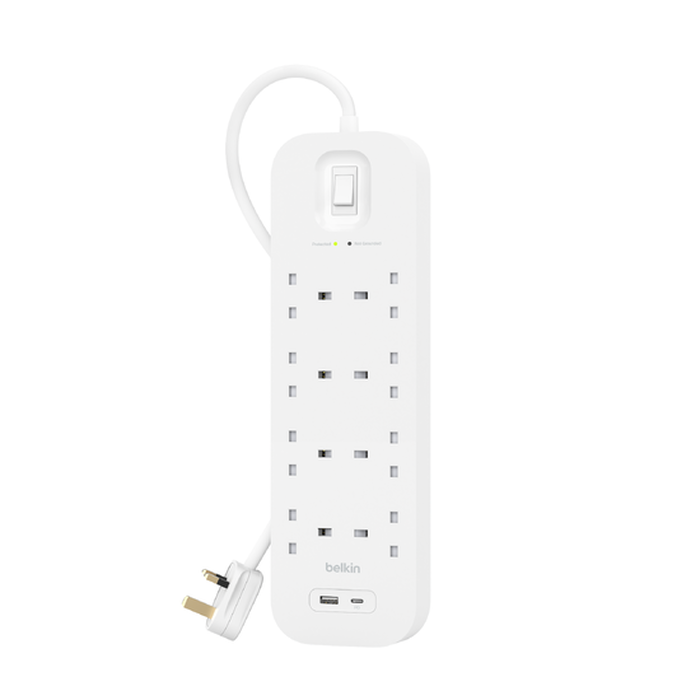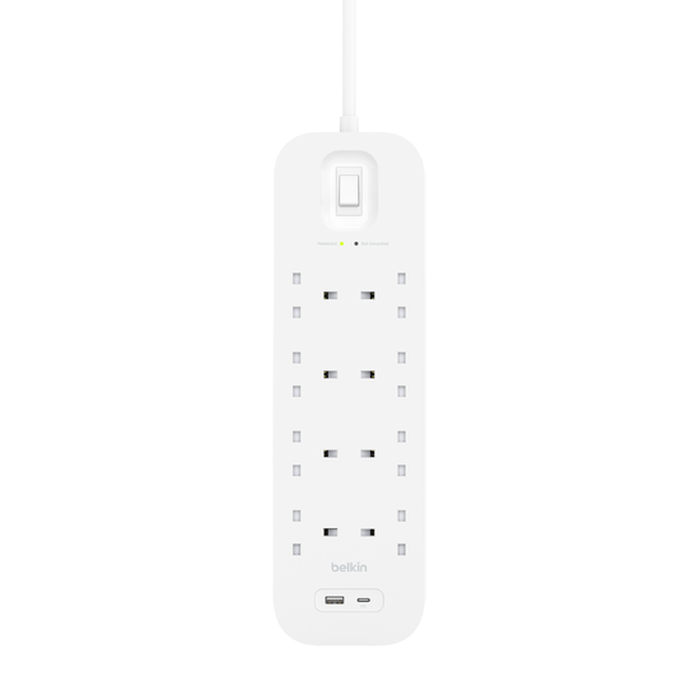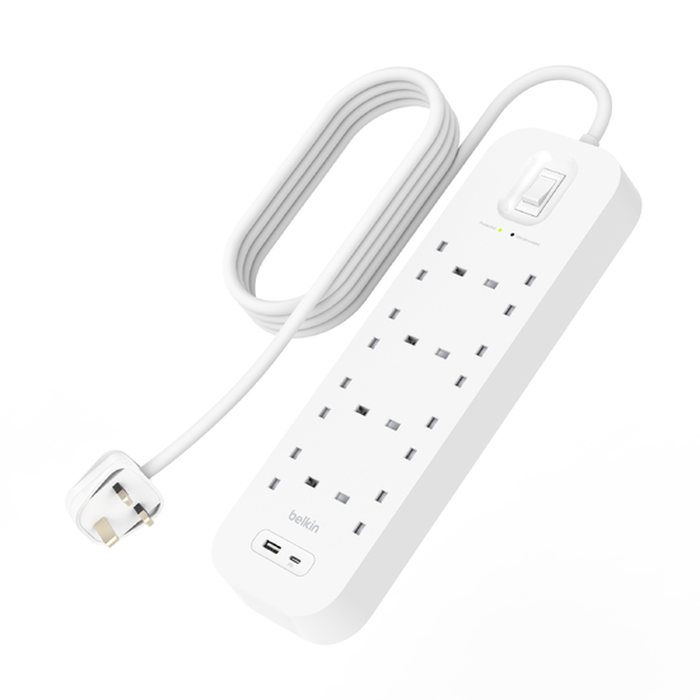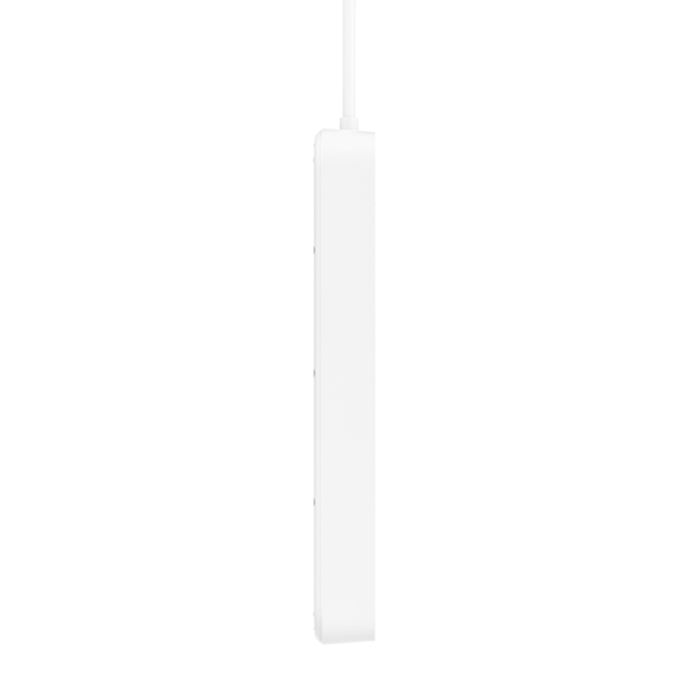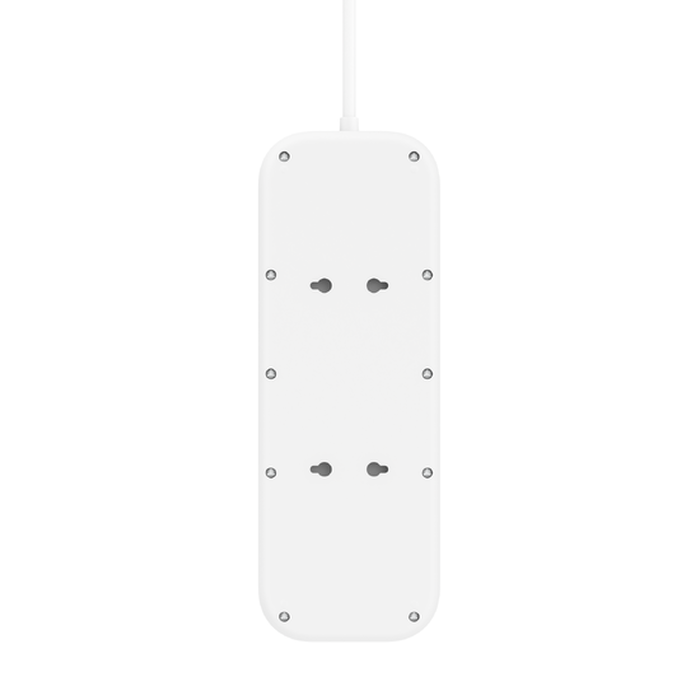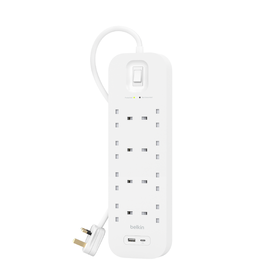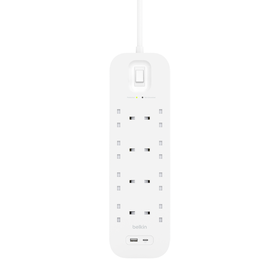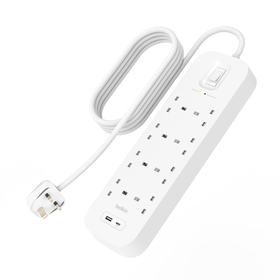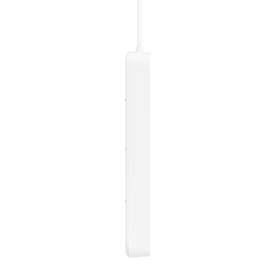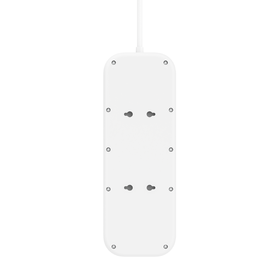 Connect
Surge Protector with USB-C and USB-A Ports (8 Outlet with 1 USB-C & 1 USB-A)
Keep your electronic devices protected with 900 joules of surge protection and USB-C and USB-A ports for added convenience. Built with safety in mind, the protection indicator light signals your devices are safe. Save time with USB-C PD that charges current gen devices up to 70% faster than traditional 5W chargers.
900 joules of surge protection extend the life of your electronics and appliances
8 AC outlets with USB-C and USB-A ports allow for easy expansion
USB-C PD helps you charge up to 70% faster than traditional 5W
Updated smarter design adds safety features to minimize electrical power risks
2-meter power cord gives you flexibility to put your surge protector where you want it
Mounting holes permit easy wall-mounting to save space
Indicator lights let you know you're protected* and when to change device
2-year warranty including best-in-class £60,000 Connected Equipment Warranty
Surge Protector with USB-C and USB-A Ports (8 Outlet with 1 USB-C & 1 USB-A)
Compatible with AC outlets, USB-C PD ports, USB-A ports.
Important: Be sure to regularly check the light on your surge protector. If the light is not on, the surge protector may have absorbed excess voltage from an event such as a thunderstorm or power outage. It may no longer be protecting equipment which is connected to it, and you should immediately replace it with a new surge protector. If you use the surge protector when the light is not on, your warranty will be invalidated. In any case we recommend replacing a surge protector after 3 years of use, even if the light continues to come on.
*Protected by the Belkin 9-point safety system. The product has been tested against over-voltage protection on power supply, over-temperature protection, over current protection, overload production, short circuit protection, clamping voltage protection, child-resistant socket/child-resistant shutters, not-grounded indicator, and fire-resistant material.