https://www.belkin.com/au/screenforce--tempered-glass-screen-protector-for-iphone-876s6/P-F8W768.html
ScreenForce® Tempered Glass Screen Protector for iPhone 8/7/6s/6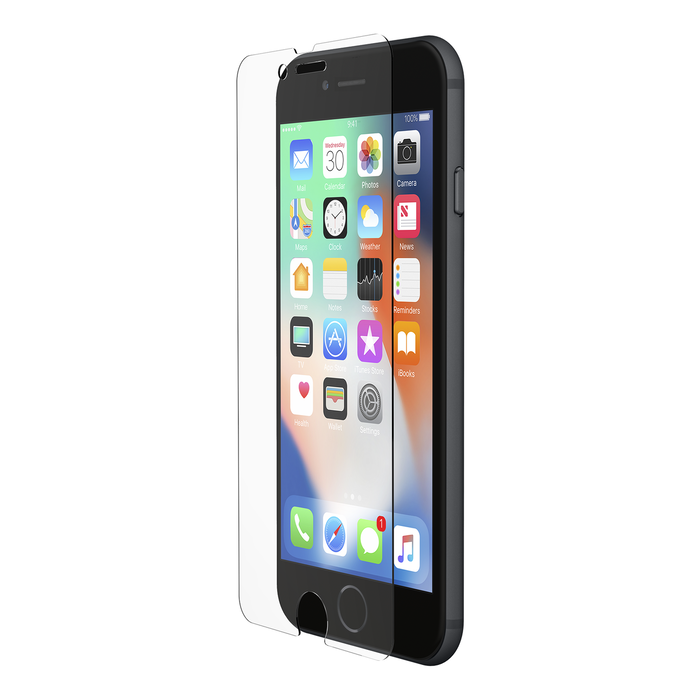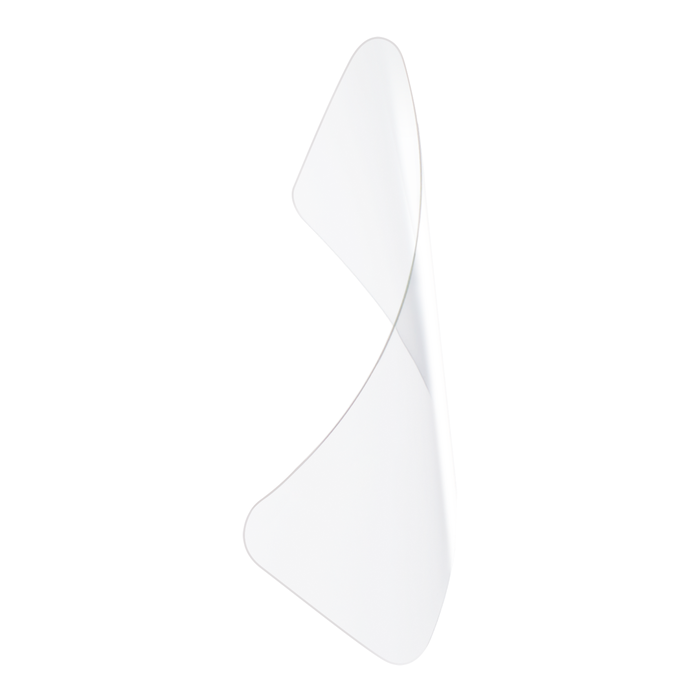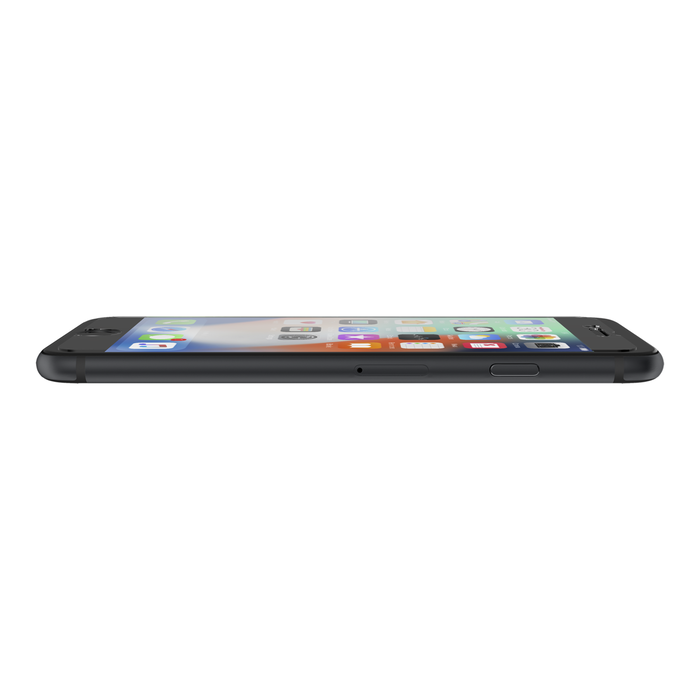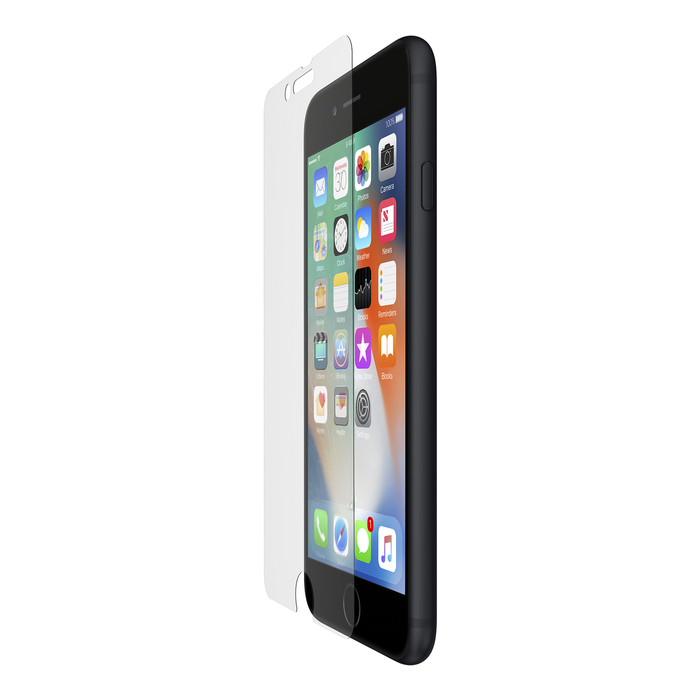 ScreenForce® Tempered Glass Screen Protector for iPhone 8/7/6s/6
HARD AS STEEL, CLEAR AS GLASS*
Three times stronger than plastic, and engineered to be stronger than regular glass, Tempered Glass provides resilient, hard-wearing protection for your phone screen. Engineered from real glass, it retains the smooth glide and tactile experience of the screen, and is tested extensively to deliver the brightness, sharpness and clarity you expect from your iPhone. Easy Align stickers deliver a simple and precise self-installation process, for an even edge-to-edge application for maximum protection.
Compatible with:
EASY APPLICATION
Better application means better protection. Each Belkin screen protector includes Easy Align stickers which make precise edge-to-edge application quick and easy. Designed and tailored to fit each phone screen precisely makes them compatible with most phone cases, for total front-to-back protection.
TEMPERED GLASS
Anti-Fingerprint & Anti-Scratch coating tested to 9H pencil hardness
Optically Clear Adhesive bonds glass to base
Base layer provides buffer between glass and screen
Fluid adhesive prevents gaps to minimize lifting
TOTAL PROTECTION
Tempered glass provides multi-level protection for your screen, from surface-level damage such as scratches and scuffs, to deeper level protection against damage from drops and impacts. Smooth, polished edges and flat surface coverage provide screen protection that is hard-wearing and long-lasting.
VISIBLE CLARITY
Belkin screen protectors are extensively tested using optometric standards. Designed and engineered from high quality, durable Japanese glass delivers the brightness, sharpness and detail you expect from your phone screen. The result is a crystal clear protective layer that provides the same visual experience as the device itself.
THE FEEL OF GLASS
Glass composition gives the screen protector a tactile response and feedback just like your device. What's more, it has been engineered with fingerprint and oil resistance to help keep the screen feeling clean, and looking clear.
PRODUCT
Transparent
Tempered Glass
InvisiGlass™
InvisiGlass Ultra
Material
PET
Tempered Glass
Flexible Glass
Accessory Glass 2 by Corning®
Thinness for touch screen sensitivity
.13 mm
.33 mm
.20 mm
.21 mm
Pencil hardness
2H
9H
9H
9H
Clarity
93%
92%
92%
92%
Anti-Fingerprint
✓
✓
✓
✓
Easy Application
✓
✓
✓
✓
Limited Lifetime Warranty*
✓
✓
✓
✓
Glass Feel
✓
✓
✓
✓
Ion-exchange Strengthened**
 
 
 
✓
Shock absorbing
 

 

 

 

 

 

 

 

 

 

Scratch resistant
 

 

 

 

 

 

 

 

 

 
*Americas only. 2-Year Limited Warranty elsewhere.
**Ion-exchange strengthening is the process of heating glass into a liquid form, and then exchanging the smaller sodium ions with larger potassium ions. The larger molecules are more tightly packed into the space, providing a dense molecular structure. This higher density gives the glass greater strength.
*Rated 9H against low-carbon steel at 5H, using the ASTM D3363 Film Hardness by Pencil Test Hardness.
At a Glance:
Glass composition preserves clarity and screen feel
0.33mm thin preserves touchscreen sensitivity
9H Hardness for scratch, scuff and impact resistance
Package Includes:
Tempered glass screen protector
Easy Align stickers
Cleaning cloth
Dust removal sticker