https://www.belkin.com/au/in-car-3.5mm-to-fm-transmitter/P-F8Z880.html
TuneCast
In-Car 3.5mm to FM Transmitter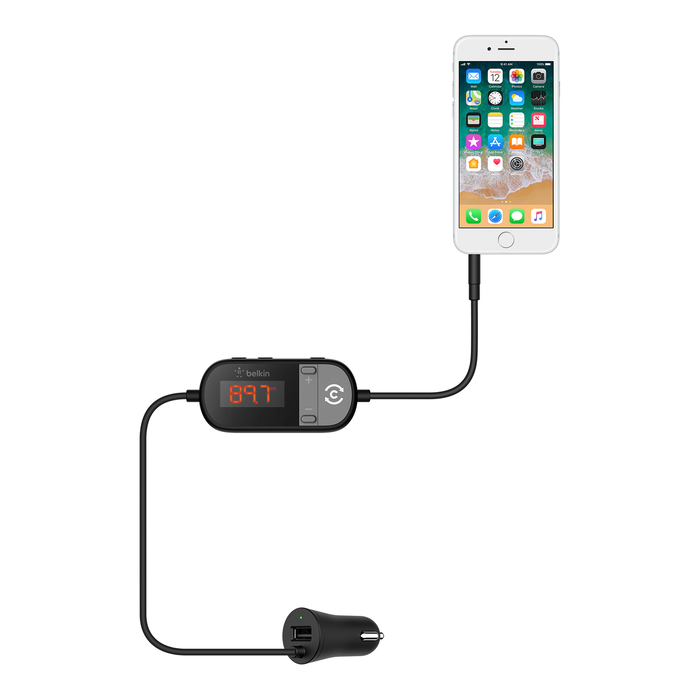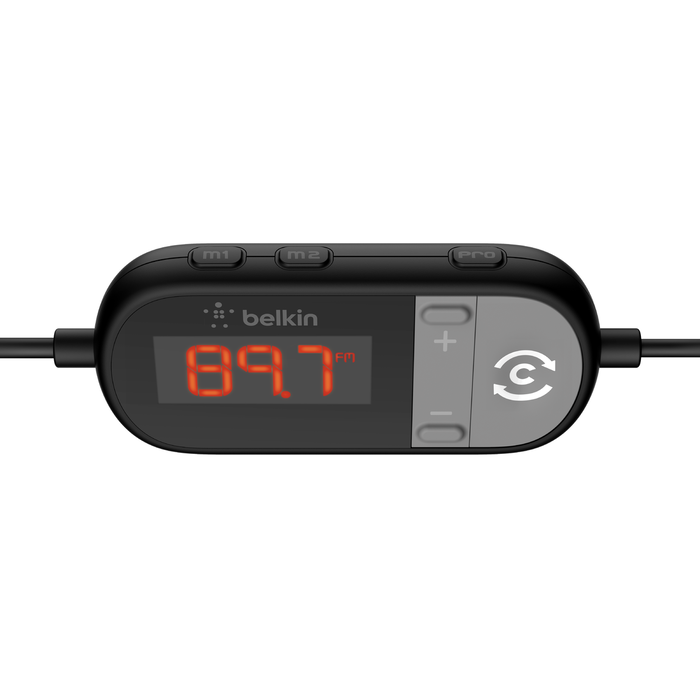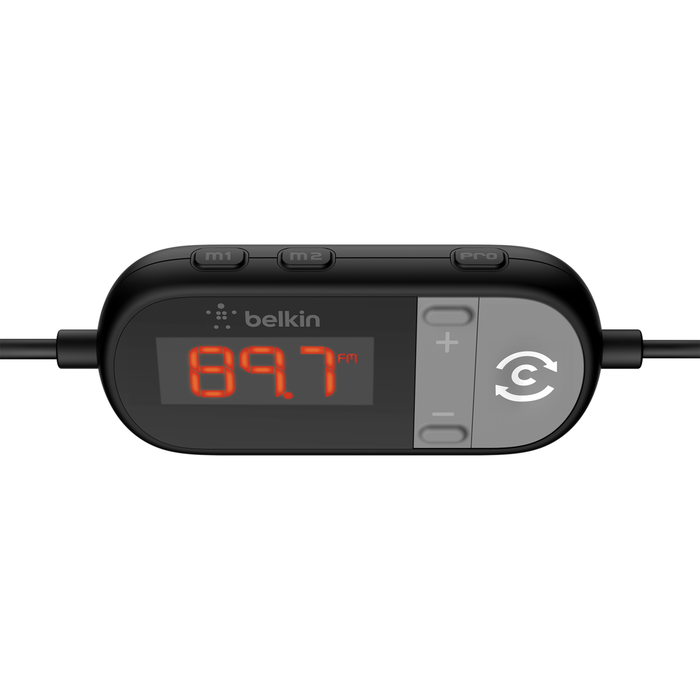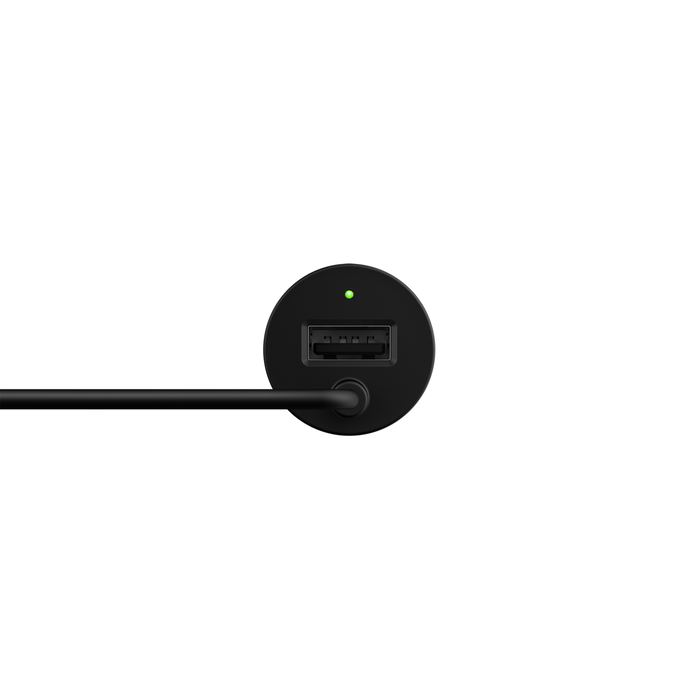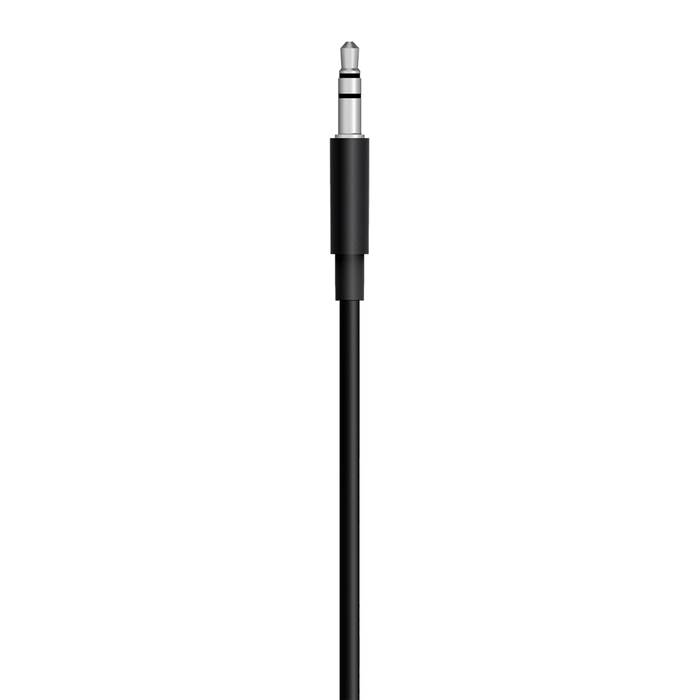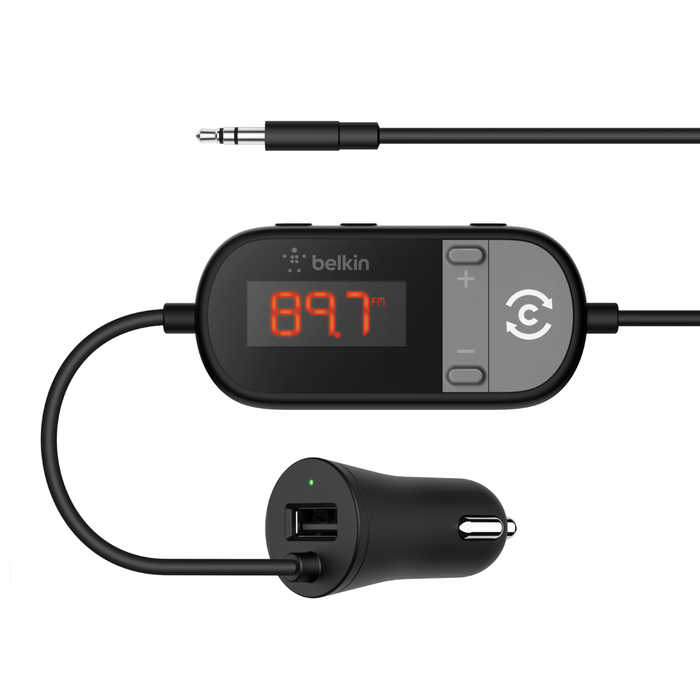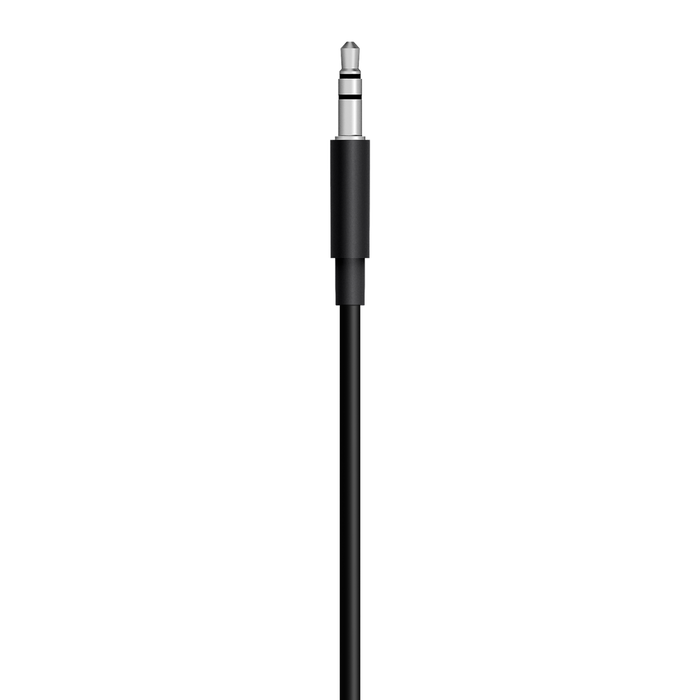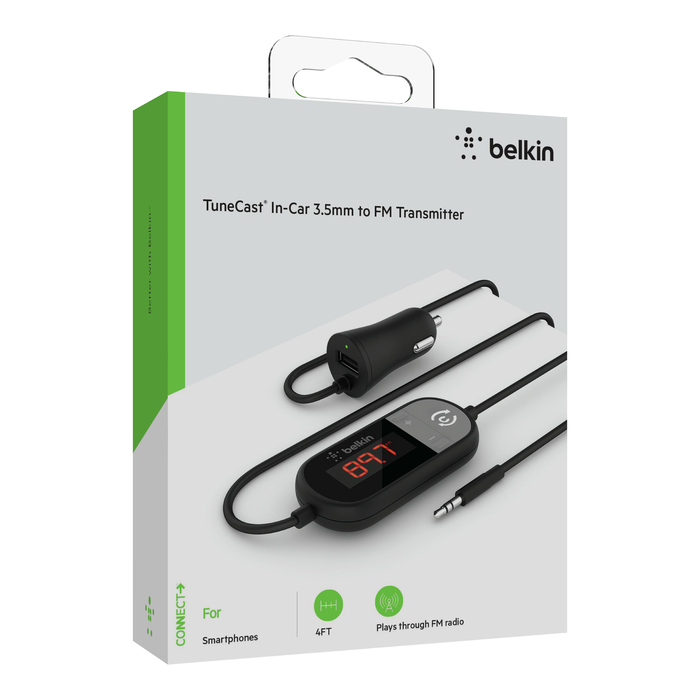 TuneCast
In-Car 3.5mm to FM Transmitter
Galaxy Note8
Galaxy S6
Galaxy S6 edge
Galaxy S7
Galaxy S7 edge
Galaxy S8
Galaxy S8+
Galaxy S9
Galaxy S9+
GOGLPXL
GOGLPXL2
GOGLPXL2XL
Google Pixel XL
IPHONE5
IPHONE6
IPHONE6PLUS
IPHONE6S
IPHONE6SPLUS
LGG5
LGG6
NO AUX, NO PROBLEM
Enjoy your music on the road even if your car doesn't have an aux port. TuneCast In-Car 3.5mm to FM Transmitter uses FM radio to play your music through your car stereo. Connect the 3.5mm headphone jack to your smartphone and TuneCast transmits your music from your phone to your car's FM radio. A powered USB-A port charges your phone as you go, to keep the music playing all-journey long.
Made for: Smartphones equipped with a 3.5mm AUX headphone jack, including iPhone 6S/6, Samsung Note 8, S9, LG G6, Google Pixel 2 and previous generations
THE BELKIN DIFFERENCE
Pioneer in technology and innovation for over 35 years
Quickly find the best signal with one touch
Activate PRO setting to improve low-level audio
Powered USB-A port makes it easy to charge your device
EASY TO USE
Simply connect your smartphone to the 3.5mm headphone jack and press the scan button. TuneCast uses cutting-edge ClearScan technology to locate the best available FM signal – all with one touch. Two programmable preset buttons allow you to save previous frequencies for even faster setup, while frequency up/down buttons make searching easy.
RECHARGE ON THE GO
A powered USB-A port means you can charge your device while playing your music or audio. Just connect TuneCast to your car's power outlet and your phone's charge cable to TuneCast's universal USB-A port.*
*Charging cable not included
OPTIMIZED AUDIO QUALITY
TuneCast is designed to enable best sound quality from your smartphone. For low-level recordings, activate TuneCast's PRO setting to optimize audio and boost volume for an improved acoustic experience.
Use the PRO button to access PRO settings
Press once for PRO settings
Press twice for PRO 1 - boosts audio volume
Press three times for PRO 2 - boosts volume further – ideal for older recordings
Press four times for - transmits audio in mono, rather than stereo – recommended for podcasts and audio books
WORKS WITH MANY DEVICES
TuneCast is compatible with most devices with a 3.5mm aux port, including iPhone 6S and previous generations of iPhone, Samsung Note 8 and S9 and older Samsung devices, LG G6, Google Pixel 2 and older LG and Google products.
KEY FEATURES AND BENEFITS
1. ClearScan technology locates best signal with one touch
2. 2 programmable preset buttons to find saved stations
3. Frequency up/down buttons for simplified searching
4. Aux cable connects to any device with 3.5mm port
5. Powered USB-A port charges device while in use
At a Glance:
Easy-to-use, single-cable solution to listen to music through car stereo
Compatible with most devices with 3.5mm aux port
Powered USB-A port to charge device while in use
Quickly find the best signal with one touch
Clear, easy-to-read display
PRO setting optimizes audio and boosts volume
2 programmable preset buttons to find saved stations
Package Includes:
TuneCast® In-Car 3.5mm to FM Transmitter