https://www.belkin.com/au/hi-fi-smart-speaker-wireless-charger/P-G1S0001.html
SoundForm Elite
Hi-Fi Smart Speaker + Wireless Charger
With Google Assistant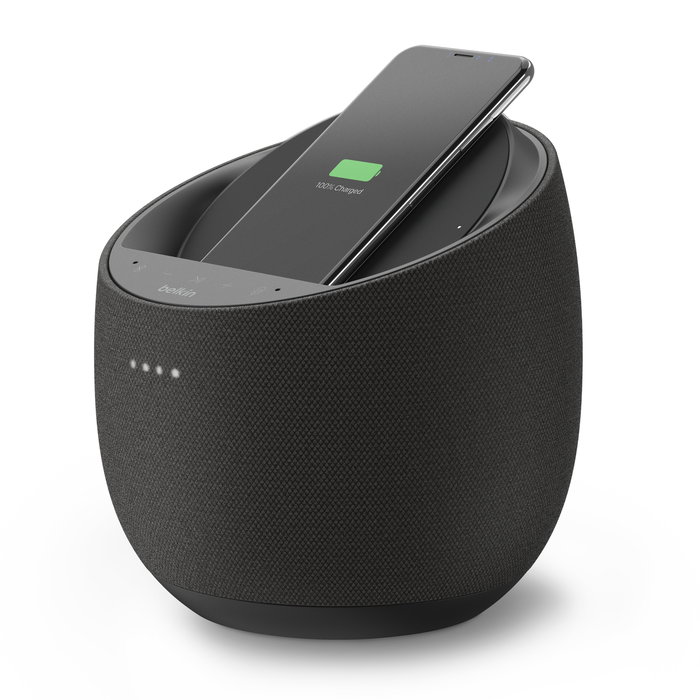 SoundForm Elite
Hi-Fi Smart Speaker + Wireless Charger
With Google Assistant
iPhone 12, 12 Pro, 12 Pro Max users –

 

Simply remove phone case to charge
iPhone 12 mini users

 –

 Charging feature is currently incompatible with this phone
AN EVOLUTION OF SOUND AND POWER
SOUNDFORM ELITE has been created in partnership with sound pioneers Devialet to deliver high-fidelity sound for an impactful audio experience. We combined their extraordinary acoustic architecture with fast wireless charging and award-winning design to create a high-performing smart speaker for your home. SOUNDFORM ELITE with the Google Assistant allows you to play and control your music while experiencing stunning, room-filling sound throughout your home.
ACOUSTICS BY DEVIALET
Founded in 2007, Devialet is one of the world's most critically acclaimed companies for innovation in sound technology. Devialet's success is built upon a series of radical innovations embedded in all Devialet products, which include the Expert Pro amplifiers, connected Phantom Premier speakers, and the Phantom Reactor.
Ever since 2017, Devialet has also worked with selected Partners to bring breakthrough licensing products to life, merging some of the brand's core audio technologies with the best-in-class solutions brought by each counterpart.
HIGH-FIDELITY SOUND
Your favourite artists work hard in the studio to get that mix just right. With the right technologies, you can appreciate the power and subtlety of every track, thanks to full-resonant bass and crystal-clear mixes. The result is high-fidelity sound that delivers an emotional experience.
SPEAKER ACTIVE MATCHING TECHNOLOGY BY DEVIALET
Feel the full resonant bass with crystal-clear detail at any volume. Devialet's patented Speaker Active Matching (SAM®) technology makes high fidelity sound reproduction possible in any size factor.
DEVIALET'S "PUSH-PUSH" WOOFER ARCHITECTURE
Devialet's signature "Push-Push" dual woofer configuration cancels vibrations while ensuring a deep, impactful sound experience with truly powerful bass.
FAST WIRELESS CHARGING
The thoughtfully designed charging cradle holds your smartphone securely, for fast, convenient wireless charging. Vibration-cancelling technology in the speaker ensures your device charges steadily without interruption.
MUSIC IN EVERY ROOM
Create a whole-home audio experience and play your music in multiple rooms at the same time. Designed to pair with another SOUNDFORM ELITE or any Google Assistant-enabled smart speaker, it's easy to listen to the playlists, podcasts, and songs you love no matter what room you are in.
A SMARTER SPEAKER
We didn't stop at stunning, room-filling sound. Use the Google Assistant to play music, find answers on Google Search, manage everyday tasks, and easily control smart devices around your home – just by using your voice.
DESIGN THAT PULLS YOU IN FROM ANY ANGLE
The SOUNDFORM ELITE Hi-Fi Smart Speaker combines flawless audio playback with stunning design. It commands attention, in every way.
KEY FEATURES & BENEFITS:
Acoustics by Devialet - patented technologies from audio pioneers Devialet provide incredible sound quality from a compact device



Speaker Active Matching (SAM®) technology invented for absolute fidelity, ensures SOUNDFORM™ ELITE performs at its best. 
"Push-Push" dual woofer configuration cancels vibrations while delivering a deep and impactful sound experience

Use the Google Assistant as an easier way to enjoy music and more at home, just with your voice
Fast wireless charging optimised for iPhone, Samsung, Google
Pair with other Google Assistant-enabled smart speakers so you can enjoy the songs you love no matter what room you are in.
A WARRANTY YOU CAN TRUST
We have carefully crafted and engineered our best-in-class speaker to perform flawlessly and support it with a 2-Year Limited Warranty. Our product warranty also extends to protect your connected devices for added peace-of-mind.*
*If your device is damaged by an electrical charge while properly connected to the charger, Belkin will repair or replace it up to a value of $2,500.
Dimensions:
Wide – 162mm (6.4")
Deep – 162mm (6.4")
Tall – 168.5mm (6.63")
Weight: 1.25Kg (2.8lbs.)
Technical Specifications:
Colours: Black and White
Sound Stage: Mono with SAM® by Devialet
Controls: Play/Pause, Mute, Vol +/-, BT connection
Microphone: 2 far field microphones for voice control
SPL Max: 90 dB SPL +/- 3dB
Full Range Driver Size: 35mm
Woofer Driver Size: 2 x 70mm, vibration cancelling "Push-Push" configuration
Woofer Max Input peak Power: 2 x 60watts
Full Range Max Input peak power: 1 x 30watts
Frequency Response: 40 – 20,000Hz
Voice Assistant: Google Assistant
Bluetooth / Wifi: Bluetooth 5.0 / Wifi 802.11b/g/n/ac (2.4GHz/5Ghz)
Wireless Charge: Up to 10-watt charge
Package Includes:
Hi-Fi Smart Speaker + Wireless Charger
AC Adapter
Quick Start Guide
*If the SOUNDFORM ELITE™ Hi-Fi Smart Speaker + Wireless Charger is powered off (i.e. power unplugged), the microphones will be unmuted when powered on again.