https://www.belkin.com/lightning-to-usb-cable/P-F8J207.html
Mixit DuraTek
Lightning to USB Cable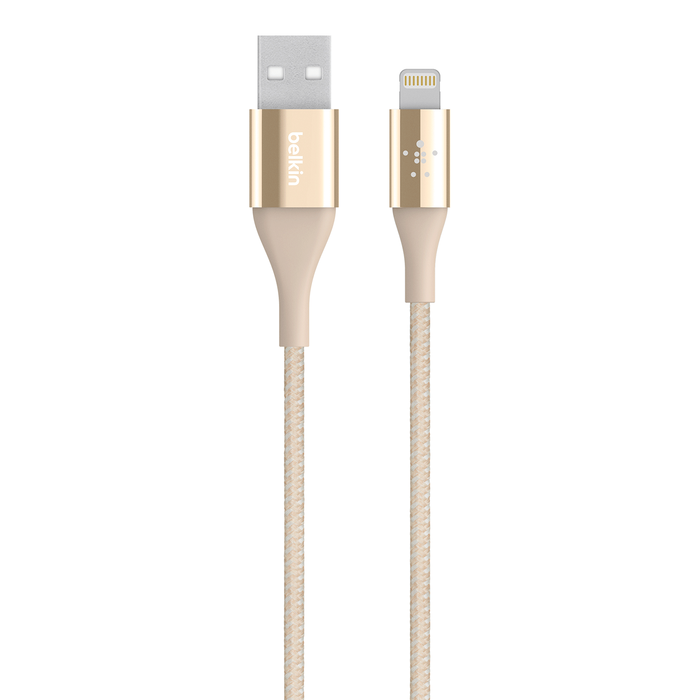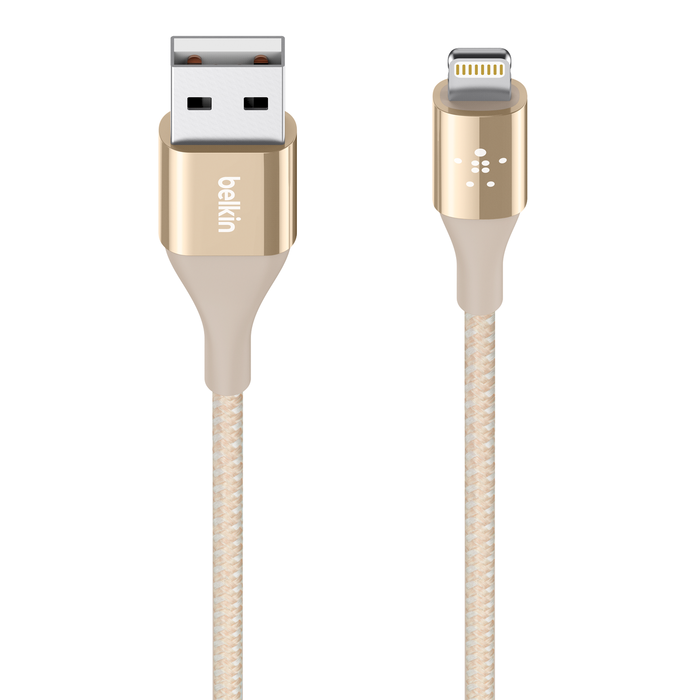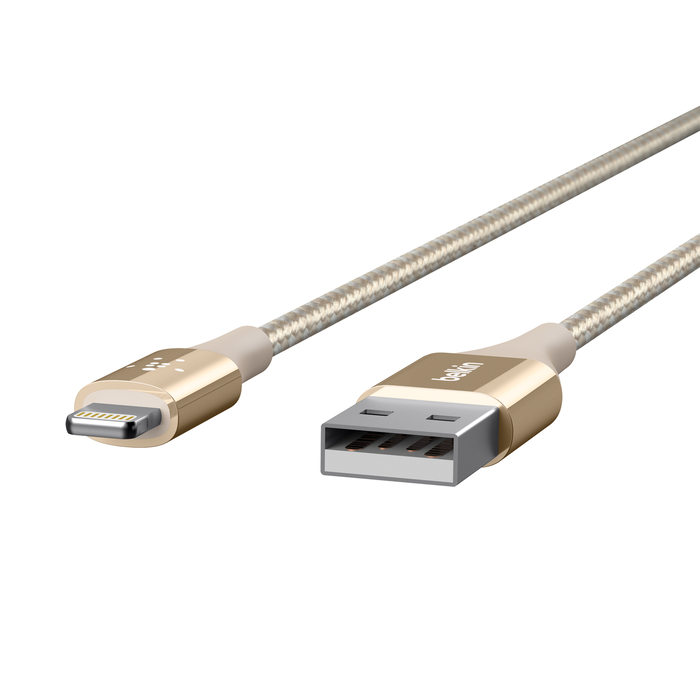 Fast and free shipping
90-Day money back guarantee
24/7 Customer support
Mixit DuraTek
Lightning to USB Cable
Dads and Grads Sale - Save 20% with code DNG23, discount automatically applies in cart, while supplies last.
Free 2-day shipping on orders over $125 or more.
FREE Standard Shipping on orders of $50 or more
This product usually ships within 1-2 business days.
BUILT STRONG
Not just any charge cable, DuraTek was forged from superior quality materials for ultimate durability. Aramid fibers reinforce the inner wiring for added strength, abrasion-resistant nylon forms a tough outer jacket, and highly flexible insulation minimizes damage from friction. The strength created by these resilient ingredients is further enhanced by smart design details to reinforce the cable at its stress points. This ensures the finished product can withstand even the most demanding routines, and perform above and beyond expectation to deliver a cable that borders on indestructible.
Made for: iPhone / iPad
THE BELKIN DIFFERENCE
Pioneering technology and innovation for over 35 years
Aramid fibers add extra strength and protect the wires
5-Year Limited Lifetime Warranty for added peace of mind
HIDDEN STRENGTH
One of the key ingredients of DuraTek's extraordinary strength is the use of Aramid fibers. This super-strong material is also used to reinforce protective clothing, and strengthen products, like tennis racquets and surfboards, where durability is key. Able to flex without stretching, Aramid strands are built into DuraTek cables, providing a structure that protects the wires inside from damage.
DOUBLE BRAIDED NYLON
The external cable jacket is made from premium and hard-wearing nylon that resists damage caused by everything from transportation to rubbing against your nightstand. Double braiding, a technique used in rope making, is incorporated to increase strength and resilience.
FLEXIBLE INSULATION
Insulation protects the wires inside a cable from damage as the cable bends and flexes. Some insulation can cause stiffness, affecting the overall suppleness of the cable. The highly flexible insulation within DuraTek minimizes friction, allowing the cable to bend easily while protecting the wires within from damage.
BETTER STRAIN RELIEF
The strain relief–where the cable joins the connector head–is made of flexible TPE and longer than that found on other cables. This added length and flexibility absorbs stress and reinforces the juncture between the cable and connector head, preventing separation. Not just flexible, TPE is also smooth, tactile and more environmentally-friendly than PVC.
Key Features:
Aramid fibers, a high strength synthetic material, are used as a reinforcing agent to strengthen conductors and enhance protection
Drain wiring helps with added protection
Insulated conductors reduce friction while creating added flexibility and protection
Shield-braid and metalized Mylar shielding help to protect the cable from external electromagnetic interference
Thermoplastic elastomer (TPE) cable jacket is soft, pliable and environmentally friendly
Double-braided nylon exterior is abrasion resistant, reducing fraying and lasting longer
At a Glance:
Aramid-reinforced conductors provide added durability
Longer, flexible strain relief absorbs stress from bending to prevent breakage
Double-braided nylon forms flexible, durable cable jacket
Aluminum casing protects circuit board inside connector
Flexible insulation reduces friction
4-foot length
Supports 2.4A charging
5-Year Limited Lifetime Warranty
MFi Certified