https://www.belkin.com/12w-usb-a-wall-charger-with-hardwired-micro-usb-cable/P-F7U009.html
12W USB-A Wall Charger with hardwired Micro-USB Cable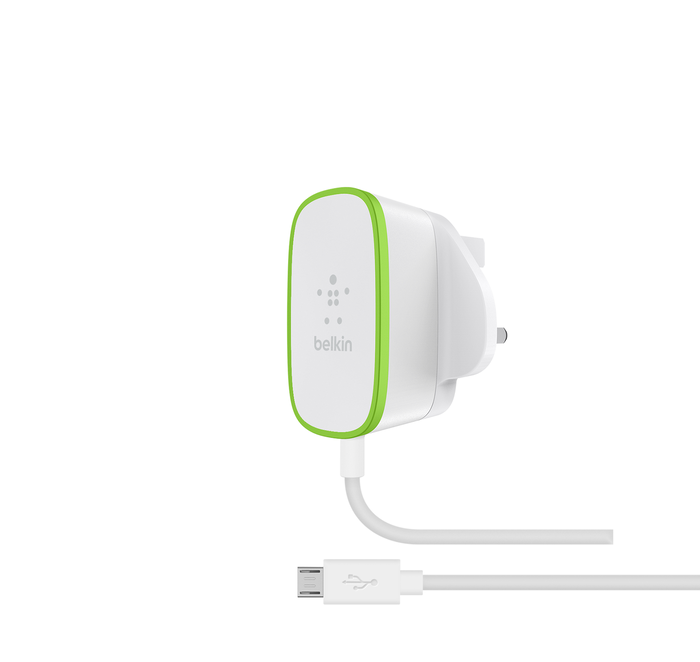 Fast and free shipping
90-Day money back guarantee
24/7 Customer support
12W USB-A Wall Charger with hardwired Micro-USB Cable
FREE Standard Shipping on orders of $50 or more
This product usually ships within 1-2 business days.
DESIGNED FOR HOME OR OFFICE
The Home Charger with built-in Micro USB cable lets you charge your smartphone with Micro USB connector quickly and efficiently while you're at home or in the office. Just plug into any wall outlet and the 2.4-Amp/12-Watt output starts charging up to 40% faster than regular 5W charging*. Its minimalist design also blends into your home or office's interior.
MADE FOR:
Micro USB enabled devices
FAST 12W CHARGING
The 12-Watt/2.4-Amp charger connects to any smartphone that charges via Micro USB connector. The charger delivers optimal charging up to 2.4 Amps/12 Watts. This means up to 40% faster charging.*
CONVENIENT HARDWIRED MICRO USB CABLE
You don't need to find an extra cable to charge your smartphone devices at the fastest possible speed. This home charger comes with an attached 6-foot Micro USB cable that reaches easily from your wall outlet to your couch, desk, or nightstand.
SMARTPHONE CHARGERS FOR THE HOME
Never suffer from the dreaded low battery again. With the fastest charging capabilities for Micro USB enabled devices on the market, Belkin chargers for your home are designed for your busy lifestyle and the devices that enhance it. The sleek, compact design is easy on the eyes, and you can plug in almost anywhere.
$2,500 CONNECTED EQUIPMENT WARRANTY
The Home Charger with Hardwired Micro USB Cable is protected by a Belkin Connected Equipment Warranty. If your device is damaged by an electrical charge while properly connected to the charger, Belkin will repair or replace it up to a value of $2,500.
*50% faster than 5W charging when charging a Google Nexus 5X or similar device from 0% battery
At a Glance:
2.4 Amp/12 Watts
Hardwired Micro USB cable
Plugs into any wall AC power outlet
6 ft./1.8M cable
Sleek, minimalist design
40% faster than standard 5W charger
Connected Equipment Warranty up to $2,500
Package Includes:
2.4A Home Charger with Hardwired Micro USB Cable