https://www.belkin.com/ph/slim-backpack/P-F8N057.html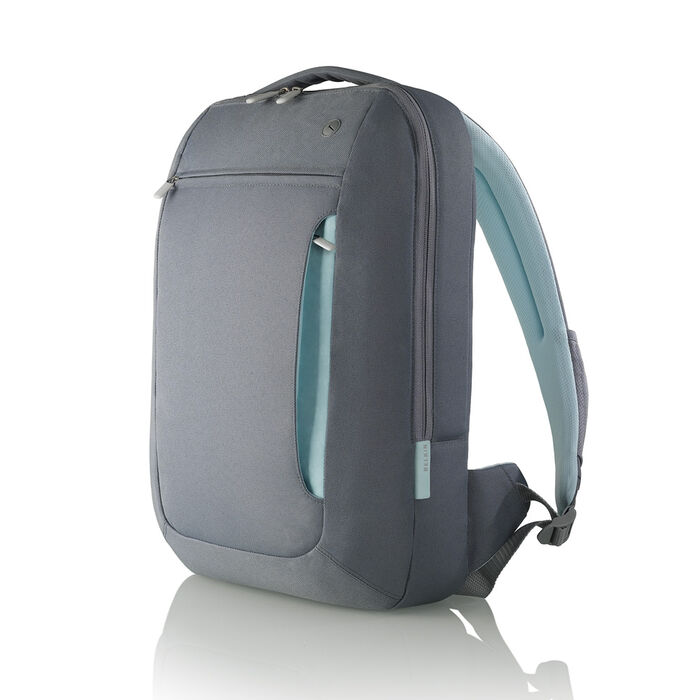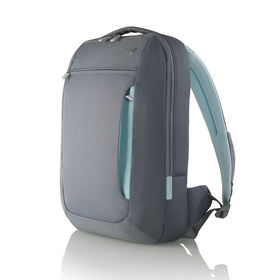 DESIGNED WITH COMFORT IN MIND
The Slim Backpack is designed to hold your laptop and other necessities for work or school while being comfortable for your commute. The lightweight backpack has extra padding and breathable mesh on the straps and back panel for maximum support and comfort.
PROTECTS LAPTOPS UP TO 15.4 INCHES
The backpack features a durable polyester exterior to protect your essentials. An interior notebook compartment with padded Soft-Touch lining provides extra protection for your laptop measuring up to 15.4 inches.
AMPLE SPACE FOR ESSENTIALS
Measuring 18 by 12.5 by 5 inches, the Slim Backpack is an ideal size for carrying your laptop and other essentials. Two zippered pockets on the outside of the backpack hold smaller items such as keys or charging cables, while a zippered pocket on the inside keeps your phone or MP3 player secure. A grommet on the backpack's exterior provides access to the interior zippered pocket, so you can pull your headphones through for convenient listening. The inside of the backpack also has open pockets for holding business or credit cards, pens, and notebooks.
SEPARATE POUCH FOR CORDS
The Belkin Slim Backpack comes with a removable pouch for your laptop power supply and other cords. The black pouch contrasts with the backpack's interior, making it easy to spot within.
At a Glance:
Protects laptops measuring up to 15.4 inches
Slim design with durable polyester exterior
Padded straps and back panel with breathable mesh
Interior slots for pens, business cards, and other essentials
Headphone grommet provides convenient access to music
Removable pouch for laptop power supply
Hand-washable material for easy maintenance
Lifetime warranty
Package Includes:
Belkin Slim Backpack with pouch