https://www.belkin.com/in/plus-smart-water-assistant-shutoff/P-PHNSWA01.html
Phyn
Plus Smart Water Assistant + Shutoff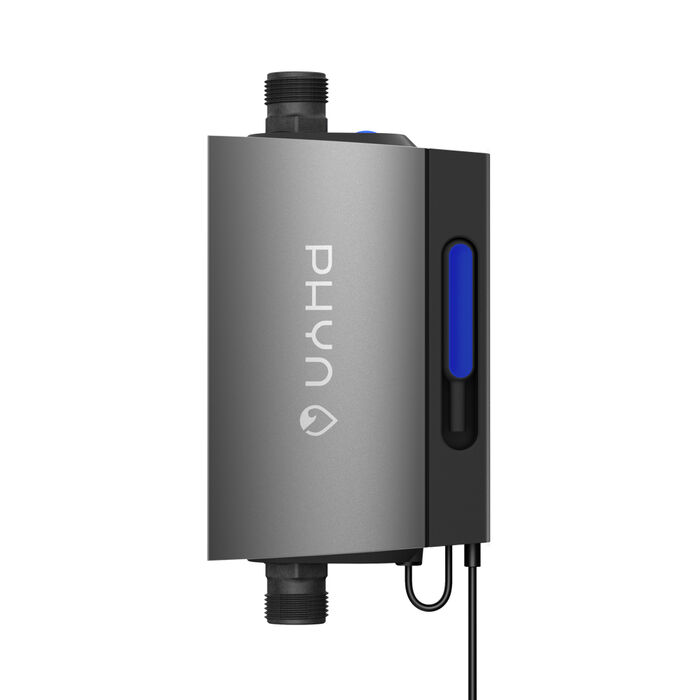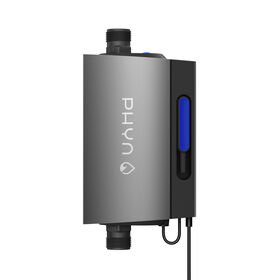 Phyn
Plus Smart Water Assistant + Shutoff
Professional installation by certified plumber recommended
Detects leaks in your plumbing
Installed on your main water line
SMS and push notifications for leak alerts
Automatic and remote water shutoff from free App
Diagnostic "Plumbing Checks"
Works with your existing home WiFi network and mobile internet (3G/4G)
No hub or subscription required
MEET PHYN PLUS.
Phyn Plus measures tiny changes in water pressure — 240 times a second — to alert you the moment a leak is detected, mitigate costly damage through automatic shutoff, and diagnose potential plumbing problems before they become an issue. This single device, installed on your home's main water line lets you manage your water throughout the entire home, even when you're away.
PROTECT YOUR HOME FROM WATER DAMAGE
The most damaging leaks happen when you aren't there to notice. Once Phyn Plus learns about your home's water use, it can turn off your water automatically and the Phyn app will notify you and provide a direct line to your plumber. The Phyn app is free. No monthly fees.
UNDERSTAND POTENTIAL LEAKS
When Phyn detects a potential leak it sends an alert in seconds with all the details you need to help diagnose the issue and fix with your plumber. Phyn Plus also lets you turn off your water from anywhere.
UNPRECEDENTED WATER INSIGHTS
Get the information you need to make better choices about your water use. Spot usage trends and see how much water your irrigation, showers, washing machine, sinks and more are using.
HOW PHYN WORKS - FINGERPRINTING YOUR FIXTURES
When you run a bath, wash your hands, or water your lawn, the pressure in your plumbing system changes. Phyn measures these microscopic changes in water pressure—240 times a second—to fingerprint the unique pressure profile of each fixture in your home. So when you run a faucet, Phyn knows it's a faucet. And if that faucet leaks, Phyn lets you know.
PHYN GETS SMARTER AS YOU GO
Phyn is installed with the memory of hundreds of thousands of toilet flushes, laundry loads, and pipe leaks from the real homes of beta testers, which serve as a baseline for when something's routine or something's wrong. From there, Phyn starts to learn how water is uniquely used in your home, asking occasional questions to improve accuracy over time.
ONE DEVICE. WHOLE HOME PROTECTION
Many water monitors require you to place multiple sensors around the home where you think leaks are likely to occur. Phyn Plus is a single device that protects your entire home's water system from a single location. Phyn Plus also connects to your existing Wi-Fi so you don't need to purchase an additional hub.
YOUR FAMILY'S WATER IS SAFE WITH PHYN PLUS
Phyn Plus was designed in cooperation with Uponor, a leading supplier of residential plumbing, and is manufactured by Badger Meters, a global leader with more than 110 years of water metering expertise and innovation. The device is NSF certified, can be installed indoor and outdoor, and is made to withstand the elements.
MAKE YOUR SMART HOME EVEN SMARTER
Connect Phyn with Amazon Alexa and use voice commands to control your water. Ask "How much water have I used today?", "How much water have i used this month?" or ask Alexa to "tell Phyn Plus to turn the water off."
KEY FEATURES
Turn your water on or off – from anywhere
Get alerted to leaks as soon as they happen
In case of a catastrophic leak, Phyn will automatically shut off your water
Monitor your water use by month, day and hour
See how much water your showers, irrigation, washing machine, etc… are using
Daily diagnostic plumbing checks looks for tiny leaks to .1 GPM (drip leaks)
Freeze alerts give you a warning before your pipes have a chance to freeze
Works with Amazon Alexa for hands-free voice control
Works with your existing home Wi-Fi network and mobile Internet (3G/4G), no hub or subscription required
Monitor up to 6 devices/homes in the Phyn app
Free Phyn App for Android and iOS operating systems
Two-year limited warranty, 24/7 phone support
SYSTEM REQUIREMENTS:
Wi-Fi router
Outlet (GFCI recommended) within 15 feet of where product will be installed; where water enters your home
Wi-Fi signal available where product is installed
Android 5 or higher
iOS 9 or higher
SMS text messaging
GENERAL SPECIFICATIONS:
Professional installation by certified plumber recommended
Intended for single family homes
Indoor and outdoor rated; IP55 certified
Wi-Fi: 2.4GHz 801.11b/g/n
110/220V 19W power supply
NSF certified for potable water
Not recommended for pipes larger than 1 1/4" diameter
Installs horizontally and vertically
PRODUCT DIMENSIONS:
2.97" L x 8.43" H x 5.6" D