https://www.belkin.com/hk/en/tunebase-fm-hands-free-30-pin/F8Z441qe.html
TuneBase® FM Hands-Free (30-Pin)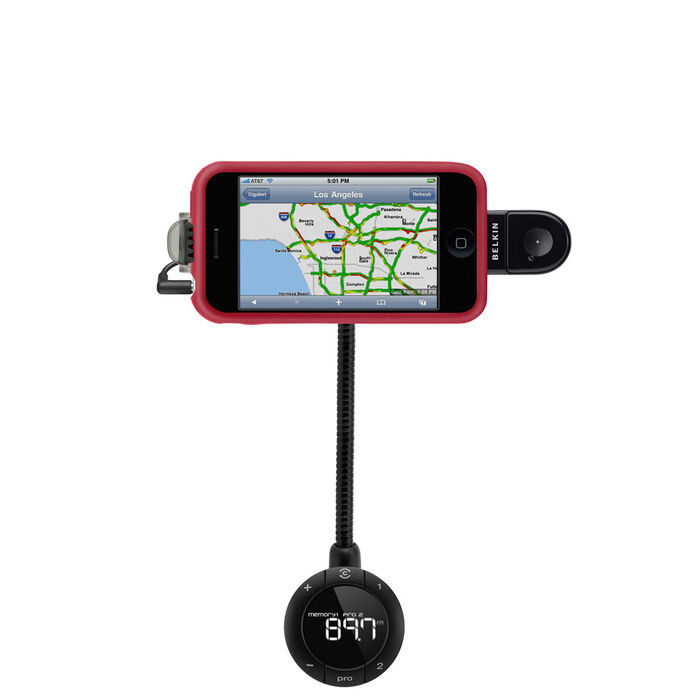 TuneBase® FM Hands-Free (30-Pin)
Talk Hands-Free and Listen to Your Playlist Through Your FM Radio—Without Missing A Beat
Listen to your iPod or iPhone music and talk hands-free through your car stereo system. TuneBase FM connects through your FM radio receiver, with no special installation or wiring, so you get stereo sound for your playlist and your calls.
TuneBase FM transmits your music and calls over the strongest FM frequency available. ClearScan technology lets you find the clearest signal at the push of a button. Adjust your stereo to the station, and TuneBase FM does the rest. The easy-to-read display lets you see which station you're using.
Make and receive calls with the push of a button. If your iPhone is playing music when a call comes in, the music automatically fades out. You'll hear the caller's voice on speakerphone loud and clear through your car's stereo speakers.
Swivel It
The innovative cradle holds your device securely while you drive and swivels horizontally for easy viewing of your device's GPS features, like turn-by-turn directions. It also makes it easier for passengers to watch videos.
The cradle charger draws power from your lighter outlet to keep your device fully charged.