https://www.belkin.com/ph/mixit%E2%86%91-usb-c-power-rockstar-usb-type-c/P-F7U003.html
MIXIT↑™ USB-C™ Power Rockstar™ (USB Type-C™)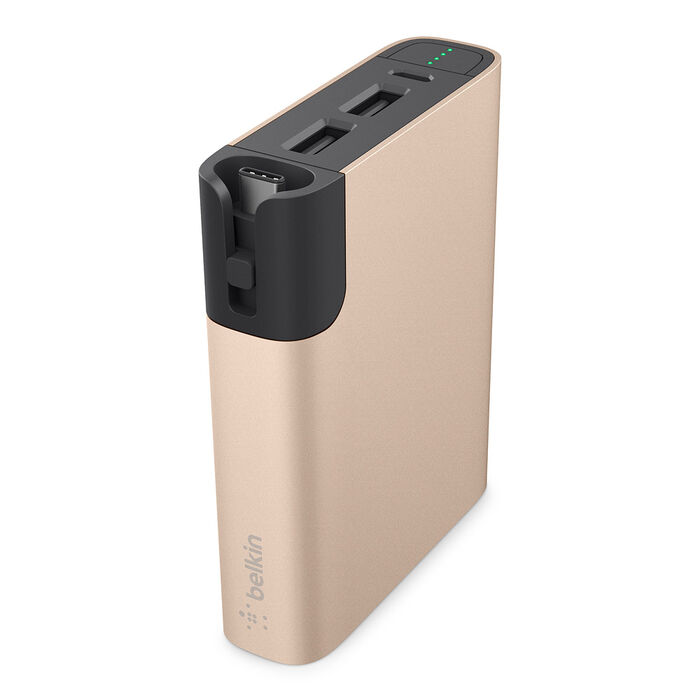 MIXIT↑™ USB-C™ Power Rockstar™ (USB Type-C™)
Google Pixel XL
Huawei P30/P30 Pro
iPhone 14
iPhone 14 Pro
iPhone 14 Plus
iPhone 14 Pro Max
iPhone 11
iPhone 11 Pro
iPhone 11 Pro Max
iPhone 12
iPhone 12 mini
iPhone 12 Pro
iPhone 12 Pro Max
iPhone 13 Series
iPhone SE 3rd Gen
iPhone X
iPhone XR
iPhone XS
iPhone XS Max
LG V40
Galaxy S21 Series
Galaxy S22 Series
Galaxy S23
Galaxy S23 Plus
Galaxy S23 Ultra
CHARGE ANYWHERE
The Power RockStar 6600 combines magnetized cable storage with a powerful 6600 mAh battery to make it even easier to your smartphones and tablets. Holding your specially designed USB-C or Micro-USB cable securely in transit, the Power RockStar means you'll never be without a cable to charge your device. With 3.4 Amps to optimally charge two smartphones simultaneously via two USB ports, or one tablet at top speed, your backup power just got an upgrade
USB-C HAS ARRIVED
All the benefits of USB-C can now be experienced on the move, including the convenient reversible connector, which makes it easy to plug in anytime, anywhere. The C-C cable has a USB-C connector at both ends, so either can be used to connect to the charger and your USB-C device.
2 x USB
With two USB ports, you can share the Power RockStar 3.4 Amps between two different devices for simultaneous charging. It's ideal for those who carry multiple USB devices, or to lend a quick battery boost to a friend.
KEY FEATURES
LED battery life indicator
Micro-USB port to charge the battery (2.4 Amp input for optimal battery recharging)
2 USB ports (3.4 Amps total)
Magnetized cable storage (for either detachable cable)
Aluminum finish
2 detachable cables included (1 USB-C & 1 Micro-USB)
RECHARGE 3 TIMES
6600mAh of power means enough juice to recharge your smartphone three times over without refueling the Power RockStar. When it does need a boost, simply connect it to a power source via the Micro-USB cable provided.
A NEW SIDEKICK
The Power RockStar 6600 is never without its trusty cable. The neat magnetized slot holds the 3.9" USB-C or Micro-USB cable securely, so when you need to recharge, the RockStar has literally everything you need.
$2,500 CONNECTED EQUIPMENT WARRANTY
The Power RockStar 6600 is protected by a Belkin Connected Equipment Warranty. If your device is damaged by an electrical charge while properly connected to the charger, Belkin will repair or replace it up to a value of $2,500.
At a Glance:
6600 mAh
3.4A Shared
Cable Storage
1 x USB-C Cable
1 x Micro-USB Cable
$2,500 Connected Equipment Warranty
Package Includes:
Power RockStar 6600
3.9" USB-C Cable
3.9" Micro-USB Cable