https://www.belkin.com/th/P-F7U005.html
USB-C™ Car Charger + USB-C Cable (USB Type-C™)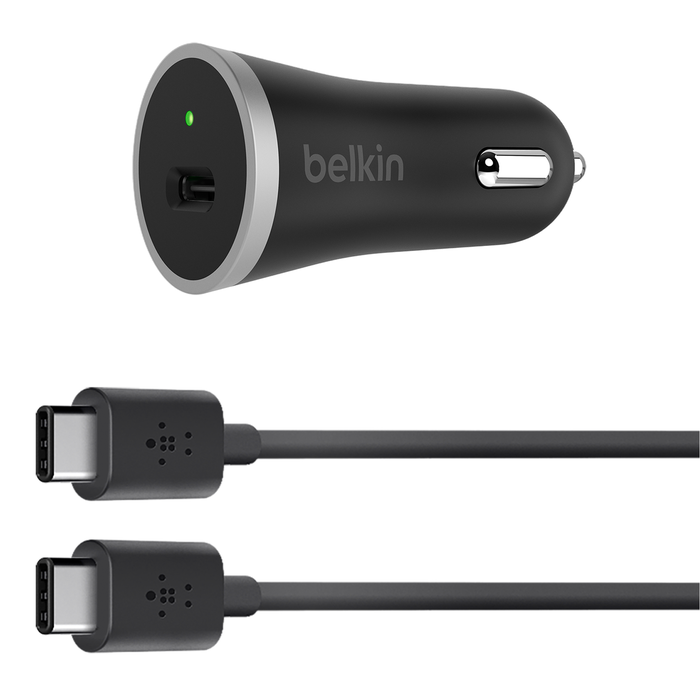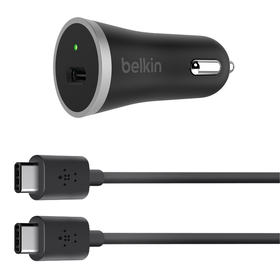 USB-C™ Car Charger + USB-C Cable (USB Type-C™)
MacBook Pro (2017)
MacBook Pro 13" (2017)
MacBook Pro (2016)
Google Chromebook Pixel
Google Pixel C
Google Pixel XL
HP Pro Tablet 608 G1
Huawei P8
Huawei P9
LG V20
Nintendo Switch
Nokia N1 Tablet
Galaxy Note8
Galaxy Note9
Galaxy S10
Galaxy S10e
Galaxy S10+
Galaxy S5
Galaxy S7
Galaxy S7 edge
Galaxy S8
Galaxy S8+
Galaxy S9
Galaxy S9+
Galaxy Tab S3
HWEINVA
HTC10
GOGLPXL
LGG6
LGG5
HWEINX6P
LGNX5X
HWEIM8
MICLMIA950
MICLMIA950XL
DESIGNED FOR YOUR CAR
Charge your USB-C enabled device quickly and efficiently while you're in your car. The 15W USB-C port charges any USB-C smartphone including the Galaxy Note 7 up to 15W which is 50% faster than regular 5W charging.* The USB-C port allows for reversibility of the connector, so you can plug it in any way for the most convenient charging experience. Even better, the sleek, minimalist design matches your car's interior and its small power light lets you know your device is charging.
MADE FOR:
USB-C Smartphones including the Galaxy Note 7
USB-C Tablets
USB-C ON THE ROAD
All the benefits of USB-C can now be experienced on the move, including the convenient reversible connector, making it easy to plug in anytime, anywhere. With a USB-C connector at both ends, the USB-C cable is also reversible, so both ends will connect to the charger and your USB-C device.
15W UNIVERSAL CHARGING
The 15Watt/3 Amp charger connects to any USB-C device through the cable. The charger automatically detects the connected device to allow and deliver optimal charging up to 15 Watts. This means up to 50% faster charging for smartphones* and convenient charging for larger devices such as tablets and Ultrabooks.
VERSATILE CABLE
The sturdy, 4-foot USB-C cable allows you to connect and optimally charge any USB-C device quickly and easily on the road. It supports up to 3A current, 480Mbps data transfer speed. Perfect for in-car charging, the cable reaches easily from the power source to anywhere in the car, even to passenger seats or hidden power outlets.
$2,500 CONNECTED EQUIPMENT WARRANTY
The USB-C car charger + USB-C cable is protected by a Belkin Connected Equipment Warranty. If your device is damaged by an electrical charge while properly connected to the charger, Belkin will repair or replace it up to a value of $2,500.
At a Glance:
15W USB-C Car Charger
For USB-C enabled devices including the Galaxy Note 7
Reversible USB-C connector
LED light
4 ft. USB-C cable 
Sleek black design
Connected Equipment Warranty up to $2500
Package Includes:
USB-C Car Charger + USB-C to C Cable
*50% faster than 5W charging when charging a Google Nexus 5X or similar device from 0% battery