https://www.belkin.com/ph/dual-swivel-charger-with-lightning-to-usb-cable-10-watt2.1-amp-per-port/P-F8J077.html
Dual Swivel Charger with Lightning to USB Cable (10 Watt/2.1 Amp Per Port)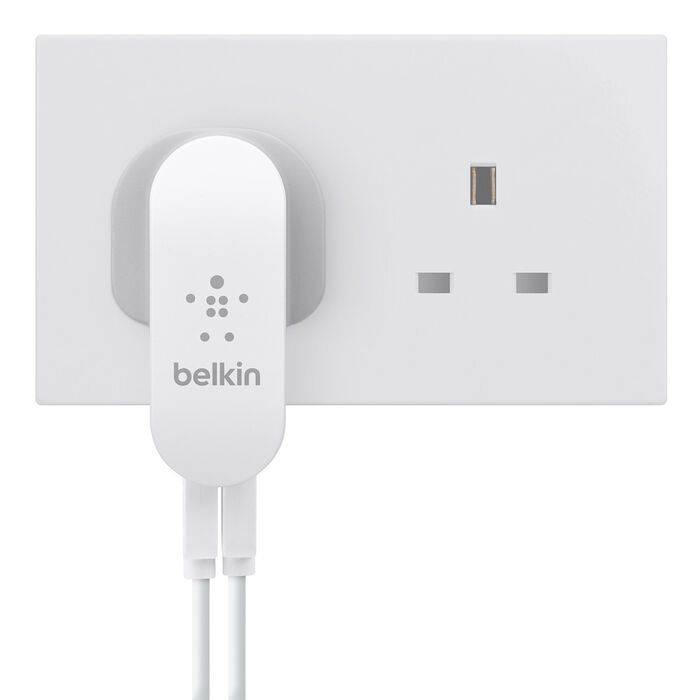 Dual Swivel Charger with Lightning to USB Cable (10 Watt/2.1 Amp Per Port)
CHARGE TWO DEVICES AT ONCE
Charge two devices at once, including the latest generation Apple devices, at home or while traveling — even at crowded or hard-to-reach outlets. The Swivel Charger rotates 90° to accommodate crowded outlets and make room for other plugs, while folding prongs make it simple to stick in a bag for charging on the go.
UNIVERSAL USB 2.0 PORT
The USB 2.0 Ports are universal, so you can still charge your legacy Apple devices with a 30-pin cable or other devices that use a Micro-USB cable. And you never have share the power —just plug in and power up two devices at the same time. 
INCLUDES REMOVABLE LIGHTNING TO USB CABLE
The Belkin Swivel Charger comes with a 4-foot Lightning to USB cable, so you can charge your Lightning connector devices at the fastest possible speed. The smaller, more durable Lightning connector is reversible, which makes plugging it in easier than ever. And because it's removable, the cable can be used anywhere—plug it into your laptop to charge and sync, or use your own car charger to charge on the road. Great as a replacement cable or if you simply need an extra.
COMPATIBILITY INFORMATION
The Belkin Dual Swivel Charger with Lightning to USB cable (10 Watt/2.1) is compatible with Lightning compatible devices.
The Dual Swivel Charger alone is also compatible with other tablets and smartphones, when using their compatible 30-Pin or Micro-USB device cables (not included). 
Depending on the type of case you have, you may need to remove your case before charging. If your speakers, Lightning connector port and AUX port are fully exposed when your case is on, you should be able to easily charge your device without removing the case.
Package Includes:
Dual Swivel Charger
Lightning to USB ChargeSync Cable