text.skipToContent
text.skipToNavigation
SALE
NEW
NetCam HD+ Wi-Fi Camera with Glass Lens and Night Vision
F7D7606
/ {{blVariant}}
NetCam HD+ Wi-Fi Camera with Glass Lens and Night Vision
is rated out of
5
by
60
.
SALE
NEW
NetCam HD+ Wi-Fi Camera with Glass Lens and Night Vision
NetCam HD+ Wi-Fi Camera with Glass Lens and Night Vision
is rated out of
5
by
60
.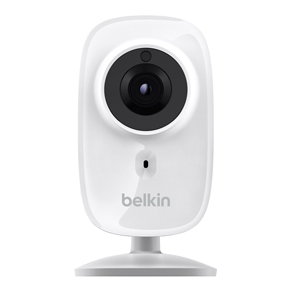 WATCH YOUR HOME FROM ANYWHERE--DON'T MISS A MINUTE
Stream live HD video from your home right to your smartphone or tablet - no computer required. With the NetCam HD+, you can watch your kids playing or check in with elderly parents anytime, anywhere. Set up the camera in your living room, kitchen, child's bedroom, or anywhere you want to keep an eye on kids, elderly family members, and mischievous pets.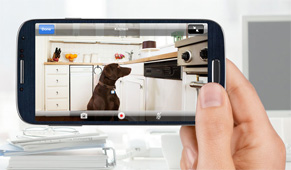 GLASS LENS FOR VIBRANT, CLEAR PICTURE
Capture every detail of the fun at home in vivid 720p HD. The camera's glass lens allows for vibrant color and pristine detail. You'll be able to see the smallest details, even on your smartphone's screen.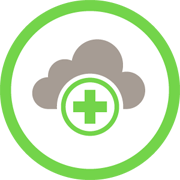 CLOUD+ PREMIUM SERVICES EXPAND CAMERA'S CAPABILITIES
Enjoy even more of the NetCam HD+'s features when you subscribe to Cloud+ Premium Services. This subscription allows you to record and store your favorite videos in the cloud, so you can enjoy them later. You can also receive notifications on your smartphone or tablet when the camera's motion sensor is triggered. The notifications include a video link, so you can watch the action without missing a beat. Try a complimentary 30-day subscription to start exploring all the advanced features right away.
Effortless Setup - No Computer Required
Forget hassling with installation CDs and complicated user manuals. All you have to do to get the Belkin NetCam HD+ up and running is download the free NetCam app to your mobile device. The camera connects to your home's Wi-Fi router and starts streaming video and audio to your smartphone or tablet. You don't even need a computer or laptop.
Works with Wemo
Wemo is a family of innovative, easy-to-use products that make life easier, simpler, and better by using your Wi-Fi network and mobile internet to control your home electronics right from your smartphone or tablet. The Belkin Netcam also works with the Wemo family so you can program home automation triggers like turning on your lights when someone walks through the door. Explore the growing Wemo collection of products and see how they enhance your life.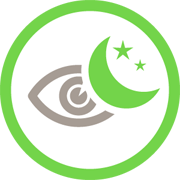 GET PEACE OF MIND WITH NIGHT VISION
The camera's infrared night vision function lets you view HD video of your home or office regardless of what time it is. A Day/Night filter improves the picture on your device to give you detailed images, even if the room you're viewing is totally dark. Use the NetCam HD+ to make sure your child is peacefully asleep or to keep an eye on your home during the night.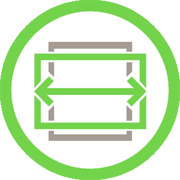 SEE IT ALL WITH WIDE-ANGLE FORMAT
Wide-angle video format ensures you'll keep all of the action in the frame. This wider format also allows you to view and record what happens in large rec rooms, kitchens, or offices without the use of multiple cameras.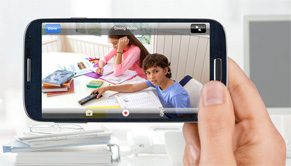 STAY IN TOUCH WITH PUSH-TO-TALK
Communicate with whoever is on the screen using the camera's push-to-talk function. Speak directly into your smartphone or tablet to scold your pet or let your kids know when you'll be home. The camera's built-in high-definition microphone ensures you'll hear their response loud and clear.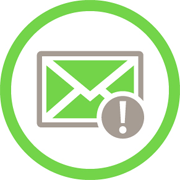 GET MOTION-SENSOR ALERTS
The motion sensor in the camera will alert you when anything is taking place in the room. Use this function to keep an eye on sleeping babies or get alerts at work when the dog is looking for dessert in the kitchen.

Compatible with Apple and Android Devices
The Belkin NetCam HD+ works with the following Apple devices with iOS 8 or higher: iPod touch, iPhone, and iPad. It also works with Android devices with version 4.1 or higher. A Wi-Fi router with an Internet connection is required.
Package Includes:
NetCam HD+
Mounting kit with screws
Quick installation guide
Power supply
| | |
| --- | --- |
| Image Sensor | 2M 1/3.2 inch CMOS sensor |
| Lens Type | Focal length: 3.37mm, F2.4 |
| Viewing Angle | Horizontal: 76°, Vertical: 57°, Diagonal: 95° |
| Audio Compression | G.711, PCM |
| Buttons | Reset Button |
| Light Sensor | RoHS-compliant 560nm luminance detector |
| Audio In | Built-in microphone, -38 dB ± 2dB |
| Codecs | H.264 |
| Frame Rate | Up to 25 Frames per Second |
| IR Mode | 4 IR LEDs, 850nm, IR-Cut, 8-meter illumination distance |
| Radio Frequency Band1 | 802.11b/g/n |
| Resolution | 1280x720, 640x360, 320x180 |
| Still Image Capture | 720P Still Capture |
| Switch | Setup Mode |
| Video Features | Adjust Image Size and Quality |
| Antenna Form Factor | Internal |
Tom's Guide
"The Belkin NetCam HD+ is one of the best Wi-Fi security cameras we've tested."
Read More
Rated

2

out of

5
by
rafannon
from
unreliable
I bought two of these cameras.. they worked good for 18 months and just quit... no matter what I do, they will not work... they light up but do not connect
Date published: 2018-11-24
Rated

1

out of

5
by
David M
from
Short Life Span
I've had 4 of these cameras and 2 have failed. After a period of time they stop being connected to the Wifii and won't reconnect no matter what is done.
Date published: 2018-11-01
Rated

1

out of

5
by
Sami Najjar
from
Poor Camera, Poor Software
This Camera is a waste of time and a waste of money. The software is very poor, and netcam are not updating it It keeps loosing connection with the camera When you try to reprogram it is an impossible job as the connection is unstable
Date published: 2018-06-26
Rated

3

out of

5
by
Rvinid
from
Nice camera but lousy app
Slow to connect and view, and rather bland uses for it.. I wanted to tie into my Alexa account and view it from my Echo View.. It's supposedly capable of doing it, but to date I have not been able to get it to work (and I'm quite experienced in network management). Belkin needs to update the app and allow you to tie into any website for storing your video files, not just their own (paid) . It has a nice, clean focus from about 2' to infinity and the infrared lights automatically light up whenever it's active, but that's a problem for me as I have it placed in a window looking outside, and the reflection from the double pane defeats the purpose.. Needs to have a way to turn infrared off. Microphone is pretty sensitive, and you can talk two-ways if you want to use it for an entryway intercom or just monitor a room. Overall I'd say it was worth what I paid for it ($30 used) but no more. There are better choices on the market for less than $40.
Date published: 2018-06-24
Rated

2

out of

5
by
NetRaider
from
Not reliable.
I have two NetCam HD+, both of them struggle when in max resolution. They loose connection very easily, only fixed by turning power supply OFF and ON. The microphone needs to be OFF to work a little better. Video quality gets stuck in low quality even if it says that resolution is 1280x720. I need to go to settings, put a lower resolution, play the camera, after I need to go back to settings, turn on 1280x720 to have the "best" possible resolution. One of the cameras is just 50cm away from the router,open space, the other about 3 meters. The internet is stable, with a speed of 120Mb/s, enough for me to see my LG G4 camera with IP Cam on Ivideon with a resolution of 1920x1080 and 30 fps with sound ON and just a few freezes kind of 5 seconds every 2 or 3 minutes.
Date published: 2018-06-13
Rated

1

out of

5
by
VMK1
from
Not A Good Cam
Not a good camera unless you don't mind having to uninstall and reinstall the app and go through the steps of setting it up over and over should you have an interruption in your internet, even for a split second.
Date published: 2018-05-12
Rated

3

out of

5
by
KKeith
from
Good camera, but cannot change passwords
Bought this and found it easy to set up and good quality images. But one nagging problem is that no user passwords can be changed. Not sure why this simple request cannot be delivered by Belkin...
Date published: 2018-04-30
Rated

2

out of

5
by
Briharm84
from
This shouldn't say night vision at all
Camera works great when it's light out like vision all my work for couple feet out not much good at all
Date published: 2018-04-16
Rated

1

out of

5
by
wesam
from
Bad uploading
It never runs through net upload. just only run at same connected router
Date published: 2018-03-13
Rated

3

out of

5
by
Tulameendude
from
Good Netcam for the price...
I have been using this Netcam for 3 months now and for what it is, it seems to be fine...but the power supply has stopped working now (did I mention, only 3 months), and I need a new one...I will start the Warranty process and see how Belkin responds to my claim. I would assume they will replace this power supply promptly, at no cost to me.
Date published: 2018-02-17
Rated

5

out of

5
by
Elizabeth V
from
Completely Reluabkr
We have had these cameras for about 5 years. They are great. No they don't zoom and you can't move the camera remotely, but they work 100% of the time, we are able to easily access them via their app and they are super easy to install. I only wish they had outdoor cameras.
Date published: 2017-12-30
Rated

5

out of

5
by
Mark Dunham
from
Great Camera
Very dependable and you canny beat the ease of use and price!
Date published: 2017-12-29
Rated

1

out of

5
by
Ste7ios
from
Problem with motion sensor, etc.
The camera has many problems with motion detection. No matter the sensitivity setting, I had too many false positives or no detection at all even if I were in front of it. The video / stream performance was also bad even in the LAN, and app seems not well developed.
Date published: 2017-12-08
Rated

4

out of

5
by
emrah
from
great webcam
Hi this is very great for me https://community.belkin.com/s/question/0D53400003ZpgRICAZ/after-the-last-upgrade-i-have-3-wemo-wall-switches-and-1-wemo-plug-that-will-not-connect-to-my-wifi-it-keeps-asking-for-my-password https://19216811.network -but-will-not-accept-it-i-know-i-have-the-correct-password-as-all-my-other-devices-and-my-lutron-switches-connct-fine
Date published: 2017-10-07
Rated

1

out of

5
by
Guad209
from
Offline
Always telling me offline is unavailable netcam is offline check back again later
Date published: 2017-09-18
Rated

2

out of

5
by
clos
from
It disconnects constantly
We used this camera as a baby monitor, however, it keeps disconnecting. Every few minutes we have to close the app and re-open so it reconnects to the camera (and even that sometime it doesnt work). The image is fair during the day as well as overnight.
Date published: 2017-07-10
Rated

1

out of

5
by
DaveBA
from
Disappointed
Have had this camera for a couple of years now and it's performance has deteriorated over the past year or so. Most of the problems are with connectivity or lack thereof. Camera won't stay connected to my WiFi, even sitting right next to it during troubleshooting. When it is connected, takes forever before the image appears. Very disappointed as we had come to depend on this camera to keep an eye on our dogs. Now having to shop for a more reliable replacement.
Date published: 2017-06-12
Rated

5

out of

5
by
Leslie Foley
from
Love it
Great camera. Feel very safe. I did have to adjust the sound very low - it is very sensitive and my first day I received over a thousand notices from sound in the next room. (one for every seven second.) Once adjusted it worked out perfectly.
Date published: 2017-05-15
Rated

5

out of

5
by
Diane
from
Great camera
This is our 2nd camera. I like how easy it is to install. The picture is clear and the night vision is good.
Date published: 2017-04-10
Rated

1

out of

5
by
matthewalan83
from
JUNK AFTER 3.03 UPDATE
I had this camera for two years. I worked great till the last 3.0.3 update on Aug 29, 2016. The video takes for ever to load, most of the time it times out and says to check connection. I retry and sometimes it works. When it does work I get the spinning wheel and takes up to 3-4 minutes to load. Also since the last update the MIC does not work. every time I push the mic button on the phone the little green umbrellas will show up and go away or not show up a all. Regardless it doesn't work. I have been very unhappy with this since the update. I have submitted feedback in the app store and google play store. I have used ios I am on ios 10.2.1 and I was on the lastest version of android using multiple android phones. the last android phone I used was the pixel and galaxy s7 edge using the latest version of android for both of those devices. I am looking to get a different camera cuz I am really unhappy with this one.
Date published: 2017-02-27
Rated

1

out of

5
by
UmmRyo
from
Worked for only one week....
We bought this camera last year when we were expecting and only started using it last week with our 5 month old. Setup was smooth and it worked fine for about 5 days, but then it kept showing that the camera was unavailable due to a lack of connection to the wifi. I've reset and moved the camera around so that the wifi connection could not be an issue but it's still showing it's unavailable, even in setup mode.
Date published: 2017-02-22
Rated

5

out of

5
by
DEEE
from
Works great
I have this camera for over 4 years now and never let me down. Downloaded the app and when i was out of state for 3 months, i was able to view the images the camera took for any movements arround my front door - they are great quality, live feed works great as well. Overall very satisfied considering getting couple more. Wondering - do you have anything that is waterproof?
Date published: 2017-01-25
Rated

1

out of

5
by
Mattdlinc
from
Expensive Service Fees charge per camera
The camera is great, but if you plan on using it for security the service fee is pricey. $99 a year and they charge you extra per camera. Others have fee video backup. And nowhere do they advertise the service fees, which is kinda deceiving.
Date published: 2017-01-17
Rated

1

out of

5
by
moparman
from
waste of money
have 2 of these cameras for about 1.5-2 years now, as of 9 months ago they became worthless, only been able to use them about 10% of the time now all i get is the spinning circle and i might get some sound but that is about it
Date published: 2017-01-16
Rated

4

out of

5
by
MOKE
from
Works great with my android, easy to setup and use
I have six cameras and they are providing good security for three locations. I also use the Belkin range extender to provide additional coverage.
Date published: 2016-12-29
Rated

2

out of

5
by
VMKTX
from
Terrible product
Have been using the camera since it was first launched. Constantly looses connection and shows unavailable on app. Other products seem to be much more reliable. Switches have worked well.
Date published: 2016-12-01
Rated

1

out of

5
by
Sheppy
from
Not worth the trouble.
I've had this for a while. It's remote in our condo in another state and is constantly going offline stating "Unavailable". Whenever anyone goes to the condo I ask them to power cycle the camera and it's returns for a day or a week before becoming unavailable again. I have other remote devices, switches and thermostats which work flawlessly. I've been shopping for a replacement and decided to check out this site and saw that others are having the same issues. I thought others could benefit from this review.
Date published: 2016-12-01
Rated

3

out of

5
by
ringleader
from
False alarms
Camera will send alerts when no motion is in the room. false alarms.
Date published: 2016-12-01
Rated

1

out of

5
by
Mike G
from
Terrible product do not purchase!
This camera is awful is simply awful! Very glitchy, if we can view video at all the quality is never great. There is a huge delay in video and audio. There is no native iPad app, forcing you to use the iPhone app on iPad which also adds to poor video quality. You have zero control of the video stream and must use either the app or Belkin's website. The website doesn't give you access to any of the audio features, in fact there is no audio at all, No talk back nothing!!!. Wouldn't buy this camera again, and cannot recommend it
Date published: 2016-11-22
Rated

1

out of

5
by
Han78
from
Disappointing
I've had the device for about 2 years now. It use to be great. But after some updates, I'm ready to get rid of it. The video would hardly ever load unless I uninstalled and reinstalled the app. Then I might get 2 uses (if I was lucky). Thankfully I hadn't done an update on my tablet and was able to use that for a while before it updated itself without permission. When it started somewhat working again, I couldn't get the audio to come thru. If the video did load, it would time out and I was getting an error message that the video stream was interrupted. I discovered that the only way I can get the video to work is to shut off the audio in the settings. Very disappointed since I use this as a baby monitor and had to buy a separate monitor to be able to hear what is going on.
Date published: 2016-11-18
Scroll Up