text.skipToContent
text.skipToNavigation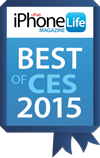 Congratulations WeMo! WeMo® Water lands on the prestigious list of most forward-thinking, creative, and useful iOS-related products coming to market this year at the International Consumer Electronics Show 2015.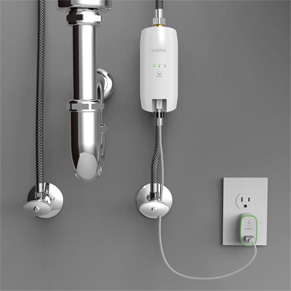 PRODUCT PREVIEW: WEMO WATER
WeMo Water is a simple, single sensor that helps you monitor your water usage, indoors and out. All from under your kitchen sink. Though still in development, this innovative solution is a welcome addition to the WeMo family. Read on to find out why.
HOW WEMO WATER WORKS
WeMo Water senses the pressure changes that occur throughout your plumbing system every time you use water. Advanced, machine-learning-based algorithms then analyze these pressure changes.
First, WeMo Water identifies every fixture in your home - from shower, to toilet, to irrigation. Next, it logs when, and for how long, you use each fixture, and calculates how much water each consumes.
DATA YOU CAN ACT ON
WeMo Water's detailed data lets you know where to use water more efficiently. It can even identify leaks and other potential problems - before they become serious. It's an ideal solution for homeowners, residential building managers, and vacation homes.
EASY TO INSTALL
Simply turn off the cold water line, attach the WeMo Water sensor and plug it into a power outlet.
AVAILABILITY
WeMo Water has successfully completed several large-scale pilots. Stay tuned for future updates on this product, and sign up below for news on the whole WeMo family.
Stay in the know about everything wemo
Thank you!
Your selection has been submitted.
Scroll Up