https://www.belkin.com/universal-secure-kvm-switch-4-port-dual-head/P-F1DN204KVM.html
Universal Secure KVM Switch, 4 Port, Dual Head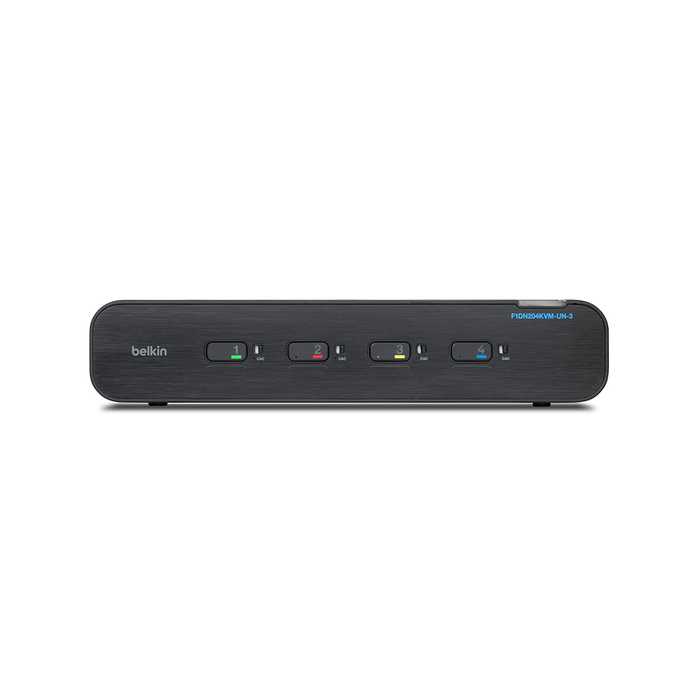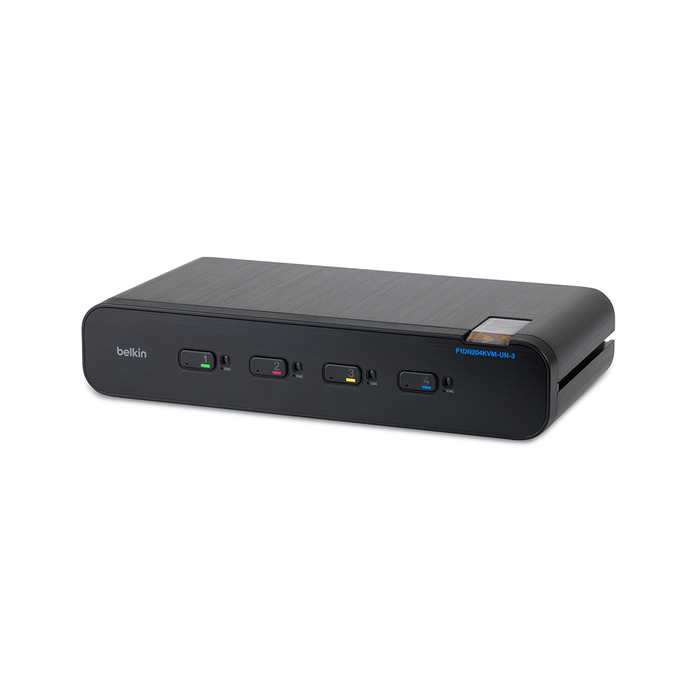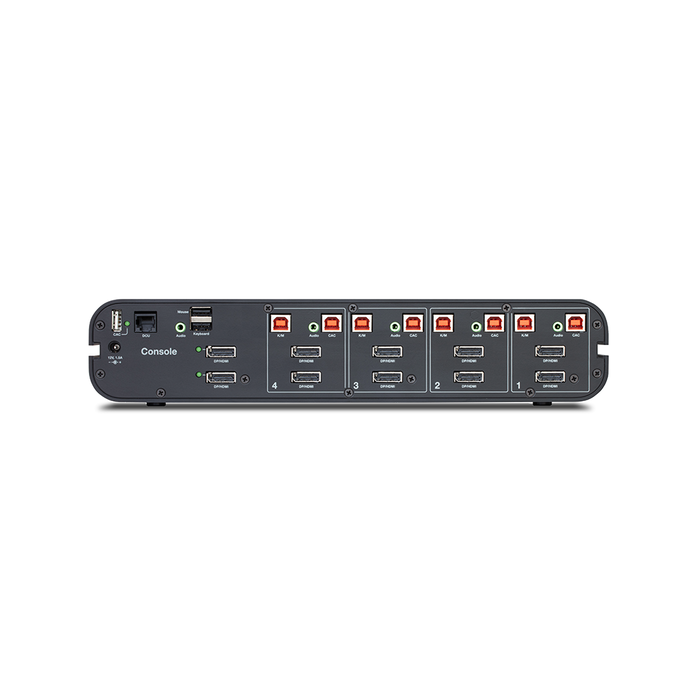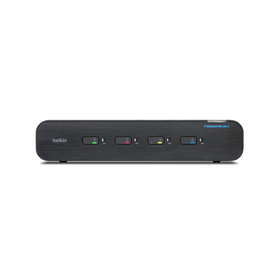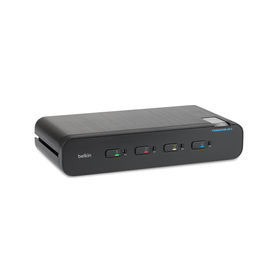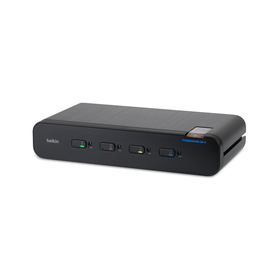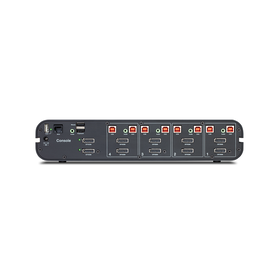 Universal Secure KVM Switch, 4 Port, Dual Head
Ports
1 Keyboard

1 Mouse

2 Monitors

4 Computers

CAC
Security Features
Common Criteria PP 3.0 NIAP Listed
Certifications
FCC Class A UL CE RoHS ICES RCM
Form Factor
Desktop, underdesktop, rack mountable with optional accessories
Keyboard/Mouse Connections
KVM Maximum Resolution Supported
AC Plug Style
Worldwide Interchangeable Mains Connector
Belkin Secure Universal KVM Switch
Offering the latest in cybersecurity best practices, the Belkin Secure Universal KVM Switch allows operators to control multiple systems using the same set of peripherals (keyboard, monitor, and mouse) without exposing potential vectors for attack. This US-Manufactured, TAA-compliant-secure KVM is ideal for use in IT environments that demand rigorous cybersecurity provisions--including government, military, and healthcare applications. The KVM switch also dramatically simplifies workstation setup with auto-sensing ports, which seamlessly merge DisplayPort, HDMI, and DVI display standards. And thanks to its support for most current and many upcoming display resolutions, this KVM switch represents a long-lasting, high-ROI investment that will scale with user demands for years to come.
The Belkin Difference
Auto-sensing ports for seamless compatibility between DVI, DisplayPort, and HDMI inputs/outputs
Futureproof design supports current and upcoming video standards up to 4k@60hz
Passive cabling architecture simplifies upgrades and deployment
Highly secure KVM switch purpose-built for sensitive applications
Certified for Protection Profile 3.0 to meet the highest security standards
Connects multiple peripherals while maintaining air-gap isolation and preventing signal leakage
Supports up to 2 host computers and 1 display for improved user productivity
Meets the Highest Standards for Cybersecurity
Ideal for highly sensitive applications that demand isolation between different network security enclaves, the Belkin Secure Universal KVM Switch allows operators to confidently toggle between multiple systems via easy push buttons, without worry of exposing vulnerabilities. Each port uses a dedicated processor and emulator to provide an isolated signal path, helping prevent data leakage between computers. Optical data diodes provide an additional layer of protection by ensuring unidirectional data flow.
Universal Compatibility with Auto-Sensing Ports
Boasting plug-and-play compatibility for DVI, HDMI, and DisplayPort, the Belkin Secure Universal KVM Switch helps IT administrators circumvent compatibility issues during deployment. Equipped with auto-sensing DisplayPort/HDMI combo ports, the switch can seamlessly connect multiple sources to a monitor even if they are using different display standards. This flexibility enables IT managers to deploy the same, secure KVM switch across their network without the need for unreliable active cables or costly external video converters.
Passive Cabling Streamlines Hardware Upgrades
Whereas other KVMs can struggle to bridge newer display technologies with legacy standards, the Belkin Secure Universal KVM switch leverages combo passive cabling to streamline system upgrades and new hardware rollout. Even during deployment, should a desktop not match the expected specifications on a given PC, the KVM can adapt nearly instantly with a single cable change.
Futureproof Design Maximizes ROI
The Belkin Secure Universal KVM Switch offers a connectivity solution that network administrators can rely upon for an entire IT lifecycle. Thanks to innovative video and connector architecture that anticipates future technology, this KVM switch keeps pace with system upgrades even as graphic inputs/outputs change. This allows the switch to provide a dramatically lower total cost of ownership than adapters, KVM changes, and other more costlier alternatives.
Delivers Crisp Resolution and Frame Rate
The Belkin Secure Universal KVM Switch is ideal for applications that demand outstanding resolutions and high refresh rates. It delivers resolutions up to 4K at 60 Hz for HDMI, up to 4K at 30 Hz for DisplayPort, and up to 2K at 120 Hz for both DisplayPort and HDMI.
Durable Chassis Resists Physical Tampering
With its sturdy uni-body chassis, this KVM switch prevents physical tampering by minimizing potential physical entry points. A holographic product label provides a clear visual indication of tampering, while internal, battery-backed, always-on electrical sensors render the unit inoperable if it is opened.
Accessories Facilitate Easy Setup
Designed for maximum flexibility, the Belkin Secure Universal KVM Switch adapts to fit your particular IT needs. Optional mounting brackets help minimize clutter by mounting the unit underneath a desk. And with its intuitive color-coding, the switch helps further streamline installation by enabling systematic management of high-side and low-side connections. An optional desktop controller unit works seamlessly as a remote control while a USB CAC reader can be added to provide for dual-factor authentication. Extended warranty options allow administrators to synchronize the life-cycle expectancies of the KVMs with other IT components on an operator's desk.
Package Includes:
Belkin Secure Universal KVM Switch
12V 1.5A DC Power Supply with Worldwide Adapters
Interchangeable Port Color Chips
Port-Naming Labels
Quick Installation Guide
SKVM PC Connection Combo Cables (Dual Output PC)
APPLICATION
PART NUMBER
DESCRIPTION
DP to DP
F1D9020b06t
F1D9020b10t
TAA DUAL DP/USB/AUD SKVM CBL, DP M/M; USB A/B, 6'
TAA DUAL DP/USB/AUD SKVM CBL, DP M/M; USB A/B, 10'
mDP to DP
F1DN2CCBL-MP6t
F1DN2CCBL-MP10t
TAA 2 MDP to DP/USB/AUD CBL, VID M/M; USB A/B, 6'
TAA 2 MDP to DP/USB/AUD CBL, VID M/M; USB A/B, 10'
HDMI to HDMI and DP to DP
F1DN2CC-HHPP6t
F1DN2CC-HHPP10t
TAA (1) HDMI-HDMI (1) DP-DP/USB/AU CBL, 6'
TAA (1) HDMI-HDMI (1) DP-DP/USB/AU CBL, 10'
DVI to HDMI and DP to DP
F1DN2CC-DHPP6t
F1DN2CC-DHPP10t
TAA (1) DVI to HDMI (1) DP to DP/USB/AUD CBL, 6'
TAA (1) DVI to HDMI (1) DP-DP/USB/AUD CBL, 10'
HDMI to HDMI
F1DN2CCBL-HH6t
F1DN2CCBL-HH10t
TAA DUAL HDMI/USB/AUD CBL, HDMI M/M; USB A/B, 6'
TAA DUAL HDMI/USB/AUD CBL, HDMI M/M; USB A/B, 10'
DVI to HDMI
F1DN2CCBL-DH6t
F1DN2CCBL-DH10t
TAA 2 DVI to HDMI/USB/AUD CBL, VD MM; USB A/B, 6'
TAA 2 DVI to HDMI/USB/AUD CBL, VD MM; USB A/B, 10'
USB-C to DP
F1DN2CCBL-CP6t
F1DN2CCBL-CP10t
TAA DUAL USB-C to DP/USB/AUD CBL VID M; USB B, 6'
TAA DUAL USB-C to DP/USB/AUD CBL VID M; USB B, 10'
SKVM Monitor or Video Only Cables
OTHER CABLES/ADAPTERS
APPLICATION
PART NUMBER
DESCRIPTION
CAC
F1D9013b06t
F1D9013b10t
TAA USB A to USB B Cable for CAC Reader, 6'
USB A to USB B Cable for CAC Reader, 10'
USB/AUDIO
F1D9022b06t
F1D9022b10t
TAA USB Keyboard/Mouse/Audio Combo Cable, 6'
TAA USB Keyboard/Mouse/Audio Combo Cable, 10'