text.skipToContent
text.skipToNavigation
SALE
NEW
MIXIT↑™ Lightning to USB Leather Tassel
F8J174bt06INGRY
/ {{blVariant}}
Belkin UK Student Beans UK - STUDENT [SB1]
£24.99
KEY FEATURES
Complementing metal hardware
Complementing leather tassels
Braided cable jacket provides premium look and feel
Aluminum tips for devices with lightning connectors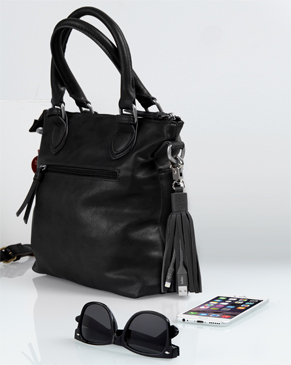 CONNECTED WITH FASHION
Being prepared for anything should complement your sense of style, not compromise it. THE MIXIT↑™ Lightning-to-USB Leather Tassel puts your charger cable exactly where you need it: wherever you are. Hidden in plain sight as a chic accessory on your purse or overnight bag, your cable stays tidy not tangled, and ready to charge, share music and pictures, or simply connect, wherever life takes you.
COMPLETELY PORTABLE
Hiding the colored cable within complementing Leather Tassels protects the connector heads when not in use. It also protects the tassel's secret identity as a functional charging accessory.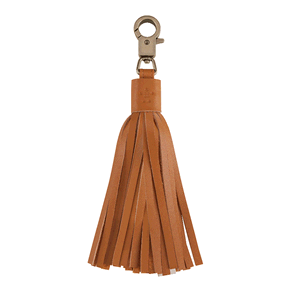 STYLE AND SUBSTANCE
This innovative, on-trend charging accessory has been designed to complement your purse and your sense of style. Premium metallic cables have been tailored into Leather Tassels in four fashion-forward colors. Each features coordinating braided cables, and complementary metal hardware. Clips easily onto your bag or purse for the perfect match.
ORGANIZATION
There's now no reason to leave home without your charger cable. The clever design means an end to messy, tangled cables in your bag or purse.
MADE FOR IPHONE/IPAD CERTIFICATION
"Made for iPhone" and "Made for iPad" mean that an electronic accessory has been designed to connect specifically to iPhone or iPad, respectively, and has been certified by the developer to meet Apple performance standards. Apple is not responsible for the operation of this device or its compliance with safety and regulatory standards. Please note that the use of this accessory with iPhone or iPad may affect wireless performance.
CHARGE FAST AND SYNC SAFELY
Charge and sync all your Lightning compatible connector devices quickly and safely, using just one cable. Simply plug the USB end directly into any USB port to stay connected while you're at home, at work, or on the road.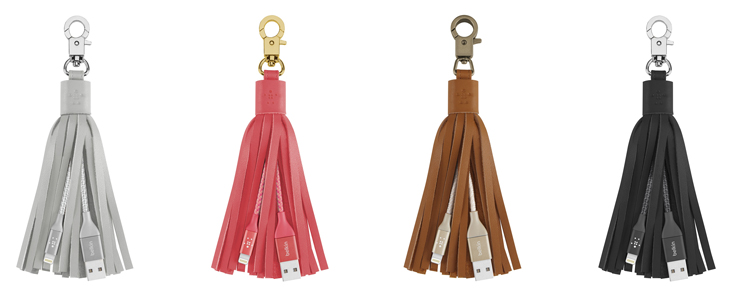 At a Glance:
2.4A charging cables
Braided cables designed to complement tassel color
Cables concealed by tassel cords
Complementing metal hardware
Total length approx. 7"
Leather
Easily clips on to your bag, purse or luggage
Product length 172mm with 118mm cable
Made for iPhone/ iPad/ iPod
Package Includes:
Lightning-to-USB Leather Tassel
At a Glance:
2.4A charging cables
Braided cables designed to complement tassel color
Cables concealed by tassel cords
Complementing metal hardware
Total length approx. 7"
Leather
Easily clips on to your bag, purse or luggage
Product length 172mm with 118mm cable
Made for iPhone/ iPad/ iPod
0 linksys.product.review.title.customer
COMPATIBILITY
Apple Pencil

iPad (2017)

iPad 4th gen

iPad Air

iPad Air 2

iPad mini

iPad mini 2

iPad mini 3

iPad mini 4

iPad Pro (10.5")

iPad Pro (12.9")

iPad Pro (9.7")

iPhone 5/5s

iPhone 6

iPhone 6 Plus

iPhone 6s

iPhone 6s Plus

iPhone 7

iPhone 7 Plus

iPhone 8

iPhone 8 Plus

iPhone SE

iPhone X

iPod nano 7th gen

iPod touch 5th gen