https://www.belkin.com/sg/qode-ultimate-pro-keyboard-case-for-ipad-air-2/P-F5L176.html
QODE™ Ultimate Pro Keyboard Case for iPad Air 2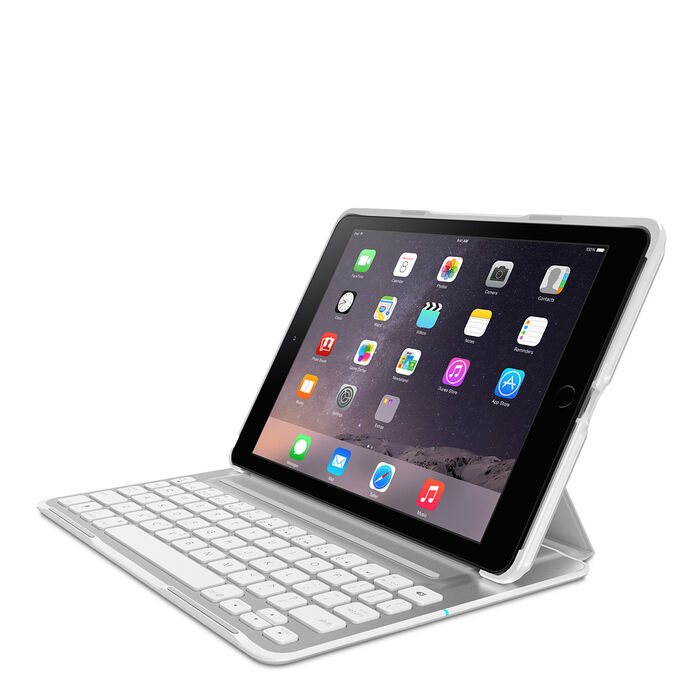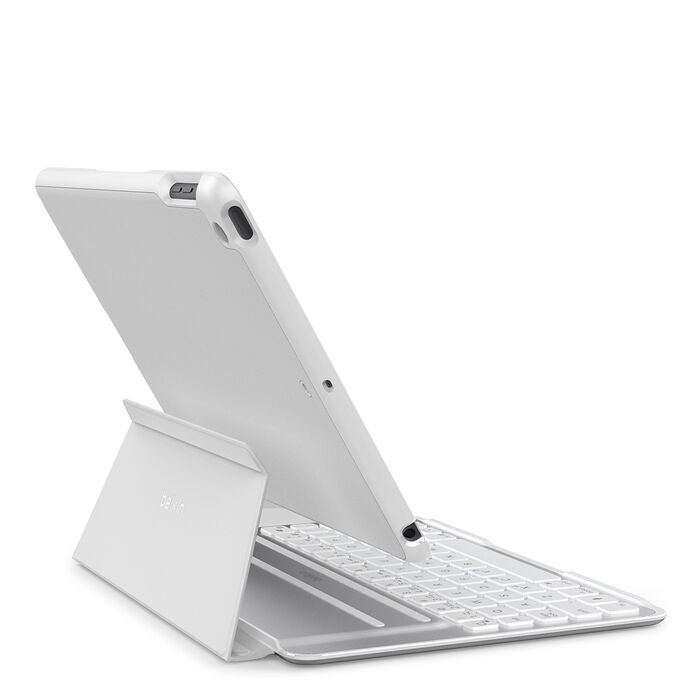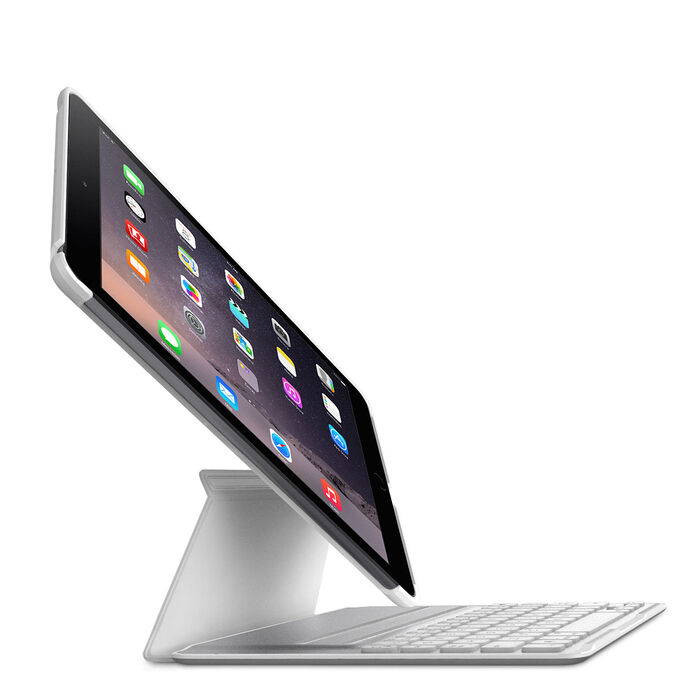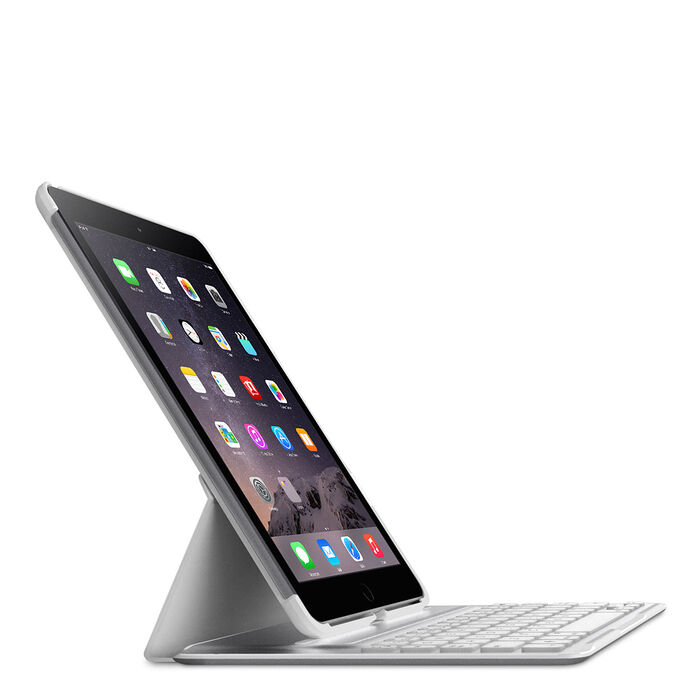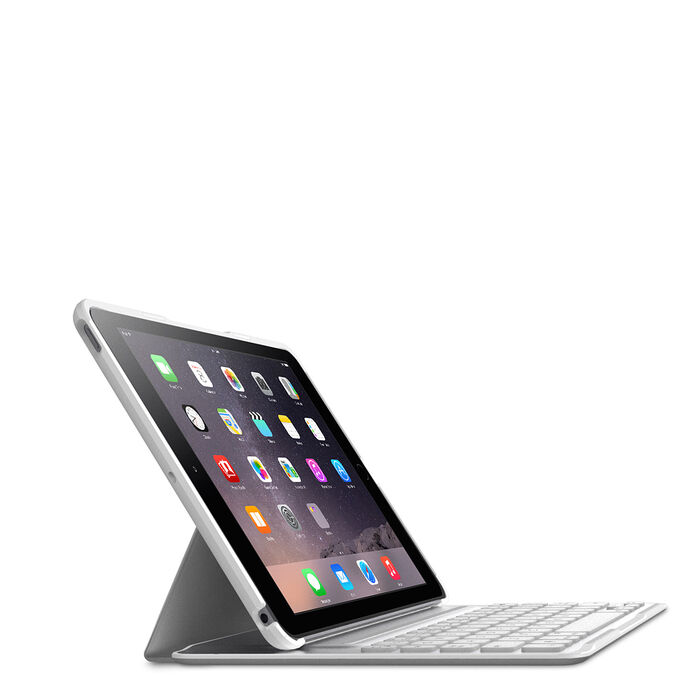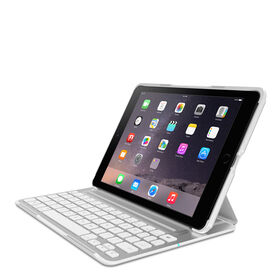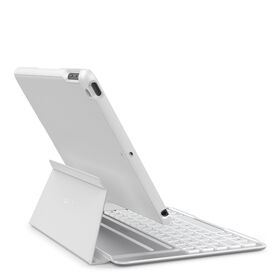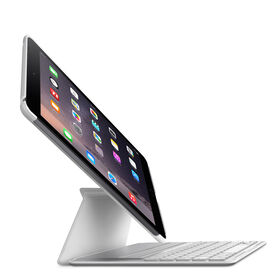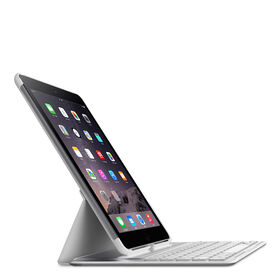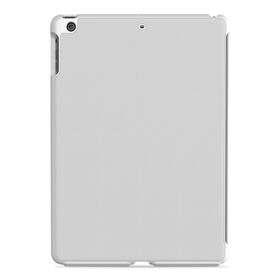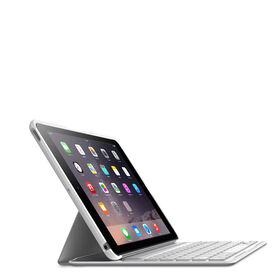 QODE™ Ultimate Pro Keyboard Case for iPad Air 2
NAMED ONE OF PC MAGAZINE'S
BEST PRODUCTS OF 2015
"A highly portable case that you need if you plan to do any real work on your iPad." - PC Magazine
ULTIMATE PERFORMANCE. ZERO COMPROMISE.
The Belkin Qode Ultimate Pro Keyboard Case for iPad Air 2 is the ultimate enhancement to your iPad Air 2 experience. This fully loaded keyboard case combines durable tablet protection, viewing versatility and a totally revamped typing experience, all in one lightweight, portable package.
THREE WAYS TO GO PRO
1. The full coverage protection of a case.
2. The convenient detachability of a cover.
3. The keyboard experience of a laptop.
CASE WORKS WITH THE KEYBOARD OR BY ITSELF
Sometimes you just want to use your iPad Air 2 without the keyboard. While other keyboard case designs make it difficult to remove your tablet, the QODE Ultimate Pro Keyboard Case makes it easier than ever. Simply detach and go - the standalone case keeps you protected. The case by itself even works with your Smart Cover, so your iPad Air 2 always has complete dual-sided protection.
IMPROVED KEYBOARD LAYOUT
We've completely redesigned the typing experience to make it even more like using an actual laptop. The Qode Ultimate Pro Keyboard Case is the only keyboard case on the market to have the exact same number of keys as a laptop keyboard, so there's no sacrificing functionality. With a wider keycap shape and improved key pitch, the keys perform better than the competition, making the Ultimate Pro the fastest and most comfortable keyboard case available.
BACKLIT KEYS WITH 3 BRIGHTNESS LEVELS
The QODE Ultimate Pro Keyboard Case also features backlit keys, to make typing in lowlight or no light even easier. Choose between three brightness levels to further customize your typing experience.
HAS ITS OWN APP
The free QODE App brings a wealth of additional features to this lightweight keyboard. From quick launch shortcuts to load programs and webpages in an instant, to multiple languages and layout options. Visit the APP tab for details.
PAIRS WITH OTHER DEVICES
Not only does the keyboard wirelessly pair to your iPad Air 2, but you can use it by itself and pair it with other devices. Better still, you can pair up to two devices at once. So when you're typing an email and get a text message on your phone, you can toggle over, respond and get back to your email without skipping a beat.
*Bluetooth® Smart Keyboard pairs with other Bluetooth 4.0 devices including iPad Air, iPad mini, iPad 4th gen, iPad 3rd gen, iPhone 5/5s, iPhone 5c, iPhone 4s, iPod touch 6th gen, MacBook Air, MacBook Pro, Mac mini and iMac.
LANDSCAPE/PORTRAIT MODES
Now you have even more choices when it comes to viewing your iPad Air 2. In addition to the two magnetic viewing angles, you can detach your tablet to position it in either portrait or landscape. Magnets in the case match up with the magnetic fabric hinge for a secure hold in any position.
SMART-SENSING AUTO ON/OFF TECHNOLOGY
The keyboard is so smart, there's no need for a power button - it turns on when you need it and off when you don't, simply by sensing the weight of your iPad Air 2. And when you're using the keyboard by itself, it's the fabric hinge that lets it know when to turn on. So no matter which way you prefer to use it, you'll never have to worry about accidentally draining your battery.
LONGEST BATTERY LIFE
Bluetooth® Smart technology also uses less battery power, so you can go longer on one charge - up to 1 year, to be exact.
*Active Battery Life based on a fully charged keyboard used continuously with backlit keys turned off.
MADE OF THIN, LIGHTWEIGHT ALUMINUM ALLOY
Known for it's strength and amazing lightness, we used anodized aircraft-grade aluminum to make the Qode Ultimate Pro Keyboard Case as light as possible. So it's incredibly durable, and incredibly portable.
SOUNDFLOW DESIGN ENHANCES SOUND QUALITY
The keyboard case's SoundFlow design directs your iPad's sound toward you, making music and movies more powerful and clear than the iPad without the case.
BELKIN QUALITY GUARANTEE
The keys on every QODE Ultimate Pro Keyboard Case have been tested over 10,000 times to ensure their performance and responsiveness. Belkin products are designed with the highest quality materials and put through hundreds of rounds of testing to meet the standards you deserve. Our quality teams go above and beyond, setting standards over the minimum requirements for fabric tests, drop tests and durability tests. When you receive your Belkin product, you're getting the promise of our very best work.
Battery life indicator
The App keeps a constant eye on your battery, letting you know how much power you have left, and notifying you when it's time to charge up.
Quick-launch shortcuts for your favorite apps
Set up shortcuts to access apps and websites using keys on your keyboard. Your favorite locations are only ever a click away.
Multiple keyboard language/layout options
Swipe through different languages available on your keyboard, and see them laid out on screen. You can even print or save the layouts for reference while you work.
Software updates
While you work, the App regularly checks for software updates to enhance your keyboard. It will instantly notify you of any new software and ask if, and when, you would like to install it.
Customer feedback options
The App has a direct route to QODE so giving us feedback on your keyboard has never been easier. Whether it's a suggestion to improve our keyboards, finding the answer to a question, or just to tell us how you like the App, we look forward to hearing from you.
MULTIPLE KEYBOARD LANGUAGE / LAYOUT OPTIONS
Much like you, our keyboards speak multiple languages. Swipe through different languages available on your keyboard, and see them laid out on screen. You can even print or save the layouts for reference while you work.
Language Layout Support for:
US English
UK English
Traditional Chinese
Simplified Chinese
French
German
Spanish
Italian
Swedish
Danish
Russian
Turkish
Korean
Japanese
Thai
Compatible with the following QODE keyboards:
Ultimate Pro for iPad Air 2
Ultimate Pro for iPad Air
At A Glance:
Weighs only 490 grams
Improved keyboard layout - same number of keys as a laptop
Backlit keys with 3 brightness levels
Landscape/Portrait modes
Magnets hold tablet in two comfortable viewing angles
Detachable case works with the keyboard or by itself
Smart-sensing auto on/off technology
High performance material protects the back of your iPad Air 2 
Aircraft-grade aluminum alloy
Bluetooth Smart® keyboard allows you pair up to 2 devices at once
Up to 1 year continuous battery life when used with backlit keys turned off
Case is Smart Cover compatible
Access to all ports and controls
Rubber feet prevent the keyboard from touching the screen
Slim and lightweight
Compatible with iPad Air 2
1-Year Limited Warranty
Package Includes:
Keyboard
USB to Micro-USB charging cable
Quick Installation Guide