https://www.belkin.com/sg/mini-displayport-to-hdtv-cable/P-F2CD080.html
Mini DisplayPort to HDTV Cable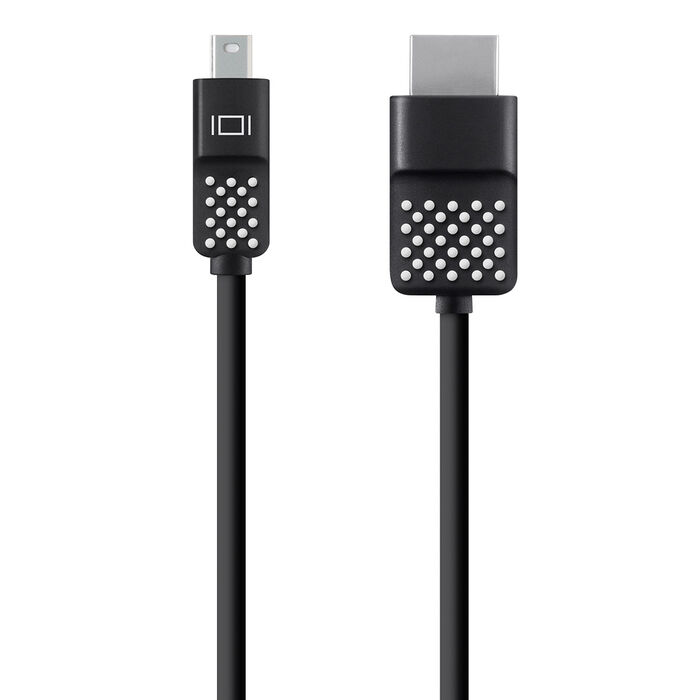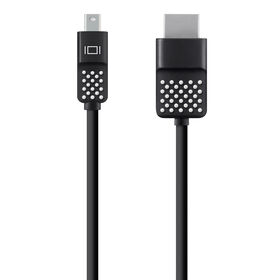 Mini DisplayPort to HDTV Cable
MacBook
MacBook Air
MacBook Air 11"
MacBook Air 13"
MacBook Pro (2014)
MacBook Pro 13"
MacBook Pro 15"
MacBook Pro 17"
Surface Pro 2
Surface Pro 3
Surface Pro 4
CONNECT YOUR LAPTOP OR TABLET TO YOUR HDTV
The Mini DisplayPort to HDTV Display Cable lets you stream high-quality A/V content from your laptop or tablet to your HDTV. Use it to watch movies, share photos, or expand your workstation with a mirrored desktop.
Note: This cable plugs into the Mini DisplayPort/Thunderbolt™ port found on MacBooks and many Ultrabooks and tablets. Please check your device to confirm compatibility.
DURABLE 6 or 12-FOOT CABLE
The cable's molded strain-relief design reduces strain on the cable to help prevent wear and tear. Its 6-foot (1.8-meter) or 12-foot (3.6-meter) length is ideal for connecting to hard-to-reach HDMI inputs on your HDTV.
PLUG AND PLAY WHEREVER YOU GO
Seamless plug-and-play capability makes this cable ideal for quick media sharing in any setting. The cable has a black design with white labelling that helps you easily identify the "right side up" insertion point.
At A Glance:
Transmit audio and video from Mini DisplayPort to HDTV
Ideal for connecting MacBooks, Ultrabooks, or tablets to an HDTV
Use for movies, presentations, photo slideshows, and more
Molded-strain relief reduces wear and tear
Black design with white labeling for clear identification
6-foot (1.8-meter) or 12-foot (3.6-meters) length for hard-to-reach HDMI ports
4K compatible 
Package Includes:
Mini DisplayPort to HDTV Display Cable (6 or 12 Feet) and user manual