https://www.belkin.com/sg/invisiglass-ultra-treated-screen-protector-for-iphone-11-pro-iphone-xs-iphone-x/P-F8W940-AM.html
ScreenForce
InvisiGlass Ultra Treated Screen Protector for iPhone 11 Pro / iPhone XS / iPhone X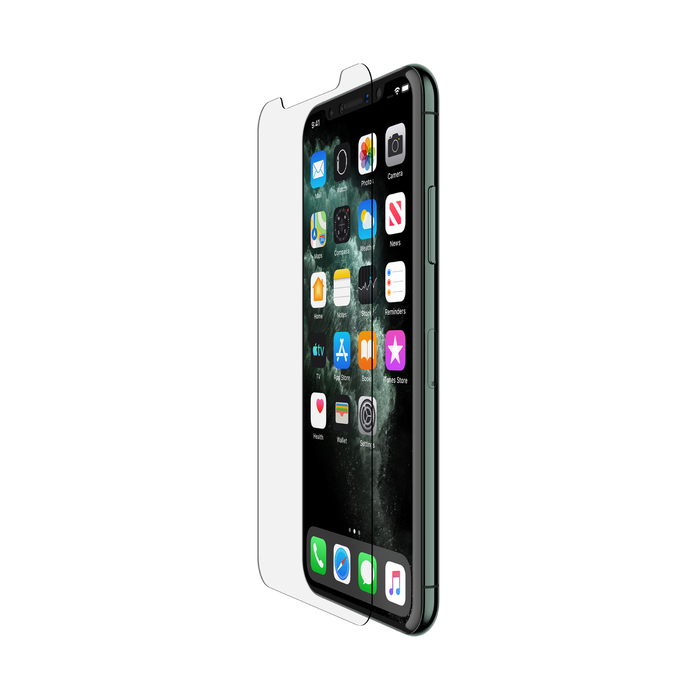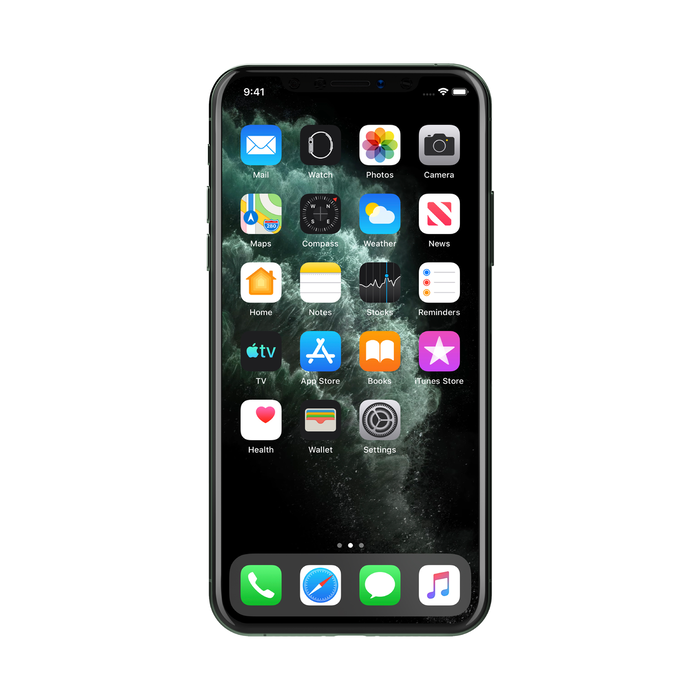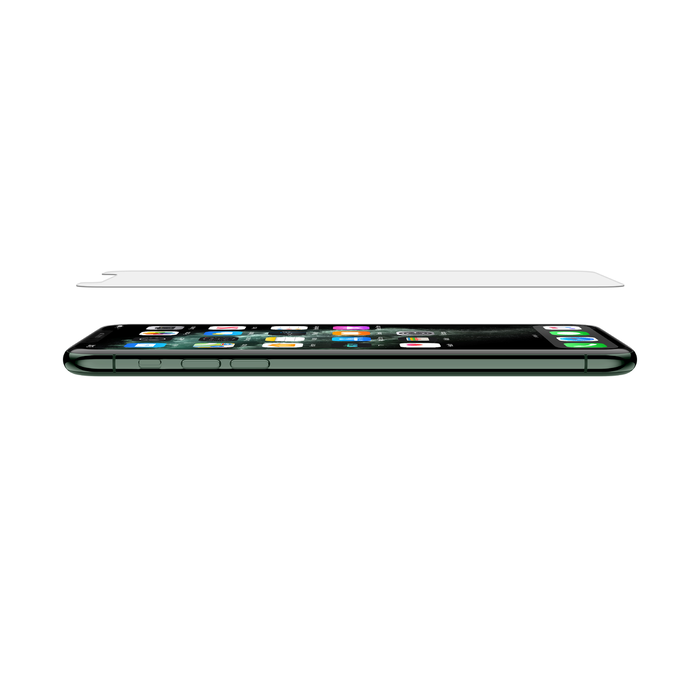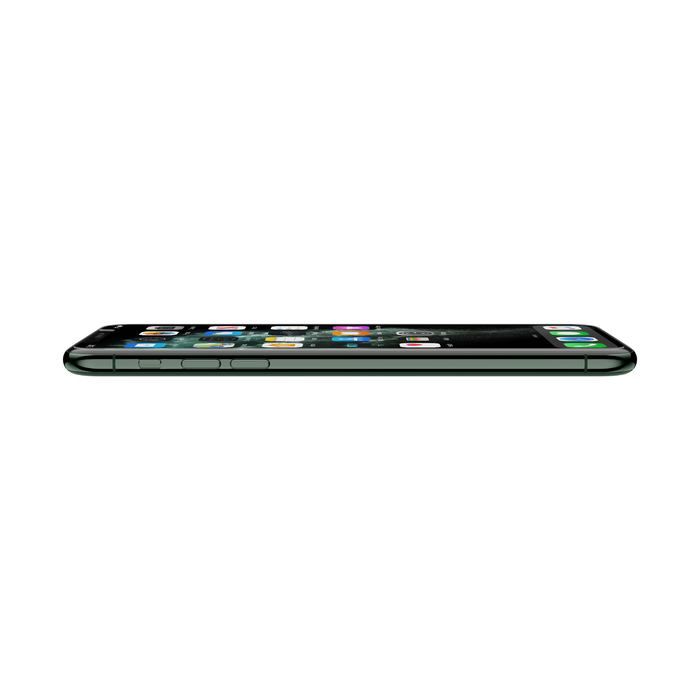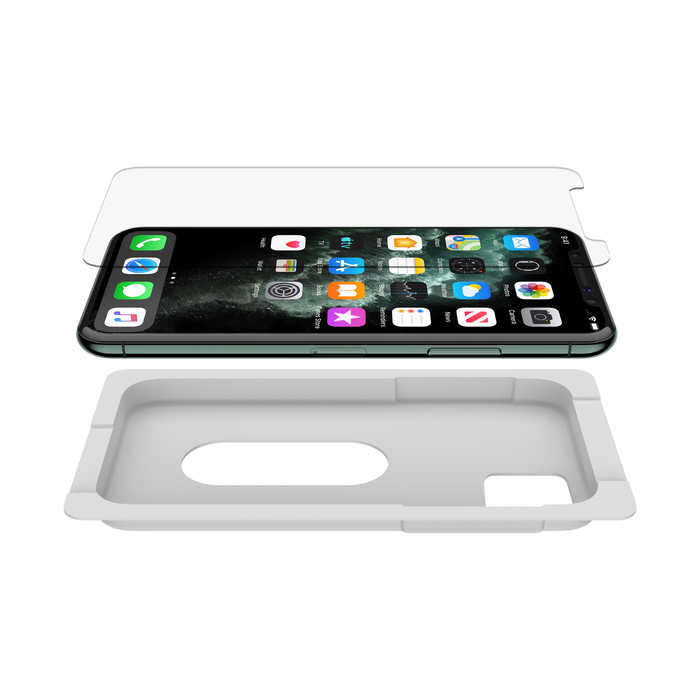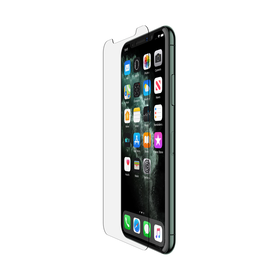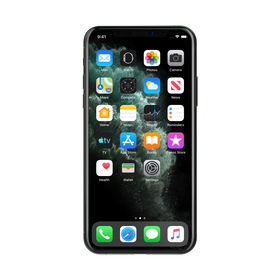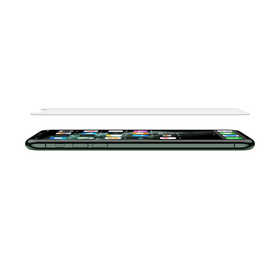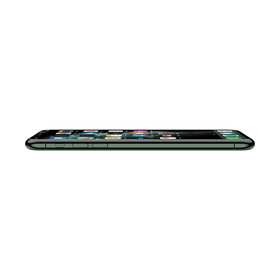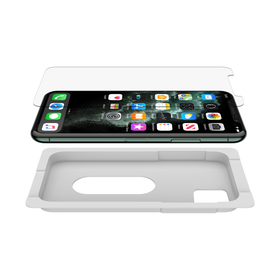 ScreenForce
InvisiGlass Ultra Treated Screen Protector for iPhone 11 Pro / iPhone XS / iPhone X
Strong Protection From Every Angle
InvisiGlass Ultra Treated Screen Protector was designed to provide ultra-tough protection for iPhone . This screen protector delivers ultimate durability and resilience paired with the highest possible scratch resistance rating. An a ntimicrobial agent protects the product from microbial growth, without sacrificing touchscreen response or clarity. Intelligent glass composition preserves touchscreen functionality, while a barely-there thickness of just 0.29mm ensures crystal clear viewing on your screen.
Protect Your Peace of Mind
Everywhere we go, our phones collect germs and bacteria from our fingers, pockets, purses, or car seats. An extra coating on our InvisiGlass Ultra Anti-Microbial Screen Protector inhibits 99%* of bacterial growth on your screen, giving you more peace of mind.
Ultra-impact protection
Despite keeping a slim profile, InvisiGlass Ultra was engineered and built for absorbing hard impacts. The numbers speak for themselves. When tested under the same conditions, InvisiGlass Ultra performed to 40% stronger** than tempered glass screen protectors.
Ion-exchange strengthened
Heating premium glass to 400 degrees Celsius allows the liquid form to be manipulated on a molecular level. Small sodium ions are switched out for larger potassium ions which are then packed tightly into the same space. The denser molecular structure makes the glass stronger.
Top of the line scratch guard
Maintain your screen's pristine appearance. Tested to the highest possible hardness rating†, InvisiGlass Ultra protects your phone against keys, coins, and repels dirt and fingerprints.
Ultra slim
At just .029mm in thickness, InvisiGlass Ultra packs multi-layer protection into a barely-there piece of glass, while maintaining flawless touchscreen response with every movement.
Visible clarity
We test our screen protectors to the highest optometric standards to deliver the brightness, sharpness, and detail you expect from your phone screen. The result is a crystal-clear protective layer that provides the same visual experience as the device itself.
Easy application
Your screen protector can be professionally applied to your phone by a trained professional using a specially developed application system. If you can't make it to your local retailer, we've included an Easy Align Tray for easy, bubble-free home application.
At a Glance
The glass contains an antimicrobial agent to protect the product from microbial growth
40% stronger than standard tempered glass for ultimate scratch and impact resistance
Looks and feels just like the natural screen
Flawless touchscreen experience
Compatible with most cases
Easy Align tray for simple, precise, bubble-free application 
Package Includes:
SCREENFORCE InvisiGlass™ Ultra Treated Screen Protector
Easy Align Tray
Cleaning cloth
Dust removal sticker
*Tested against escherichia coli and staphylococcus aureus. Based on third party lab results conducted under the JIS Z 2801-2010 test standard. Contains a biocidal product: Dimethyloctadecyl[3-(trimethoxysilyl)propyl]ammonium chloride
**40% stronger than tempered glass, based on 3pt bend performance test of aluminosilicate versus soda lime glass under normal use conditions.
†Rated 9H against low-carbon steel at 5H, using the ASTM D3363 Film Hardness by Pencil Test Hardness