https://www.belkin.com/sg/27w-usb-c-usb-a-wall-charger/P-F7U011.html
27W USB-C + USB-A Wall Charger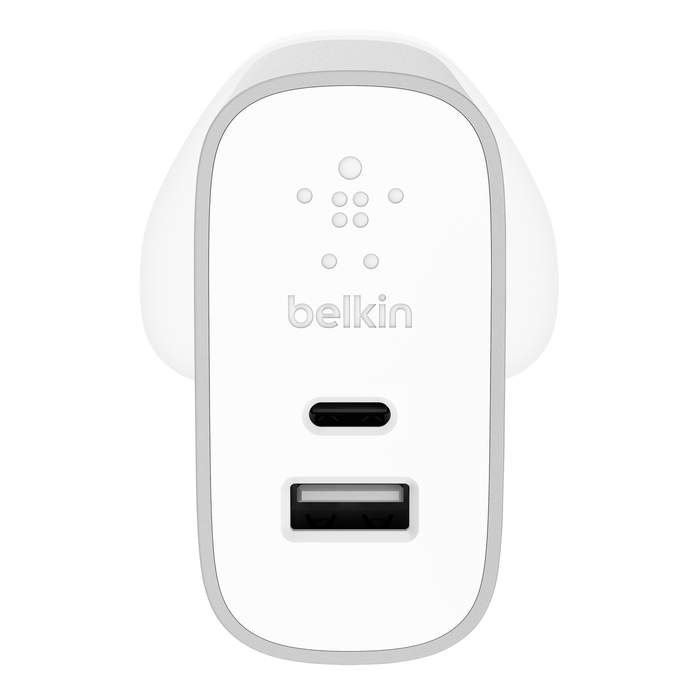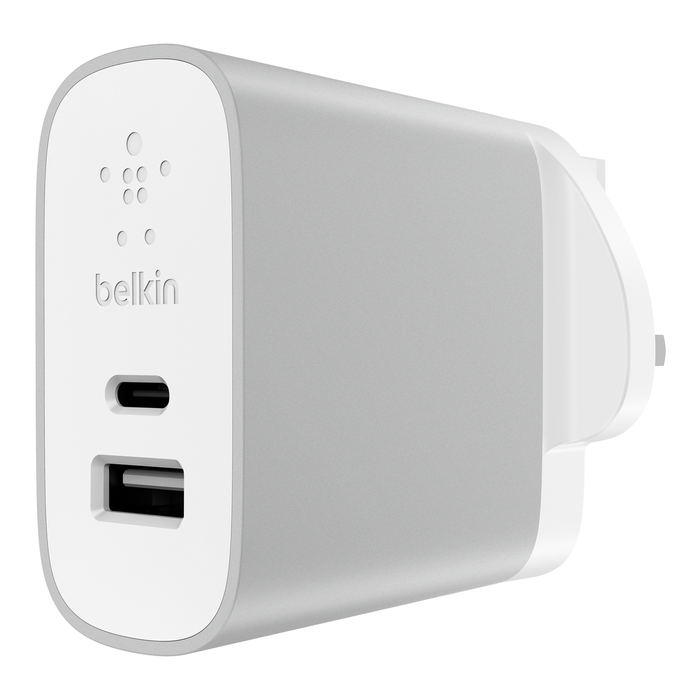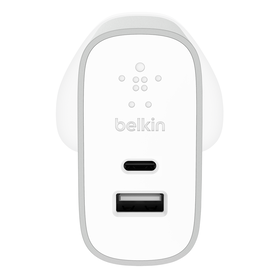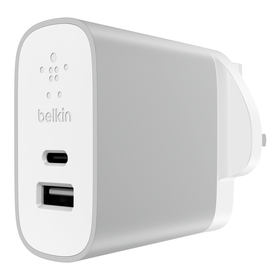 27W USB-C + USB-A Wall Charger
APPLPENACC
Galaxy Note8
Galaxy Note9
Galaxy S10
Galaxy S10+
Galaxy S10e
Galaxy S5
Galaxy S6
Galaxy S6 edge
Galaxy S7
Galaxy S7 edge
Galaxy S8
Galaxy S8+
Galaxy S9
Galaxy S9+
Galaxy Tab S3
GOGLPXL
Google Pixel C
Google Pixel XL
HTC10
HTC U11
HWEIM8
HWEINX6P
HWEINVA
Huawei P8
Huawei P9
iPad (2017)
iPad 2
iPad Air
iPad Air 2
iPad mini
iPad mini 2
iPad mini 3
iPad mini 4
iPad Pro (10.5")
iPad Pro (12.9") 2nd Gen
iPad Pro (9.7")
iPhone 11
iPhone 11 Pro
iPhone 11 Pro Max
IPHONE5
IPHONE6
IPHONE6PLUS
IPHONE6S
IPHONE6SPLUS
iPhone 7
iPhone 7 Plus
iPhone SE 1st Gen
Kindle Fire HD
AMZKDLPW
LGG5
LGG6
LG V20
LG V30
MICLMIA950
MICLMIA950XL
Nokia N1 Tablet
OLD MEETS NEW
Charge a new USB-C smartphone and an existing USB-A device simultaneously with this 2-port, 27 Watt wall charger. With two fully-powered independent ports, 15 Watts delivers fast, optimal charging to your USB-C smartphone, while a guaranteed 12 Watt port ensures fast charging for your USB-A device. This 2-in-1 charger is the perfect accompaniment to your new USB-C device, showing a commitment to new technology, without leaving legacy devices behind.
27 WATT OUTPUT
The charger's 27 Watt total output is split between the USB-C port and the USB-A port. With USB-C devices capable of using more power to charge faster, this helps to deliver optimal charging for all your devices. USB-C devices can draw a guaranteed 15 Watts from the charger if required while USB-A devices can draw up to 12 Watts from the charger simultaneously. Dedicated, independent power allowances ensure fast, safe charging for old and new devices alike.
OPTIMAL CHARGING USB-C
A dedicated 15 Watt USB-C port ensures optimal charging for USB-C smartphones – up to 50% faster than 5 Watt charging. The charger also offers standard charging for larger USB-C devices such as tablets. The reversible USB-C port allows for easy connection as it's impossible to plug in upside-down.
UNIVERSAL USB-A PORT
A dedicated 12 Watt USB-A port will deliver enough power to optimally charge larger USB-A devices such as tablets at optimal speed, up to 40% faster than 5 Watts. The universal USB-A port is paired with an internal chipset which automatically detects the connected device to deliver the right amount of power for optimal charging. With many devices connecting via USB-A, this means extensive compatibility across different brands, like Samsung and Apple, and across different devices like tablets, action cameras and Kindles.
MIXIT METALLIC
Designed with a metallic soft touch finish, this elegant charger looks at home in any environment. Pair it with cables from the Mixit Metallic range and charge your devices in style.
$2,500 CONNECTED EQUIPMENT WARRANTY
Product is covered by a $2,500 Connected Equipment Warranty. This means we will repair or replace any equipment damaged by a surge, spike, or lightning strike while properly connected to our charger, up to $2,500.
At a Glance:
27 Watt, 2-port charging
1 x 15W USB-C port
1 x 12W USB-A port
Universal chipset for compatibility
Fully-powered independent ports (not shared)
Soft touch metallic finish
$2,500 Connected Equipment Warranty
Package Includes:
USB-C + USB-A Home Charger (Cables sold separately)