https://www.belkin.com/secure-dvi-i-kvm-switch-4-port-with-cac/P-F1DN104C-3.html
Secure DVI-I KVM Switch, 4-Port with CAC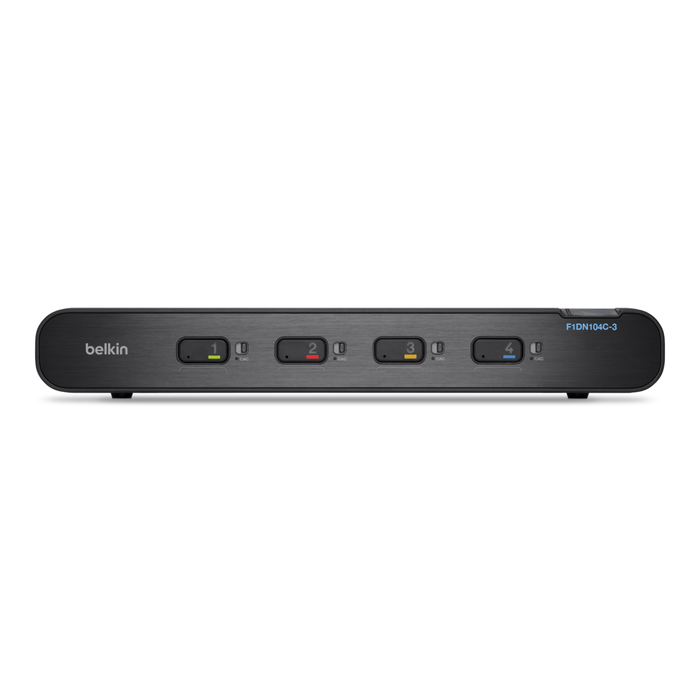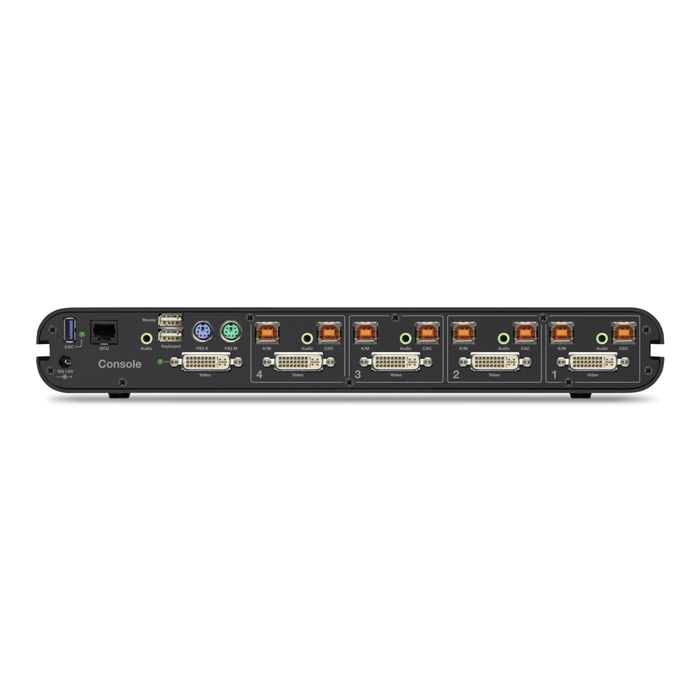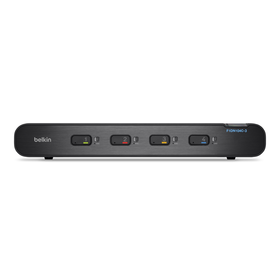 Secure DVI-I KVM Switch, 4-Port with CAC
Belkin's Secure DVI-I KVM Switches provide superior security and data protection by providing true data path isolation between systems and networks. They are fully compatible with legacy and new government systems and meet Common Criteria security requirements.
Belkin Secure DVI-I KVMs are designed, manufactured and certified to the latest NIAP Protection Profile Ver. 3.0 standard. The latest NIAP Protection Profile ensures agencies are receiving superior protection for keyboards, pointing devices, displays and audio. Using unidirectional data paths with optical diodes, they prevent peripherals from being used to leak information from one computer system to another.
Additional security is provided through the end-to-end tamper-proof system that prevents physical tampering, and the intuitive user interface reduces user-switching errors by providing clear identification.
The Belkin Secure DVI-I KVM Switch; 4-Port Plus features support for a peripheral CAC reader and supports up to four computers.
Expect the best compatibility out-of-the-gate with a Secure KVM solution that's designed and vigorously tested to work seamlessly with common systems and peripherals used by the defense and intelligence community.
DOWNLOADS
TECHNICAL SPECIFICATIONS
General

Device Type: 4-Port, DVI-I Secure KVM with CAC
Enclosure Type: Desktop
Video Ports: 4 x Input, 1x Output
Keyboard/Mouse: PS/2, USB
Max Resolution 3840x2160 pixels (UHD 4K) @ 30Hz, 2560x1600 @ 60Hz
Status Indicators: Port Status LEDs
Common Access Card (CAC) reader support

Console Ports

1x DVI-I Dual-Link Female
1x keyboard (USB Type A)
1x mouse (USB Type A)
1x keyboard (PS/2)
1x mouse (PS/2)
1x audio output (3.5mm jack)
1x CAC port (USB Type A)
1x DCU Port (RJ14)

Host Ports

4x DVI-I Dual-Link Female
4x keyboard/mouse (USB Type B)
4x audio input (3.5mm Jack)
4x CAC Port (USB Type B)

Dimensions

12.5" (W) x 6.2" (D) x 1.9" (H)
Weight: 3.9 lbs

Power

Power Device: External power adapter
Voltage: 100/240 VAC (+/- 10%), auto-ranging, 50/60Hz, 12VDC/1.5A output

Manufacturer Warranty

3 years service and parts

Environmental Parameters               

Min Operating Temperature: 32°F
Max Operating Temperature: 104°F
Operating Humidity Range: 0-80%, non-condensing
Min Storage Temperature: -4°F
Max Storage Temperature: 140°F

Certifications

Security Accreditation: NIAP Protection Profile Ver. 3.0
Regulatory Compliant Standards: FCC Class B, CE, UL, ICES
COMPATIBLE CABLES
DVI-I, USB & Audio (Single Head)
DVI-D to DVI-D Cable
HDMI to DVI-D Single Link
DP to DVI-D w/ USB + Audio
USB
DP to DVI-D w/ USB + Audio