https://www.belkin.com/ph/mini-displayport-to-hdmi-cable-4k/P-F2CD080.html
Mini DisplayPort to HDMI Cable, 4k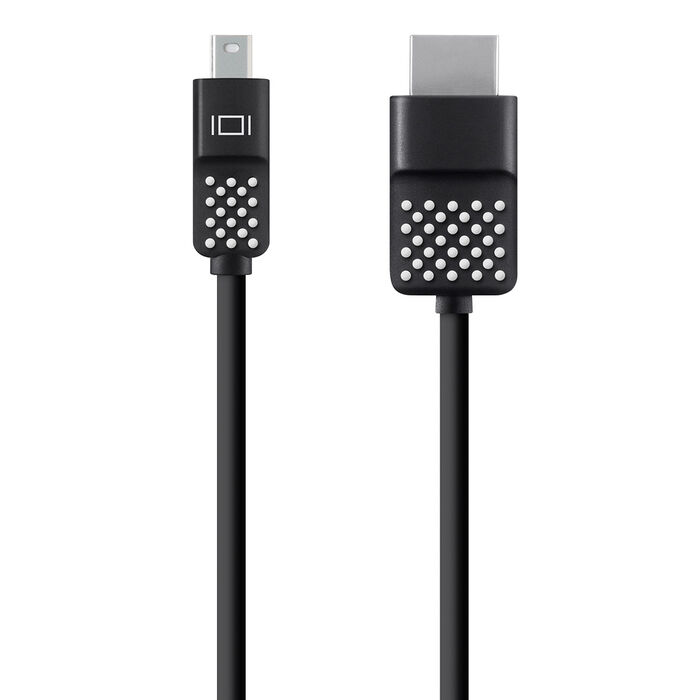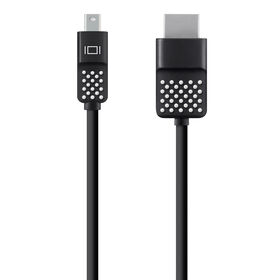 Mini DisplayPort to HDMI Cable, 4k
MacBook
MacBook Air
MacBook Air 11"
MacBook Air 13"
MacBook Pro (2014)
MacBook Pro 13"
MacBook Pro 15"
MacBook Pro 17"
Surface Pro 2
Surface Pro 3
Surface Pro 4
At a Glance:
Adapter transmits audio and video from mini DisplayPort to HDMI
High Definition support of up to 4k x 2k (3840 x 2160) at 30Hz
Ideal for connecting laptops or tablets to an HDTV
Use for movies, presentations, workstations, and more
Compact, portable 5-inch design
Requires separate HDMI cable
CONNECT MINI DISPLAYPORT DEVICES TO HDTVS AND MONITORS
Easily connect your Mini DisplayPort-enabled devices to HDTVs and HDMI monitors with this Mini DisplayPort to HDTV Cable. This male-to-male cable allows you to instantly stream high-quality video and audio from tablets, notebooks, and computers with a Mini DisplayPort output to your HDMI-enabled television or computer monitor.
Note: This cable plugs into the Mini DisplayPort/Thunderbolt™ port found on MacBooks and many Ultrabooks and tablets. Please check your device to confirm compatibility.
MAXIMUM HIGH-DEFINITION PERFORMANCE
Mini DisplayPort cables offer the ideal digital display interface standard for maximum high-definition performance. This Mini DisplayPort to HDTV Cable allows you to enjoy 4K video (3840 x 2160) at a 30Hz frame rate, which is over four times the pixel count of 1080p. Like traditional HDMI cables, this Mini DisplayPort to HDTV Cable also supports high-definition audio for an all-in-one A/V solution.
DURABLE DESIGN RESISTS WEAR AND TEAR
The cable's molded strain-relief design reduces strain on the cable to help prevent wear and tear. Its length is ideal for connecting hard-to-reach HDMI inputs on your HDTV.
PLUG-AND-PLAY SIMPLICITY
Seamless plug-and-play capability makes this adapter ideal for quick media sharing in any setting. Use this adapter to watch movies from your laptop on the HDTV in the living room, share photos for everyone to see on the big screen, or give presentations at the office.
Package Includes:
Mini DisplayPort to HDTV Display Cable and user manual