https://www.belkin.com/my/noname/P-F8W765.html
ScreenForce® Transparent Screen Protector for iPhone 8/7 (2-Pack)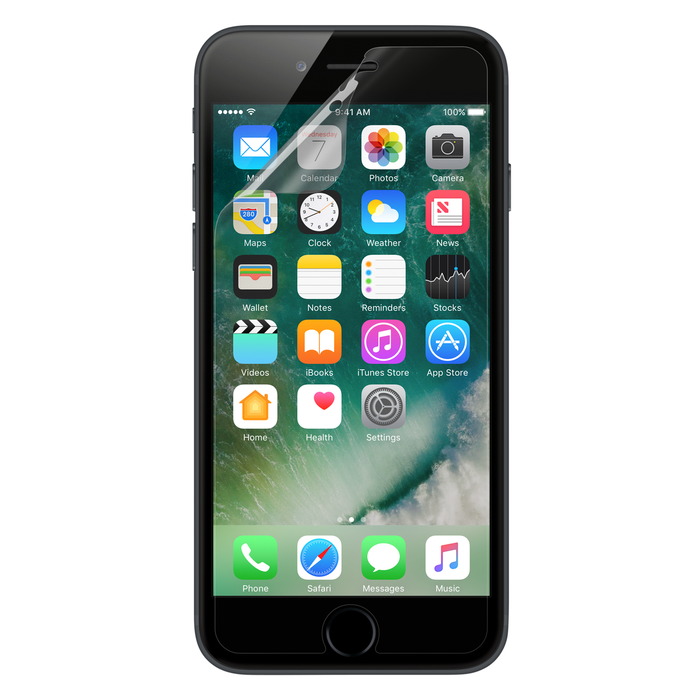 ScreenForce® Transparent Screen Protector for iPhone 8/7 (2-Pack)
ADVANCED SCREEN PROTECTION
ScreenForce Advanced Screen Protection is the best screen protector available, engineered for strength and clarity and tested to meet optometric standards. The result is a crystal clear screen protector that keeps your screen safe from damage while still giving you an incredible screen experience.
TRANSPARENT
Anti-Fingerprint & Anti-Scratch coating
Base layer provides buffer between glass and screen
Fluid adhesive prevents gaps to minimize lifting
PIXEL FOR PIXEL, CLEAREST PROTECTION AVAILABLE
Patented ScreenForce technology allows light to pass through our screen protectors precisely and evenly, giving you a level of sharpness and vibrancy higher than even the leading competitor's high-definition products.
MARKET LEADER IN CLARITY
Belkin screen protectors preserve the vibrant color, resonance and clarity of your screen so you can enjoy the brilliance of each and every pixel. To ensure our screen protectors are of market-leading clarity, we use the same testing methods as those used for eyeglasses by optometrists.
PRECISE APPLICATION
A precisely applied screen protector provides greater protection for your smartphone. Transparent Screen Protection can be professionally applied to your smartphone in store by a trained professional, using a specially-developed application system. If you can't make it to your local outlet, we've included Easy Align stickers/ an Easy Align frame to add precision to any application. The frame helps/stickers help to align the screen protector so precisely, it's hard to know it's even there.
CASE-COMPATIBLE
ScreenForce Advanced Screen Protectors fit your iPhone 7 screen perfectly, and are designed to work with any case to give you 360° protection. Strong yet thin and lightweight, the iPhone 7 screen protector provides excellent defense against damage that will help keep your device looking like new.
LIMITED LIFETIME WARRANTY
Every ScreenForce Transparent iPhone Screen Protector is backed by a Limited Lifetime Warranty (Americas only. 2-Year Limited Warranty elsewhere). So if your screen protector is ever scratched or damaged, send it back and we'll be happy to replace it.
PRODUCT
Transparent
Tempered Glass
InvisiGlass™
InvisiGlass Ultra
Material
PET
Tempered Glass
Flexible Glass
Accessory Glass 2 by Corning®
Thinness for touch screen sensitivity
.13 mm
.33 mm
.20 mm
.21 mm
Pencil hardness
2H
9H
9H
9H
Clarity
93%
92%
92%
92%
Anti-Fingerprint
✓
✓
✓
✓
Easy Application
✓
✓
✓
✓
Limited Lifetime Warranty
✓
✓
✓
✓
Glass Feel
✓
✓
✓
✓
Ion-exchange Strengthened*
 
 
 
✓
Shock absorbing
 

 

 

 

 

 

 

 

 

 

Scratch resistant
 

 

 

 

 

 

 

 

 

 
*Ion-exchange strengthening is the process of heating glass into a liquid form, and then exchanging the smaller sodium ions with larger potassium ions. The larger molecules are more tightly packed into the space, providing a dense molecular structure. This higher density gives the glass greater strength.
*Rated 9H against low-carbon steel at 5H, using the ASTM D3363 Film Hardness by Pencil Test Hardness.
At a Glance:
Transparent screen protection
Tested for optical clarity
Protects screen from scratches and scuffs
Professional application available in store
SKUs with stickers: Includes Easy Align stickers for precise application at home
Ultra-thin to preserve touchscreen sensitivity
Professional application available in store
SKUs with stickers: Includes Easy Align stickers for precise application at home
Case-compatible
Limited Lifetime Warranty (Americas only. 2-Year Limited Warranty elsewhere)
Package Includes:
Transparent screen protector
Easy align stickers
Cleaning cloth
Dust removal sticker