https://www.belkin.com/in/bluetooth-speaker-10w-wireless-charger/P-AUF001.html
SoundForm Charge
Bluetooth Speaker + 10W Wireless Charger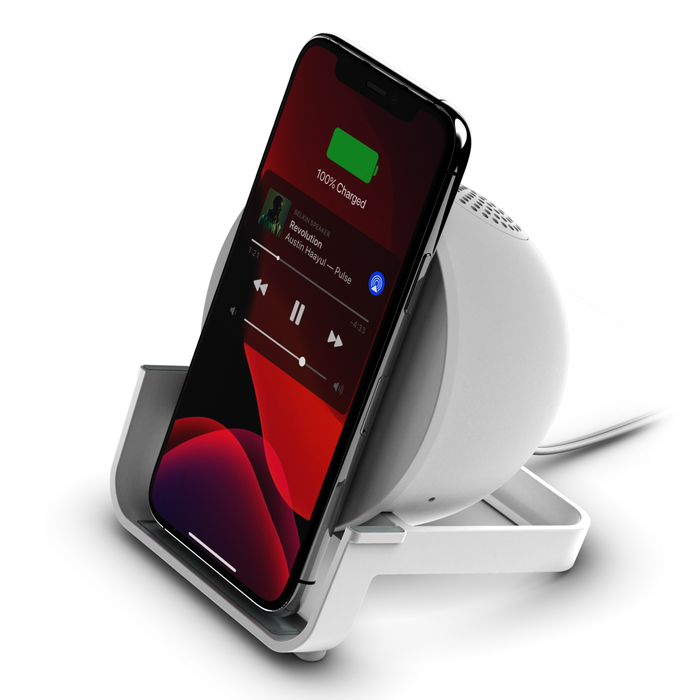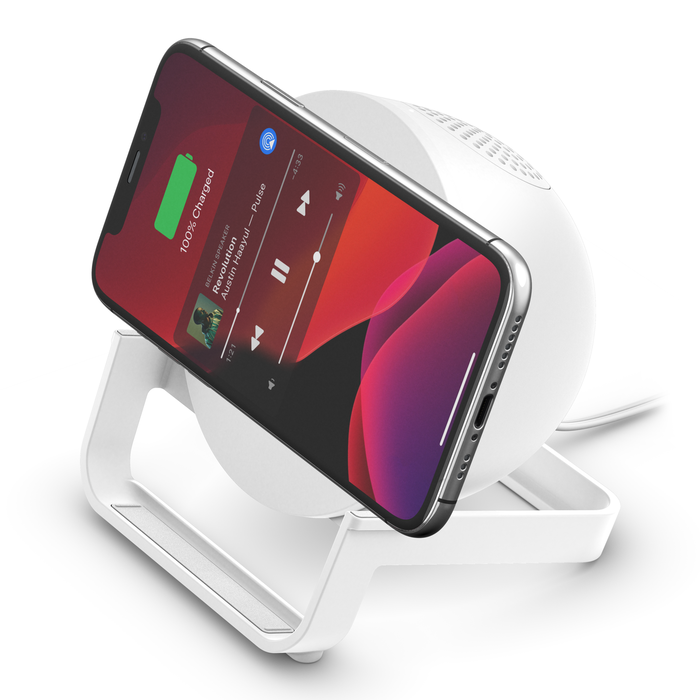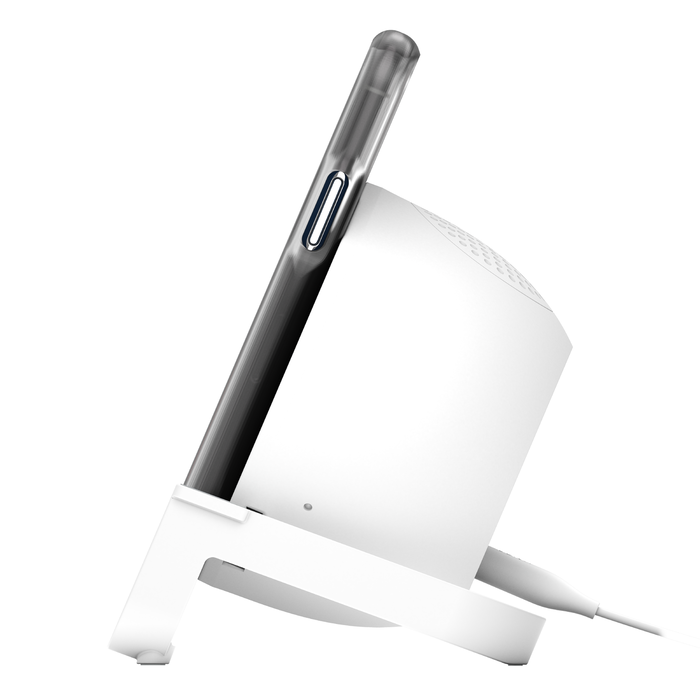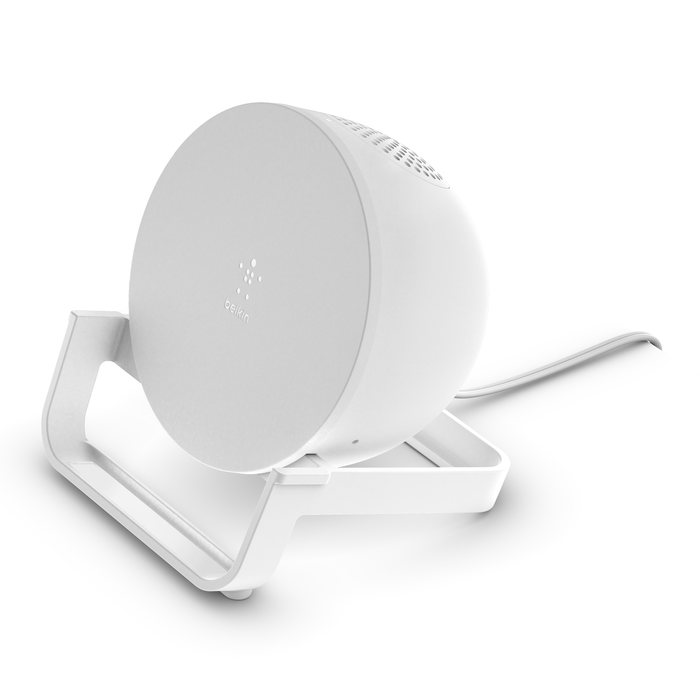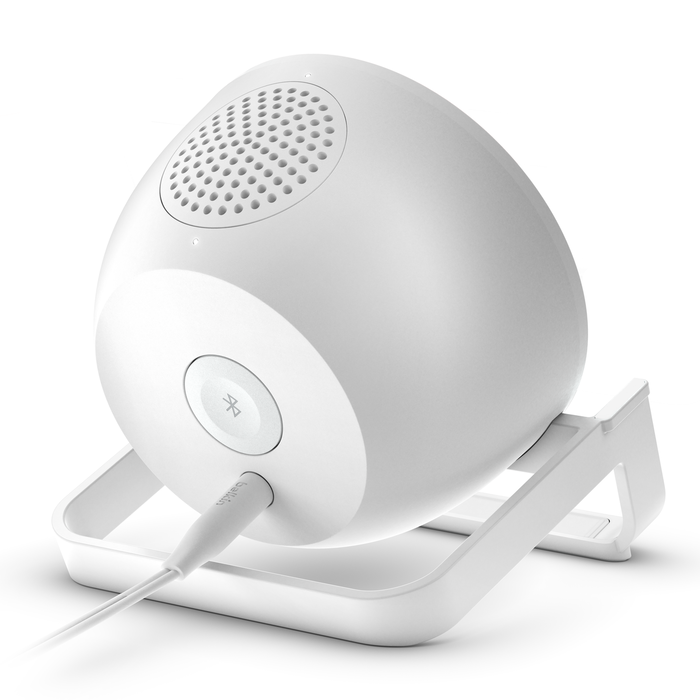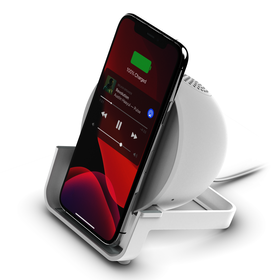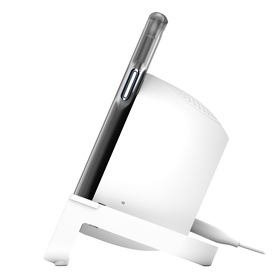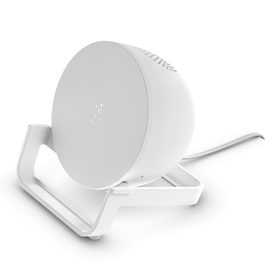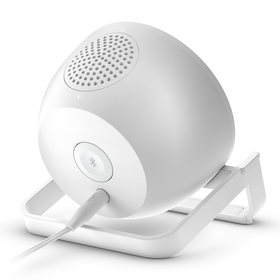 SoundForm Charge
Bluetooth Speaker + 10W Wireless Charger
Galaxy Note8
Galaxy S10
Galaxy S10+
Galaxy S10e
Galaxy S21 5G
Galaxy S21 Ultra 5G
Galaxy S21+ 5G
Galaxy S8
Galaxy S8+
Galaxy S9
Galaxy S9+
iPhone 11
iPhone 11 Pro
iPhone 11 Pro Max
iPhone 8
iPhone 8 Plus
iPhone X
iPhone XR
iPhone XS
iPhone XS Max
Sony Xperia XZ2
Quick Charge, Great Sound
The SOUNDFORM Charge Bluetooth Speaker + 10W Wireless Charger is the perfect companion for your desk, nightstand, kitchen counter—or anywhere you want to charge and listen. It's simple to get going with one-push Bluetooth pairing while its streamlined and compact design easily fits anywhere. This case-compatible fast wireless charging stand delivers optimal power for any Qi-Certified device, up to 10W of charge in either landscape or portrait orientation. Amplify your favorite podcast, playlist, or video with its high-quality built-in Bluetooth speaker, or make a crystal-clear, hands-free FaceTime call using its convenient stand and microphone, all while wirelessly charging your smartphone. Includes an insert adapter for iPhone 12 mini.
Compact Size, Big, Improved Sound
Amplify your playlist, podcast, or video with the newly improved, high-quality sound of our SOUNDFORM Charge. A built-in microphone for crystal-clear phone or video calls and a stand that conveniently holds your device in either orientation, ideal for hands-free FaceTime calls, video viewing, or gaming.
10W of Wireless Power
Our SOUNDFORM Charge delivers up to 10W of fast wireless charging for your Samsung, Apple, Google, and other Qi-enabled smartphones and devices in both portrait and landscape orientation.
Portrait or Landscape Charging
Watch, stream, or video call while your device charges in either direction using the built-in stand on our SOUNDFORM Charge.
Easy, One-Push Pairing
Seamlessly pair the Speaker + Wireless Charger to any Bluetooth-enabled device with the simple push of a button.
Designed for Any Environment
A sleek, compact design is the perfect complement to any home, dorm, kitchen counter, or nightstand setup.
At a Glance
Updated, improved sound with bigger bass 
One-push Bluetooth pairing, connecting, or disconnecting 
10W fast wireless charging  
Crystal-clear speaker and microphone 
Wirelessly charge in portrait or landscape 
Case-compatible with plastic cases up to 3mm 
Compact, sleek design  
Protected by 2-year product warranty and $2,500 Connected Equipment Warranty 
Package Includes:
SOUNDFORM Charge Bluetooth Speaker + 10W Wireless Charger 
Power supply unit 
iPhone 12 mini adapter