https://www.belkin.com/hk/en/mixit%E2%86%91-90%C2%B0-lightning-to-usb-cable/P-F8J147.html
MIXIT↑™ 90° Lightning to USB Cable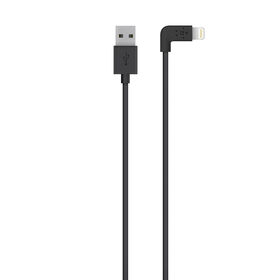 MIXIT↑™ 90° Lightning to USB Cable
iPad 4th gen
iPad Air 2
iPad Air
iPad Pro (12.9") 2nd Gen
iPad mini
iPad mini 2
iPad mini 3
iPad mini 4
iPad Pro (10.5")
iPad (2017)
iPad Pro (9.7")
iPhone 7
iPhone 7 Plus
iPhone 8
iPhone 8 Plus
iPhone SE 1st Gen
iPhone X
iPhone XR
iPhone XS
iPhone XS Max
IPHONE6S
APPLPENACC
APPLIPODN7GEN
APPLIPODT5GEN
IPHONE6PLUS
IPHONE6SPLUS
IPHONE5
IPHONE6
MIXIT↑ LIGHTNING TO USB CABLE
Charge and sync all your Lightning connector devices quickly and safely, using just one cable. Simply plug the USB end directly into any USB port to stay connected while you're at home, at work, or on the road.
THE SPEED OF LIGHTNING AT 90°
Use the ergonomic 4-foot Lightning to USB cable to charge your iPhone 6/ 6 Plus/5s/5, iPad mini, iPad Air, iPad (4th generation) or iPod Touch (5th generation) at fast speeds. Its right-tip angle protects the plug and alleviates strain on your cable.
Plug it into your laptop to charge and sync, or use your own wall/car charger with USB port to charge from anywhere. Great as a replacement cable or if you simply need an extra.
WORKS WITH:
iPad Air
iPad (4th generation)
iPad mini with Retina display
iPad mini
iPhone 6/6 Plus/5/5s/5c
iPod touch (5th generation)
iPod nano (7th generation)
THE BELKIN DIFFERENCE
MFI-Certified
Compact & portable
Fast charging & data transfer
MADE FOR IPOD/IPHONE/IPAD CERTIFICATION
"Made for iPod," "Made for iPhone," and "Made for iPad" mean that an electronic accessory has been designed to connect specifically to iPod, iPhone, or iPad, respectively, and has been certified by the developer to meet Apple performance standards.
COMPACT & PORTABLE
The longer 4-foot MIXIT↑ Lightning to USB Cable can reach the perfect distance while still being compact enough to toss in a bag and go. It plugs into any USB 2.0 port, so you can use it virtually anywhere. Connect to your laptop to charge and sync, use your own wall charger to charge from the wall, or plug into a car charger and charge on the road.
CASE COMPATIBILITY
Depending on the type of case you have, you may need to remove your case before charging. If your speakers, connector port and AUX port are fully exposed when your case is on, you should be able to easily charge and sync your device without removing the case.
At A Glance:
4' length
Ultra-compact
Plugs into any USB 2.0 port to charge
Syncs music and pictures to/from your laptop in seconds
Package Includes:
MIXIT↑ 90° Lightning to USB Cable