https://www.belkin.com/hk/en/car-charger-charge-sync-cable/P-F8J078.html
Car Charger with Lightning to USB Cable (10 Watt/2.1 Amp)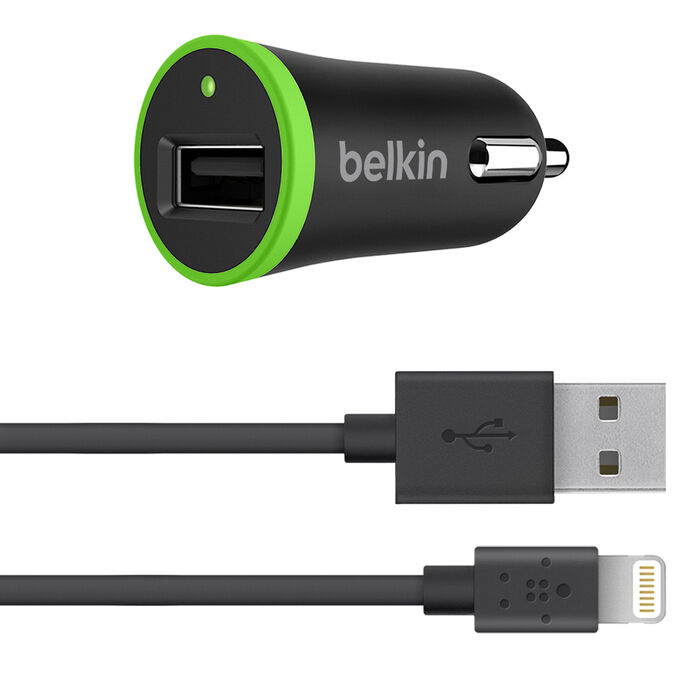 Car Charger with Lightning to USB Cable (10 Watt/2.1 Amp)
Small but Powerful
Charge your iPhone 6 on the road with the Belkin Car Charger with included Lightning to USB cable. Get unlimited play and standby time with the low-profile design that sits flush in your dash.
Charge at the Speed of Lightning
Use the Car Charger with the included 4-foot Lightning to USB cable to charge your iPhone 5, iPhone 6, iPad (4th generation), or iPad mini at the fastest possible speed. The smaller, more durable Lightning connector is also reversible, which makes plugging it in easier than ever.
USB Port with Separate
Lightning to USB Cable
The USB Port is universal, so you can still charge your legacy Apple devices with a 30-pin cable or other devices that use a Micro-USB cable. And the included 4-foot Lightning to USB cable can be used anywhere—plug it into your laptop to charge and sync, or use your own wall charger to charge from the wall. Great as a replacement cable or if you simply need an extra.
Small, Compact and Easy to USE
Low profile design fits easily in your dash. Rubber grips allow you to insert and remove your lightning car charger with ease. The Lightning connector has a reversible design for quick and easy connections.
Compatibility Information
The Belkin Car Charger + Lightning ChargeSync cable (2.1 Amp) is compatible with iPhone 5, iPhone 6, iPad (4th generation), iPad mini, iPod touch (5th generation) and iPod nano (7th generation).
The car charger alone is also compatible with iPhone 4S, iPhone 4, iPhone 3GS, iPad, iPad 2, iPad (3rd generation), iPod touch (5th generation and earlier); iPod nano (6th generation and earlier) and iPod Classic, as well as other tablets and smartphones, when using their compatible 30-Pin or Micro-USB device cables (not included).
Depending on the type of case you have, you may need to remove your case before charging. If your speakers, Lightning connector and AUX port are fully exposed when your case is on, you should be able to easily charge your iPhone without removing the case.
At A Glance:
Ultra-compact
Plugs into any car power outlet
Includes separate 4' Lightning to USB cable
Powered USB port
Package Includes:
Car Charger
(1) Lightning to USB ChargeSync Cable