https://www.belkin.com/es/adaptador-de-usb-c-a-hdmi-usb-type-c/P-F2CU038bt.html
USB-C to HDMI Adapter (USB Type-C)
SKU:F2CU038btBLK / B2B SKU: B2B144-BLK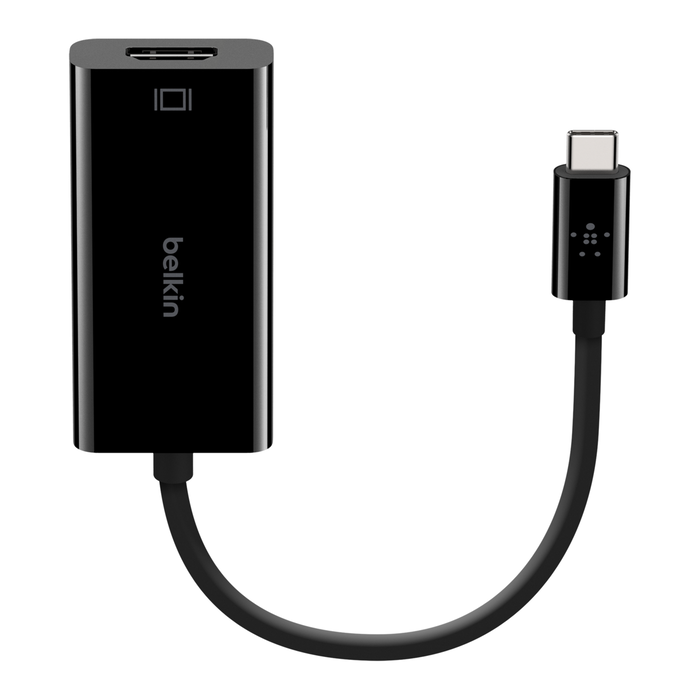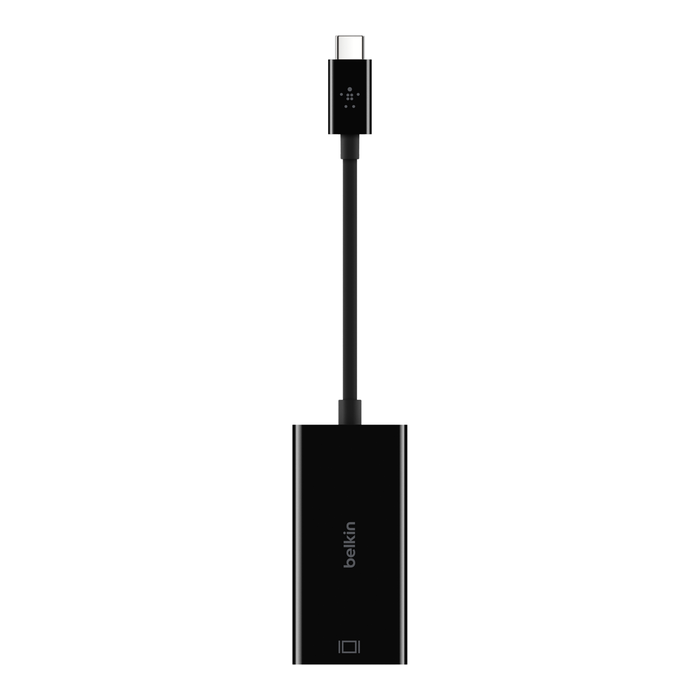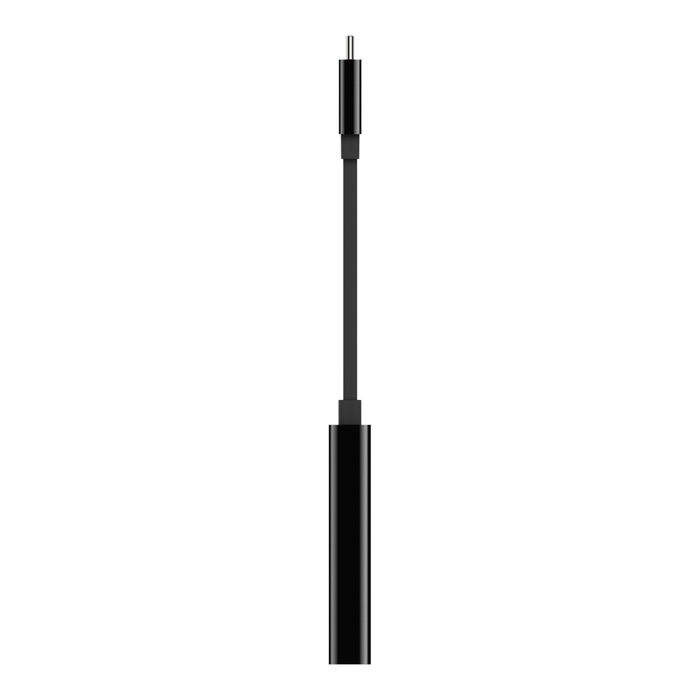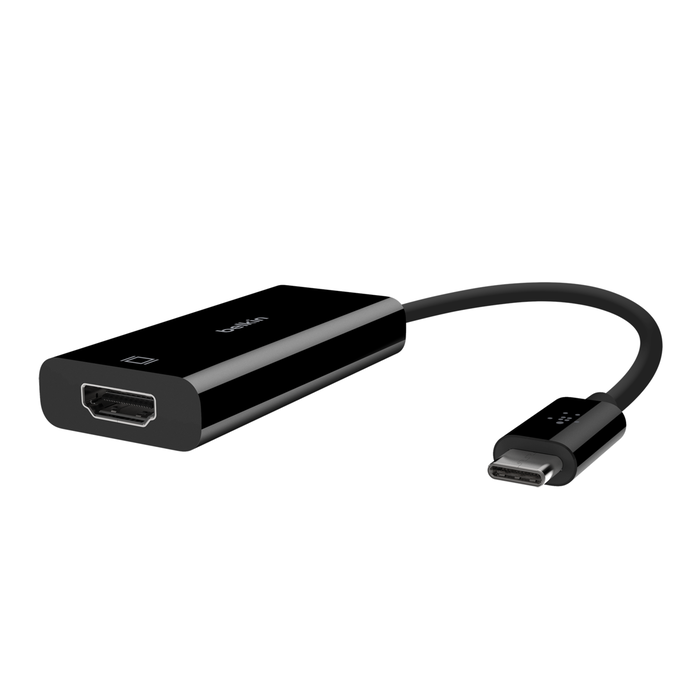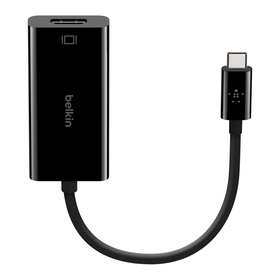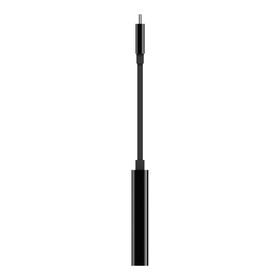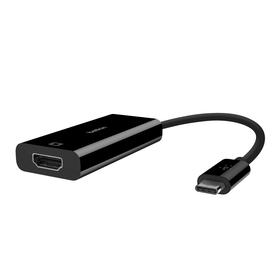 USB-C to HDMI Adapter (USB Type-C)
iMac (2017)
iPad Pro (12.9") 5th Gen
iPad Pro (12.9") 3rd Gen
iPad Pro (12.9") 4th Gen
MacBook Pro 13" M2 (2022)
MacBook Pro 14" (2021)
MacBook Pro 16" (2021)
MacBook Air 13" M1 (2020)
MacBook Air 15" M2 (2023)
MacBook Pro 13" (2020)
MacBook Pro 13" M1 (2020)
iPad mini 6th Gen
Google Chromebook Pixel
Dell XPS 13"
ENJOY PRISTINE 4K VIDEO FROM YOUR LAPTOP ON YOUR HDTV
Easily connect your video-enabled USB-C device to an HDMI display with the Belkin USB-C to HDMI Adapter. This convenient, compact adapter allows you to effortlessly share media from your USB-C enabled laptop* on an HDTV, 4K monitor, or other HDMI-enabled display. Featuring support for 4K resolutions up to 4096x2160 at 60Hz, the adapter delivers a crisp, vivid image that is free of motion blur and noise--making it ideal for gamers, video editors, and movie buffs. The adapter features advanced shielding for stable, reliable Wi-Fi performance, and high-quality construction that offers long-lasting durability.
*must support DisplayPort or Thunderbolt 3
THE BELKIN DIFFERENCE:
Pioneer in technology and innovation for over 30 years.
1. Reliable, long-lasting performance with 6-layer circuit board and high-quality soldering
2. Vivid 4K at 60Hz video streaming and gaming for fast-action detail and clarity
3. Unique advanced shielding for reduced interference and a reliable Wi-Fi signal
ADVANCED SHIELDING DESIGNED TO SATISFY MOVIE LOVERS AND GAMERS
Unlike most conventional video adapters, the Belkin USB-C to HDMI Adapter houses a 6-layer circuit board that delivers uncompromising audio-visual quality. The circuit board, which is protected by Belkin's unique advanced shielding, also keeps EMI (electromagnetic interference) to a minimum, ensuring that you'll enjoy a reliable, high-fidelity signal. And thanks to its meticulous construction and protective coating, the adapter is engineered to withstand tough use.
DELIVERS A VIVID, SEAMLESS IMAGE
Offering support for 4K resolutions up to 4096x2160 at 60Hz, the Belkin USB-C to HDMI Adapter delivers a clean, crisp picture to render your videos, photos, and games with stunning clarity. Unlike other adapters that only support a 30Hz refresh rate, this 60Hz adapter offers a smooth-moving, seamless image that is free of motion blur. Ideal for High Dynamic Range video, the adapter also supports HDCP 2.2 to stream protected content from iTunes and Netflix.
USE WITH 4K MONITORS, HDR HDTVS, AND HIGH-END PROJECTORS
This versatile adapter is compatible with any device that has a video-enabled USB-C port--including certain smartphones, tablets, and laptops. Use it to connect your device to 4K displays, HDTVs, and any other display equipped with an HDMI port. The adapter's reversible USB-C connector connects to your device in any direction, helping ensure a hassle-free connection.
At a Glance:
Easily connect any video-enabled USB-C device to a display
Delivers a stunning image with support for 4K at 60Hz
Advanced shielding minimizes interference
Supports HDCP 2.2 for iTunes and Netflix streaming
Rigorously tested for quality
Package Includes:
Belkin USB-C to HDMI Adapter
�